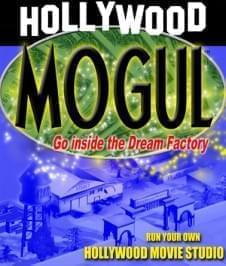 Hollywood Mogul® Game
Have you ever wanted to be the head of a major studio? Greenlight projects with your favorite stars? The Hollywood Mogul® game gives you that chance. It's a role-playing simulation game that allows you to be the Hollywood Mogul®.
What do the critics say? Here's a sample:
Nothing can equal the tension in your stomach as the credits of your latest film roll by, knowing that millions of dollars are about to be made or lost. - Kevin Perry, Computer Game Review Magazine
...managed to put almost every facet of movie-making into the game from development and production to marketing and releasing a film. - Andy Marx, Daily Variety
A remarkably sophisticated simulation. - Premiere Magazine
Hollywood Mogul® is a fascinating exercise for the detail-oriented strategy gamer. Thumbs Up. - Johnny L. Wilson, Computer Gaming World Magazine
Hollywood Mogul® is virtually a soup to nuts handbook on developing a movie from scratch... contains everything you'll need to strike it rich in Tinseltown. - Strategy Plus Magazine
Want to feel the excitement of running your own studio? Download a free trial of Hollywood Mogul® today!