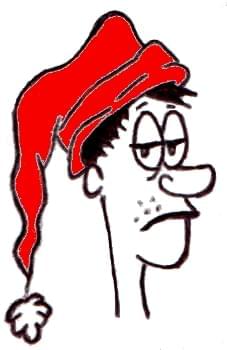 Skewed Christmas Countdown
33 days until Christmas. [or thereabouts...we're too wasted on egg nog to calculate this based on your exact time zone!]
And now some Skewed Christmas wisdom for the 33rd day before Xmas:
You're never too old to learn: Apparently it's wrong to go up to someone at the office Xmas party and ask them to gift wrap your package.
If you'd like today's message on a t-shirt, greetings card or ornament, check out this item in our store or for all of our skewed messages visit the whole collection.
Please invite your friends to visit the Skewed Christmas Countdown! We swear it'll help you move to the top of Santa's "Nice" list!
Previous snowballs of wisdom:
Day: 60 59 58 57 56 55 54 53 52 51 50 49 48 47 46 45 44 43 42 41 40 39 38 37 36 35 34