Jenna Elfman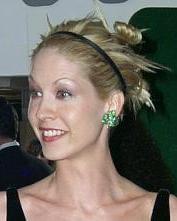 Check out our Jenna Elfman photo gallery.
Born: Sept. 30, 1971 Los Angeles, California, USA
[Please note that we are recovering from a bad database backup and some of our bio entries might be a bit stale. We are baking up a fresh batch as soon as possible.]
When people suddenly appear on our TV screens and we don't remember seeing them before, it's often easy to label them an "overnight sensation." That label can mask all the hard work that some performers do to get noticed by us. Such is the case with Jenna Elfman.
Jenna's best known for her role on the sitcom Dharma & Greg which was cancelled in 2002 after its ratings fell.
Jenna was born in Los Angeles on September 30th, 1971. She started taking dance classes when she was five, so when she graduated high school and left Cal-State Northridge after one and a half semesters, it was natural that her attentions should turn to the world of entertainment.
Bad ankles led her away from pursuing a classical ballet career, but she worked on other dance styles and in 1991 performed in one of those awful Academy Award® musical numbers that we all love to hate. She also appeared on shows like Murder, She Wrote and that started her thinking about adding acting to her resume.
She started taking classes at the Beverly Hills Playhouse, where she studied with respected acting coach Milton Katselas. She did her share of commercials and even paid the bills by working as a dancer on ZZ Top's world tour in 1994.
With some training and work under her belt, Elfman started landing roles on shows like Roseanne, NYPD Blue, and Murder One. In 1996 she landed a bit part in her first feature, Grosse Pointe Blank, which featured John Cusack and Minnie Driver.
That year also saw her land a role on an ABC sitcom: Townies. The show was supposed to be a comeback role for the former teen movie Molly Ringwald. The show died a quick death, but people sat up and took notice of Elfman, who stole the small amount of notice the show received in a mere six episodes.
She was pursued by both ABC and Twentieth Century Fox and she found an interesting way to deal with both firms. She signed a deal to develop a sitcom with Fox and then pitched the idea to ABC. The idea was Dharma & Greg. Hitting the airwaves in 1997, the show became a big hit and suddenly Elfman's name and picture were everywhere. The show ran until 2002.
Elfman also worked hard at getting her film career moving. She appeared opposite Richard Dreyfuss in 1998's Krippendorf's Tribe and in 1999 worked with Ellen DeGeneres and Matthew McConaughey in Ron Howard's EDtv.
Other movie roles include Warren Beatty's Town and Country and Keeping the Faith with Edward Norton and Ben Stiller.
In 2006, Jenna returned to the small screen with her new series Courting Alex.
Jenna has been married to Bodhi Elfman since 1995.
As time progresses, we'll have more info about Jenna Elfman here. If you have any comments or suggestions about our coverage, please email us.