This Is the End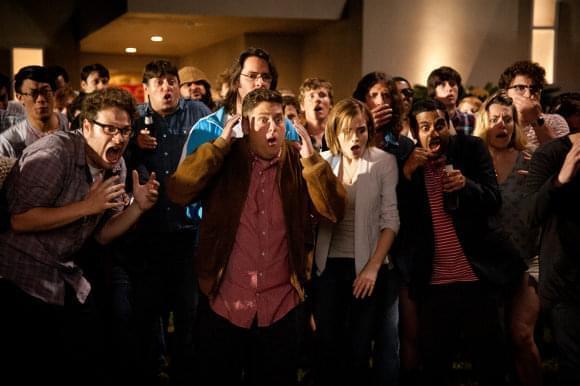 Photo: ©2013 Columbia Pictures
Director(s): Seth Rogen and Evan Goldberg
Writer(s): Seth Rogen and Evan Goldberg
Cast: James Franco, Jonah Hill, Seth Rogen, Jay Baruchel, Danny McBride, Craig Robinson, Michael Cera and Emma Watson
Release Date(s)
Jun 14, 2013 - Wide
Read our review.
This Is The End follows six celebrity friends who are forced to examine their lives and friendships as catastrophic events destroy Los Angeles and the catered lifestyle they're used to.
Written and directed by Seth Rogen and Evan Goldberg, the film stars James Franco, Jonah Hill, Seth Rogen, Jay Baruchel, Danny McBride, and Craig Robinson playing exaggerated versions of, well, James Franco, Jonah Hill, Seth Rogen, Jay Baruchel, Danny McBride, and Craig Robinson.
"People think they know everything about you based on the characters you play," says Rogen. "So we thought it would be funny to play into that — to have these characters that behave in the way that everybody thinks is what we're like off-screen. There are elements of our real selves, but we all twisted them or exaggerated them to make it funny."
Of course making a movie where James Franco plays James Franco narrows the casting choices down to James Franco, so scheduling for a film like this was tricky. "Even once we sat down to write — OK, who's going to be in this movie? — we weren't sure we'd be able to get everybody, not because they didn't want to do it, but because people commit to other projects and might not be available," says Goldberg. "We never thought we'd get them all — but we got them all. It was crazy — this might be the closest group of guys ever to get to make a movie together."
With a comedic group like this, shooting digitally was a bonus. "You'd be in scenes with Seth, and you'd do something he liked, and right there — in the scene — he'd tell you to do it again," says Danny McBride. "I like working that way. It's fun and it keeps things light. We'd crack up all the time in the scenes. Because we were shooting digitally, we could do 45-minute takes — the boom guy's hands would be trembling and everyone would be sweating, but we got all the jokes."
See how funny the Apocalypse is when This Is The End opens on June 14th, 2013.
Read our review.