Troy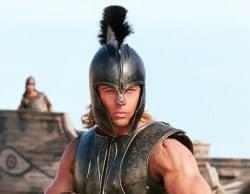 Photo: © 2004 Warner Bros. Entertainment. All rights reserved.
Director(s): Wolfgang Petersen
Writer(s): David Benioff
Cast: Brad Pitt, Eric Bana, Orlando Bloom, Diane Kruger, Brian Cox, Sean Bean, Brendan Gleeson and Peter O'Toole
Release Date(s)
May 14, 2004 - Wide
Read our review.
A film like Troy has all the expensive trappings of the modern day epic: remote settings, authentic costumes, and vast CGI armies and scenery. Sometimes, even in that vast scale, it still comes down to two actors sharing a moment. Director Wolfgang Petersen wanted to create a environment for a touching scene between King Priam (Peter O'Toole) and Achilles (Brad Pitt). He moved the set to a ballroom in a Mexican hotel, hoping to create a quiet environment where the two actors could work without distraction.
"It was so still there," Petersen says. "I'll never forget that. Brad was sitting there after the scene was done and he was almost in a state of shock. And Peter O'Toole — what can I say? That was one of those moments in filmmaking you will never ever forget in your life."
"That is one of the greatest scenes I've read," Pitt concurs. "I was very excited to do this particular scene and very excited that I was going to get the opportunity to do it with Peter O'Toole. To this day it's certainly a highlight of why we do what we do. It was fantastic."
Read our review.