Charlize Theron
Check out our Charlize Theron photo gallery.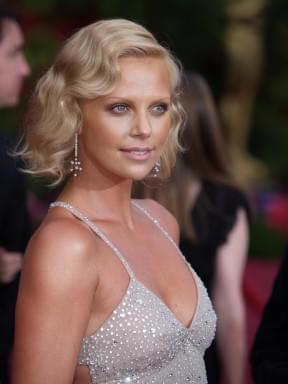 Charlize Theron was born August 7th, 1975 in Benoni, South Africa. Charlize trained as a ballet dancer and worked as a model before getting into acting. At the age of 15, Charlize's mother shot her father in self-defense, but was not charged with the death.
Charlize and her mother moved from Africa to the U.S. to work on her acting career. Her 1996 film debut was in 2 Days in the Valley, which she followed with a role in Tom Hanks' directorial debut, That Thing You Do!
Charlize then had the female lead in both Devil's Advocate (with Al Pacino and Keanu Reeves) and Trial and Error, which starred Michael Richards and Jeff Daniels. She appeared in Woody Allen's Celebrity in 1998 and starred with Bill Paxton in Mighty Joe Young that same year. Charlize then played opposite Johnny Depp in the thriller The Astronaut's Wife and opposite Tobey Maguire and Michael Caine in The Cider House Rules in 1999.
Charlize kept busy in 2000 with roles in Reindeer Games starring Ben Affleck and Gary Sinise; The Yards starring Mark Walhberg and Joaquin Phoenix; Men of Honor starring Robert De Niro and Cuba Gooding Jr.; and The Legend of Bagger Vance starring Will Smith and Matt Damon. She didn't rest the following year either, reuniting with Keanu Reeves in the sappy, critically-savaged Sweet November, working opposite Robert De Niro, Ed Burns and Kelsey Grammar in 15 Minutes and appearing in her second Woody Allen movie, The Curse of the Jade Scorpion.
In 2002, she starred in Waking Up in Reno with Natasha Richardson, Billy Bob Thornton, Patrick Swayze and Trapped with Stuart Townsend (her present boyfriend) and Kevin Bacon.
Charlize's most successful year to date was 2003. She had good box office starring in the action caper The Italian Job (with Mark Walhberg) and working opposite Christina Ricci in Monster. She played Aileen Wuornos, the first woman serial killer to be put on death row. Charlize gained 30 pounds and completely altered her appearance to play the role, which earned her many accolades including the Oscar® for Best Actress.
As time progresses, we'll have more info about Charlize Theron here. You can also do a search of other references on our site. If you have any comments or suggestions about our coverage, please email us.