Entertainment News
100% of proceeds to support West, Texas after plant tragedy.
Music legend in town to promote My Way and Duets.
Vardalos' book tells of the journey and joy of adoption.
Our Recent Movie Profiles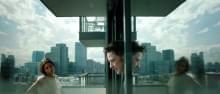 Recent Evans Above:
Mailbag Roundup: Lincoln comes to Blu-Ray: Photo: ©2012 2012 DreamWorks II Distribution Co....
Disney releases Mulan, The Hunchback of Notre Dame and Brother Bear on Blu-ray: I knew I was in for some Disney overload when I picked...
Mailbag Roundup: Wreck-It Ralph Ultimate Collector's Edition: Photo: ©2012 Walt Disney Pictures As you...
Read Evans Above...
Current Poll
We're sorry, this poll is now closed. Would you like to see the results?