Ben Stiller
Check out our Ben Stiller photo gallery.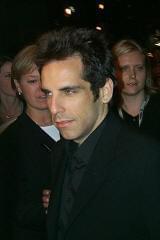 Ben was born in New York on November 30, 1965. His parents, Jerry Stiller (George's father on Seinfeld]) and Anne Meara (Mrs. Sherwood in the Fame movie), were both actors and comedians and Ben and his sister Amy grew up surrounded by show business. In fact, Ben made his professional acting debut when he was only ten years old, appearing on his mother's show Kate McShane.
He knew he was going to follow in his parents' footsteps and headed off to study film at UCLA in 1983. Nine months later he was back in New York, having decided that being so immersed in the scene he didn't need to study it.
He landed a role in the Broadway revival of The House of Blue Leaves. While there, he shot a satirical documentary about fellow cast member John Mahoney (Frasier). The two teamed up again in the follow-up, a ten minute parody of The Color of Money. The producers of SNL got their hands on the tape and aired it on the show in 1987.
1987 also marked his feature debut in Steven Spielberg's Empire of the Sun. He also appeared that year in the TV adaptation of The House of Blue Leaves on PBS.
In 1989, Stiller spent a year on SNL, which he followed with an MTV comedy special called Back to Brooklyn. That gig landed him his own series on MTV but the show disappeared off that network and landed on FOX's network schedule in 1992. The show featured newcomers like Janeane Garofalo and Andy Dick. Still, even at the new network it failed to set fire to the ratings.
With his namesake show cancelled, Stiller made a few TV guest appearances, but channeled most of his energies on getting a film career going. He directed and starred in 1994's Reality Bites, which besides Garofalo, also featured Ethan Hawke and Winona Ryder. Not a boffo box office hit, the film did do steady rental business.
The film also helped him land his next directorial gig, 1996's The Cable Guy, which starred Jim Carrey and Matthew Broderick. Though audiences weren't ready to see Carrey in a dark comedy, Stiller did get great reviews for his directing. Positive reviews also greeted his acting role in Flirting with Disaster.
With acting and directorial kudos under his belt, Stiller's next hurdle was mainstream notice and the 1998 summer hit There's Something About Mary, co-starring Cameron Diaz, took care of that.
Stiller followed Mary with a role in Your Friends and Neighbors. He also appeared as the heroin-addiced TV writer Jerry Stahl in Permanent Midnight, which starred Elizabeth Hurley and Janeane Garofalo. Garofalo also appeared with him in the superhero comedy Mystery Men and the two co-wrote a comedic book on relationships called Feel This Book : An Essential Guide to Self-Empowerment, Spiritual Supremacy, and Sexual Satisfaction.
In 2000, Ben appeared as a rabbi in the romantic comedy Keeping the Faith, which co-starred Jenna Elfman and Edward Norton. He also starred opposite Robert De Niro in Meet the Parents.
In 2001 he made Zoolander and The Royal Tenenbaums, which co-starred Gene Hackman and Gwyneth Paltrow.
After voicing Thomas Jefferson on the PBS cartoon Liberty's Kids in 2002, Stiller appeared with Drew Barrymore in Duplex. His 2004 was very busy with the release of Along Came Polly (with Jennifer Aniston), Starsky & Hutch (with Owen Wilson), Envy (with Jack Black) and Dodgeball: A True Underdog Story which co-starred Vince Vaughn.
Stiller, who had a tumultuous relationship with Jeanne Tripplehorn, married Wedding Singer actress Christine Taylor in May 2000.
As time progresses, we'll have more info about Ben Stiller here. You can also do a search of other references on our site. If you have any comments or suggestions about our coverage, please email us.