Cameron Diaz
Check out our Cameron Diaz photo gallery.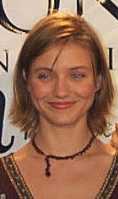 Her summer hit back in 1998 may be have been called There's Something About Mary, but let's face the facts. There's something about Cameron.
Cameron was born August 30, 1972 in San Diego, California. She started off as a model at 16, appearing on numerous magazine covers, but she truly garnered national attention when after 12 call-backs she finally landed the role of lounge-singer Tina Carlyle opposite Jim Carrey in The Mask.
She could have jumped from that hit to any number of big studio films but an interesting twist came her way. After she injured her hand training for the video game flick Mortal Kombat, Cameron had to drop out but found herself looking at scripts for indie films. She worked opposite Keanu Reeves in Feeling Minnesota, played Harvey Keitel's wife in Head Above Water, worked with writer/director/actor Ed Burns in She's the One and made the quirky black comedy The Last Supper. She was definitely earning respect by working hard in indies.
In 1997, Cameron jumped back to the majors, holding her own in the summer hit My Best Friend's Wedding, which starred Julia Roberts. She also appeared opposite Ewan McGregor in A Life Less Ordinary.
There's Something About Mary a gross-out comedy co-starring Ben Stiller and Matt Dillon, was released in 1998. It was a great summer hit and Cameron had again captured the attention of the audience. Publicity for the dark comedy Very Bad Things was no doubt aided by Cameron's presence. Her performance in Mary earned her a Golden Globe nomination.
In 1999, Cameron again showed her ability to do major studio films and indies. She appeared in Spike Jonze's Being John Malkovich and Oliver Stone's football flick Any Given Sunday opposite Al Pacino. On December 20th, 1999, Cameron was nominated for the 57th Annual Golden Globe Awards for her role in Being John Malkovich. She also received a SAG nomination.
In 2000, Diaz appeared opposite Drew Barrymore and Lucy Liu in Charlie's Angels and in 2001 she did Vanilla Sky. She was also the voice of Princess Fiona in the highly successful Shrek.
Cameron was nominated for a Golden Globe in 2002 for her role in Gangs of New York. She appeared opposite Leonardo DiCaprio and Daniel Day-Lewis in this Martin Scorsese film.
In 2003, Diaz again appeared opposite Drew Barrymore and Lucy Liu in Charlie's Angels: Full Throttle.
Diaz returned to the soundbooth to voice Princess Fiona again in 2004's Shrek 2. The next year, she and Toni Collette played granddaughters to Shirley MacLaine in In Her Shoes. She followed that up with 2006's The Holiday which also starred Kate Winslet, Jack Black and Jude Law. Princess called twice in '07, once for the movie Shrek the Third and then for the Xmas TV special Shrek the Halls.
In 2008, Cameron appeared in the critically-savaged What Happens in Vegas with Ashton Kutcher.
As time progresses, we'll have more info about Cameron Diaz here. You can also do a search of other references on our site. If you have any comments or suggestions about our coverage, please email us.