Julia Stiles
Check out our Julia Stiles photo gallery.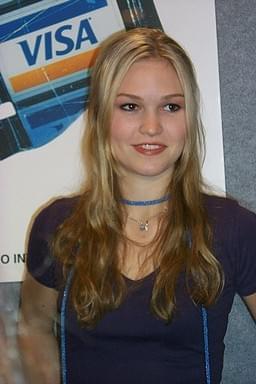 Born in New York City on March 28th, 1981, Julia Stiles has always had the air of someone who knows what they want and how to get it.
That confidence extended to her acting. At the age of 11, she wrote a letter to a theatre director asking for a audition and was soon doing plays at New York's La Mama Theater and Kitchen Theater. Shortly thereafter she landed a couple of gigs on the children's series Ghostwriter. By 1997, she had a guest shot on Chicago Hope.
Her film career started in 1996, when she appeared with Jeanne Moreau, Claire Danes and Jude Law in I Love You, I Love You Not. That was followed in 1997 by a role in The Devil's Own opposite Harrison Ford and Brad Pitt. In 1998, she made the thriller Wicked and the family comedy Wide Awake which starred Rosie O'Donnell and was written and directed by future Sixth Sense helmer M. Night Shyamalan.
1999 was the year that Julia really gained national attention on both the small and big screens. On TV, she starred in the mini-series The 60s and on the big screen she played tough but sexy Katarina 'Kat' Stratford in the enjoyable 10 Things I Hate About You opposite Heath Ledger. The remake of Shakespeare's The Taming of the Shrew received mixed notices, but the two leads were definitely labeled "ones to watch".
When 2000 rolled around, Julia appeared in the teen flick Down to You as well as the modern day Hamlet. She also joined the rest of the cast of David Mamet's State and Main when they premiered their film at the Toronto International Film Festival.
In 2001, Julia Stiles put on her dancing shoes and had the surprise box office hit Save the Last Dance. She also appeared at the Toronto Festival again with Stockard Channing in The Business of Strangers. That same year finally saw the release of O, based on Shakespeare's Othello. The film had actually been completed in 1998 but had been held back because of a rash high school violence.
Julia also appeared with Matt Damon in 2002's The Bourne Identity. In 2003, she worked opposite Jason Lee in A Guy Thing, Shirley MacLaine in Carolina and Julia Roberts in Mona Lisa Smile.
Julia's 2004 slate includes The Prince & Me, Romance & Cigarettes and The Bourne Supremacy.
As time progresses, we'll have more info about Julia Stiles here. You can also do a search of other references on our site. If you have any comments or suggestions about our coverage, please email us.