Orlando Bloom
Check out our Orlando Bloom photo gallery.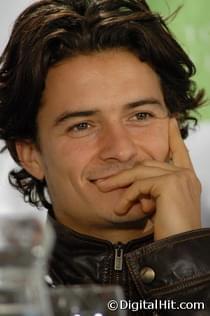 Orlando Bloom was born in Canterbury, England on January 13th, 1977. Drama was evident in his life at an early age. His father died when he was 4 years old and he and his sister were then raised by his mother and a family friend. He struggled with dyslexia in school, but found solace in the arts. He would find out when he was 13 that the family friend was actually his biological father.
Orlando joined the National Youth Theatre at age 16 and spent two years perfecting his skills before winning a scholarship to London's British American Drama Academy. He made his small screen debut playing different characters in 1996's Casualty. He followed that up with his feature film debut when he appeared in 1997's Wilde with Stephen Fry and Jude Law.
He would find instant adoration in 2001 as Legolas Greenleaf in Peter Jackson's The Lord of the Rings: The Fellowship of the Ring that also starred Elijah Wood, Sean Astin, Viggo Mortenson and Cate Blanchett. That was followed up by Ridley Scott's Black Hawk Down with Josh Hartnett.
The following year saw the second installment of the Lord of The Rings trilogy, The Lord of the Rings: The Two Towers . In 2003, he starred in Ned Kelly with Heath Ledger, Geoffrey Rush and Naomi Watts and then began another hit franchise with Pirates of the Caribbean: The Curse of the Black Pearl with Johnny Depp and Keira Knightley. The year concluded with the release of the final LOTR chapter The Lord of the Rings: The Return of the King.
In 2004, Bloom appeared The Calcium Kid, Troy with Brad Pitt, Diane Kruger and Eric Bana and Haven (which he co-produced) with Bill Paxton, Zoe Saldana and Agnes Bruckner.
The next year, he starred in another Ridley Scott film Kingdom of Heaven and the box office disappointment Elizabethtown with Kirsten Dunst.
In 2006, audiences saw Orlando in the POTC sequel Pirates of the Caribbean: Dead Man's Chest and in Love and Other Disasters with Brittany Murphy. The third installment of Pirates came out in 2007, with Pirates of the Caribbean: At Worlds End which featured Keith Richards playing Johnny Depp's father.
As time progresses, we'll have more info about Orlando Bloom here. You can also do a search of other references on our site. If you have any comments or suggestions about our coverage, please email us.