What is the Screen Actors Guild?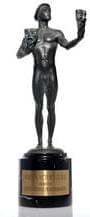 Actor Statuette
©2005 SAG
The Screen Actors Guild a.k.a. SAG, is a union in the United States that represents over 100,000 film and television actors and extras. SAG negotiates and enforces the collective bargaining agreements that govern the performers compensation, benefits and working conditions.
Founded in 1933, one of the Guild's first missions was to change the way studios dealt with the actors. Previously held to restrictive long-term contracts that dictated how and when they would work at the studios' whims, actors began to see cracks in the system when the studios finally recognized the guild in 1937. Hard years of negotiations and court cases were needed before the "studio system" was finally cracked.
Further strides were made in the 1950s, when the Guild was able to negotiate commercial contracts, residual payments for TV reruns and residuals for films shown on television. The Pension and Health Plan, negotiated in 1960, further empowered the Guild's members.