Evans Above
Mar 18, 2018
The Pitch Perfect franchise obviously has an audience, perhaps people who watched Glee and thought, "Gee, I wish the comedy was raunchier." It's been a good audience, because I've just used the word "franchise" and the films have taken in about a half-billion at the box office. So for those fans, sing for joy because Pitch Perfect 3 is now available to take home on Blu-ray.
The disc's 1080p AVC-encoded transfer is presented in the movie's original 1.85:1 aspect ratio. The colour palette pops, skin tones are natural, and the black levels have good amount of depth. Details on skin, clothing and structures are very good. The transfer does have some digital noise in it and artifacts are especially visible in one scene but doesn't really take away from the whole presentation.
On the sound side, you get English DTS:X and DTS-HD Master Audio 7.1 tracks as well as a French DTS 5.1 and a Spanish DTS-HD HR 7.1 track. Subtitles are available in English SDH, Spanish and French. A movie whose whole purpose in being is song performances should have a great listening experience, right? Well, then you won't be disappointed. The soundtrack uses the surround speakers perfectly, placing you on the stage with the singers and immersing you in the experience. The notes are clear and rich, the low-end is just right and not overpowering and yes, the non-musical moments are just as well done. An excellent soundscape.
One the extras side, Pitch Perfect 3 hits the right note, too. (Oh, c'mon, I'm allowed one musical joke.) There's a DVD copy, a Movies Anywhere download code, additional music performances, extended musical performances, deleted scenes, bloopers, some featurettes, and two audio commentary tracks from director Trish Sie and producers Paul Brooks and Max Handelman.
Fans of the Pitch Perfect series will want to add this final hurrah to their collection.
Feb 28, 2018
If you're in Toronto and looking to really get into the movie swing of things this Oscar weekend, then check out the 8th Annual Toronto Irish Film Festival. It's being held at the TIFF Bell Lightbox from Friday, March 2nd to Sunday, March 4th.
The fest's opening gala will be A Date for Mad Mary, which won Best Film at the 2017 Irish Film & Television Awards. Directed by Darren Thornton and starring Seána Kerslake, Carolyn Bracken and Charleigh Bailey, it's a heartfelt dramedy about a woman recently released from prison seeking a date for her best friend Charlene's wedding.
Nominated for Best Animated Feature at this year's Oscars, Nora Twomey's The Breadwinner will return to Toronto as part of the festival's Saturday screenings. The Irish/Canadian co-production tells the story of an Afghan girl who finds strength in the love of her family and the power of storytelling. The film, which was executive produced by Mimi Polk Gitlin and Angelina Jolie, stars Saara Chuadry as the voice of Parvana.
Saturday afternoon will also feature the Irish Short Film Showcase, which will see the Canadian premieres of Aoife Doyle's Departure, Lynne Davison's The Climb, Sinéad O'Loughlin's Homecoming, Mia Mullarkey's Throwline, Selina Cartmell's The Date, and Vanessa Perdriau's The Widow's Last.
Stephen Burke's feature, Maze, will have its Canadian premiere on Saturday night. Starring Peaky Blinder's Tom Vaughan-Lawlor, the film is based on the 1983 prison escape by 38 IRA prisoners from Northern Ireland's infamous Maze prison. Burke has said the film is not just a prison escape action film, but also look at the lives and complex relationships of people on both sides of The Troubles.
On Sunday afternoon, Game of Thrones fans can see Art Parkinson in Colin McIvor's Zoo. Based on true events, the film, which also stars Penelope Wilton and Toby Jones, tells the story of a 12-year-old boy and his friends as they struggle to save a baby elephant during air raids on Belfast in World War II. After German bombing hits Belfast hard, the city government decided to slaughter 38 animals to prevent them running amok in the city if the zoo should get hit. The veterinarian's son takes it upon himself to save the young pachyderm. It's a great tale for families and played last fall at the Chicago Film Festival.
Sunday afternoon will also see the premiere of the Daniel Gordon documentary George Best: All By Himself. As a kid, I remember hearing about Best as my dad played the British football pools. A Belfast boy, Best was a football phenom and achieved his biggest fame playing for the legendary Manchester United. He was a sports hero but a flawed one, as he was ultimately felled by a staggering addiction to alcohol. Hearing about Best as a boy, but not really knowing much about him, I was glad to have a chance to screen Gordon's doc before the festival. The director uses a lot of audio recorded by Best himself, so in a way the famed footballer narrates his own story, with former teammates and friends filling in the other details of his storied career. As things begin to unravel, former girlfriend Jackie Glass and Best's two ex-wives, Angie and Alex, fill in the details of his decline. This isn't a whitewash and like so many of these stories there doesn't seem to be a turning point but rather a decline from talent and skill driven one drink and bender at a time.
Finally, the festival will close on Sunday night with another documentary, In the Name of Peace: John Hume in America, which is being co-presented by the Irish Embassy of Canada. Directed by Maurice Fitzpatrick and narrated by Liam Neeson, the doc uses footage from The Troubles alongside interviews with Bill Clinton, Jimmy Carter, Bono and Tony Blair as they discuss the long-serving Derry politician John Hume and his pivotal role in the Northern Ireland peace process.
Toronto may have 250,000 residents of Irish descent, but we're also blessed with a diverse community that's open to learning about their neighbours and in the case of this festival, checking out each other's film industries. The Irish film industry has grown from about 1,000 directly employed craftspeople to about 6,000 in just the past seven years or so. The Toronto Irish Film Festival celebrates that film community and has been selling out screenings since 2010, thanks to the hard work of TIRFF founders Michael Barry and John Galway and their team. You'll be doing yourself a favour checking this festival out. More information and tickets can be found at www.toirishfilmfest.com.
Feb 25, 2018
Disney/Pixar's heartwarming and heartfelt Coco was a hit with moviegoers and now you can take it home with you as Disney releases it in a Blu-ray, DVD and Digital HD combo pack.
The disc's 1080p AVC-encoded transfer is in the theatrical releases 2.39:1 aspect ratio. The video is amazing with rich textures and details everywhere from rough-hewn structures to wise old faces. The colour palette is wide and bold, and black levels are deep. Nothing is lost in the movie's darker scenes. All in all, the video presentation is amazing.
On the audio side, your ears will be treated to an English DTS-HD Master Audio 7.1 track as well as an English DTS-HD HR 5.1 track, an English Dolby Digital 2.0 track, a French Dolby Digital 5.1 track and a Spanish Dolby Digital 5.1 track. Subtitles are available in English, English SDH, French and Spanish. Musical details are rich with great clarity that captures the strums of the guitars wonderfully. The surround tracks put you into the scenes and vocal clarity is never an issue.
Coco comes with a plethora of extras, from audio commentary by director Lee Unkrich, co-director Adrian Molina, and producer Darla Anderson to a series of featurettes focusing on music and animation development.
Coco is a film that the whole family can enjoy and adding this Blu-ray to your collection is a no-brainer.
Disney has now released a Signature Collection edition Blu-ray of their classic 1955 canine love story, Lady and the Tramp. If you already have the Diamond Edition Blu-ray, please note that the video and audio presentation is the same for that release and the difference is that there are a few new extras, a few missing extras and a migration of some extras to online access only. With that housekeeping out of the way, if you're brand new to adding this classic to your collection, let's jump into the details.
The combo pack gives you Blu-ray, DVD and Digital HD version of the movie. The Blu-ray's 1080p AVC-encoded transfer is in the theatrical release's original 2.55:1 aspect ratio. The restoration work that went into this video presentation is nothing short of beautiful. Every hand-drawn detail of the animation is captured flawlessly and the painted backgrounds remind you of the genius that were at work in Disney's animation studio. The colour palette is soft and delicate (like Lady) and the black levels deep. Given the age of this film, it's as if the Blu-ray transfer was done at the same time the animation was freshly finished. Any digital issues, like banding or artifacts, are so rare that they never step on what is truly a great transfer from the source material.
On the audio side, you get an English DTS-HD Master Audio 7.1 track as an English DTS-HD Master Audio 3.0 restoration of the film's original audio for the purists. French and Spanish Dolby Digital 5.1 tracks are also available. Subtitles are available in English SDH, French and Spanish. The music is presented well, dialogue clarity is always there and the 7.1 mix gives us some ambient surround and low frequency moments while still being faithful and respectful of the original mix.
The new extras include Walt & His Dogs, a look at the canine pals Walt Disney had, Stories From Walt's Office, How to Make a Meatball and Other Fun Facts About Lady and the Tramp with Alexys Gabrielle and teen chef Amber Kelley, Sing-along versions of the songs, a Sing-Along Mode that allows you to watch the movie with the lyrics available, and a preview of the bonus features that have now been moved online. Online bonus features include deleted scenes, storyboards and some of the film's trailers.
If you bought a the Blu-ray version a few years ago, then the decision to buy this one rests solely on the extras. If you're new to collecting the Disney animated classics, then you'll want to add the Lady and the Tramp Signature Collection to your library.
Dec 08, 2017
Bonnie Franklin. Norman Lear. Pat Harrington as Schneider, the know-it-all superintendent. That magic combination provided laughs for nine seasons between 1975 and 1984 on the CBS sitcom One Day At A Time. The team over at Shout! Factory has now poured that magic into a new DVD box set called One Day At A Time: The Complete Series for you to take home and add to your entertainment library. I recently had a chance to look at a review copy and have spent the past few days getting reacquainted with the show.
The series follows Ann Romano (Franklin), a divorced mother who moves to Indianapolis to start a new life with her daughters, Julie (Mackenzie Phillips) and Barbara (Valerie Bertinelli). As Romano tries to balance giving the girls the freedom she never had with the boundaries teens sometimes need, she also has to contend with the unwanted advice of the always present superintendent Schneider (Harrington). New relationships, family dynamics and an abundance of "Very Special Episodes" had viewers tuning in week after week. Between the Emmys, Golden Globes and TV Land Awards, the show had eighteen nominations and five wins. The show didn't turn away from difficult issues. Deadbeat exes, birth control, alcohol, women's liberation and more were covered. In typical Lear fashion, the hard topics of the day were served with a heaping dose of laughs.
Shout! Factory's box set features the series' 208 episodes spread over 27 discs. The episodes are presented in their original 1.33:1 aspect ratio. The set also includes new interviews with Mackenzie Phillips and Glenn Scarpelli (Alex Handris in seasons 6-8), the One Day At A Time reunion special and This Is It: The Story of One Day At A Time, another collection of interviews and clips. There's also a twenty page episode guide.
Shout! Factory are the saviors of classic TV as evidenced by the painstaking work they did on clearing music rights for the release of WKRP in Cincinnati. They did the same here, making sure to clear the rights so we could see Barbara and Julie perform Elton John and Kiki Dee's "Don't Go Breaking My Heart" in season two. Shout! Factory frequently picks up the ball where it has been dropped by others. Sony Pictures Home Entertainment released season one of One Day At A Time a decade ago, but then stopped. Shout! Factory has made sure that we can now take the whole run of this classic show home. They run disclaimers on the discs saying that the episodes are from the best available sources, but those disclaimers are hardly necessary with great audio and video transfers given that the show was videotaped and therefore transferred off of tapes that were up to 42 years old. While many shows in the 90s, like Frasier, Friends and Seinfeld were shot on film and therefore can be transferred from film masters to Blu-ray with HD quality, many of the sitcoms before then were videotaped and often don't age as well. Given that bit of technical history, I thought that the transfer that Shout! Factory did looks great. Sure it's not HD but it's a very clean transfer and looks much better than the versions you might find airing on cable.
It's a no-brainer that fans of One Day At A Time will want to add this show to their home entertainment library. If you're a fan of Norman Lear's productions or if you are interested in a sitcom that took on the issues of the day without fear, you won't go wrong adding it to your collection either. Kudos to Shout! Factory for helping to preserve this important part of TV sitcom history.
Nov 06, 2017
Get ready to hit the road again with Lightning McQueen as Disney/Pixar releases a Blu-ray version of the animated racing franchise's Cars 3 on November 7th, 2017. This time around the track, Lightning McQueen (Owen Wilson) finds his top dog status in the racing world is being challenged by a younger car, Jackson Storm (Armie Hammer). When an on-track incident sends Lightning off to rehab, he needs to see where he fits in this world of newer cars.
The AVC-encoded 1080p transfer comes in the theatrical release's original 2.39:1 aspect ratio. As with most Disney/Pixar home entertainment releases, the transfer to disc is excellent. The palette of paint jobs for the cars crosses the full spectrum and the various automotive surfaces really show off the colour depth and clarity. Surfaces from the track to the beach display amazing textural details. Black levels are great. There's the odd bit of artifact noise but it nothing to distract or write home about.
On the audio side of things we get English: DTS-HD Master Audio 7.1, DTS-HD HR 5.1 and Dolby Digital 2.0 tracks as well as French and Spanish Dolby Digital 5.1 tracks. Subtitles are available in English, English SDH, French and Spanish. The racing scenes really put your surround speakers to the test, immersing you in the action as cars move from speaker to speaker. The roar of the engines and the general atmosphere of the track are beautifully presented here. Music has good clarity and dialogue is crystal clear in the front centre speakers.
Besides getting a DVD copy and a digital download code, the extras are enough to require a second Blu-ray disc to hold them. The first disc contains audio commentary, the short film Lou, and a look into some of the other characters. The second disc has a five part behind the scenes feature, a look at the film's digital environment, deleted scenes and other goodies.
The presentation of this disc is great. Fans of the Cars franchise will want to park Cars 3 in their home entertainment library.
Oct 05, 2017
HBO's The Wizard of Lies takes a look at Bernie Madoff's real-life Ponzi scheme that cost his clients over 60 billion dollars. It also delves into the family dynamics and how it destroyed the Madoffs, with their son Mark committing suicide two years after his father's arrest. Robert De Niro portrays Bernie, while Michelle Pfeiffer takes on the role of his wife, Ruth. HBO Canada gave us an opportunity to look at the Blu-ray release.
The AVC encoded 1080p transfer comes in the production's original 1.78:1 aspect ratio. Shot digitally, a lot of the office and prison scenes appear quite flat with a muted palette, but then again, whose mind thinks first of prisons and offices when they hear "colours pop"? The palette warms up when looking back at the family sharing happier times. Detail levels are very high though some get lost in darker scenes and black levels are okay. Again, this is a made for TV movie, not the latest edition of Star Wars.
On the audio side, viewers get an English DTS-HD Master Audio 5.1 track as well as French DTS 5.1 and Spanish DTS 2.0 tracks. Subtitles are available in English SDH, French, Spanish, Danish, Dutch, Finnish, Norwegian, and Swedish. Though some courtroom scenes occasionally use the surround tracks to great effect, this isn't the type of film that's presenting an immersive experience. The all-important dialogue is crisp and clear.
On the extra side, remembering this is a TV movie, there is a short 7 minute featurette that features interviews with director Barry Levinson and the cast. Obviously a promo for the flick that aired on HBO.
Should you be adding The Wizard of Lies to your home library? With great performances by the cast and Levinson's direction, it turns one of the largest financial frauds in history into a compelling look at the man who created it. It's worth a look.
Sep 15, 2017
Rough Night, now available as a Blu-ray release, confirms the old adage that it's never good when a stripper dies during your bachelorette party. The comedy stars Scarlett Johansson, Jillian Bell, Ilana Glazer, Zoë Kravitz and Kate McKinnon.
The AVC-encoded 1080p transfer is presented in the theatrical release's 2.39:1 aspect ratio. Shot digitally, the transfer is very good with only a small amount of noise noticeable in darker scenes. The colour palette around Miami pops, whether it's the sparkling blue waters or the neon signs of the night life. Details, from people's faces to clothing and structure textures are sharp. Black levels are deep.
Moving from the eyes to the ears, Rough Night's disc comes with an English, French, Italian and Portuguese DTS-HD Master Audio 5.1 soundtracks and a Spanish Dolby Digital 5.1 track. Subtitles are available in English, English SDH, French, Italian, Portuguese, and Spanish. Whether it's a campaign office or a nightclub, the surround channels immerse you in the environment and the low frequency obviously gets a workout with the thumping bass on the dance floor. Dialogue is clear.
Besides a digital copy code, the extras include the usual deleted scenes and bloopers. There's also a sing-along, the cast improvising lines and talking about each other.
Rough Night isn't the type of comedy that will go down in the history of the genre, but if you're a huge fan of one of the cast you'll probably add it to your collection for completeness.
Aug 12, 2017
Big Little Lies, the HBO dark comedy-drama miniseries written by TV icon David E. Kelley and directed by Jean-Marc Vallée, is now available to bring home on Blu-ray. HBO Canada gave us a look at the release, which is based on the novel by Liane Moriarty. The miniseries, whose actors like Nicole Kidman, Reese Witherspoon, Shailene Woodley, Laura Dern and Alexander Skarsgård are all nominated for Emmys, takes us to Monterey, California, where the sand and surf and well-heeled mothers are at the centre of a murder. Fans loved peeling away the layers to get to the truth in the seven episodes of season one.
The 1080p Blu-ray is presented in the series' original 1.78:1 aspect ratio and spans three discs. Vallée and cinematographer Yves Bélanger shot mostly with natural light but the video presentation doesn't lose any of its detail or sharpness, though some night scenes tend to have a bit of a bluish hue. Scenes have a bit of gauziness to them, but I file that under a style that Bélanger and Vallée were going for as opposed to a problem with the video presentation. Black levels are good but not great.
On the audio side of things, viewers get an English DTS-HD Master Audio 5.1 soundtrack as well as a French DTS 5.1 track and a Spanish DTS 2.0 track. Subtitles are available in English SDH, French, Spanish, Danish, Finnish, Norwegian, and Swedish. The surround channels get a good workout and you're immersed in the landscape's ambient sound well enough that you'd be forgiven for thinking you're getting hit with salt spray. The dialogue is obviously important when you're uncovering all the murky details of a mystery and its presentation here is clean and crisp.
In the extras department we get Inside the Episode clips for the show with the cast and crew talking about each episode. There's also a slightly longer featurette with more commentary.
Great writing, wonderful direction and a solid cast leading us through a mystery where we not only don't know whodunnit, but to which person it was done to. You'll love adding Big Little Lies to your home library.
Aug 09, 2017
We were recently given the chance to preview Pure Country: Pure Heart, part of the Pure Country series of family-friendly movies produced by Warner Bros. Home Entertainment and WWE Studios. It was released exclusively through Walmart on August 1st, 2017 and is available in-store and on Walmart.com, though I have yet to see it pop up on the Walmart.ca site. I reviewed the combo pack, which comes with Blu-ray and DVD discs as well an option for a digital download.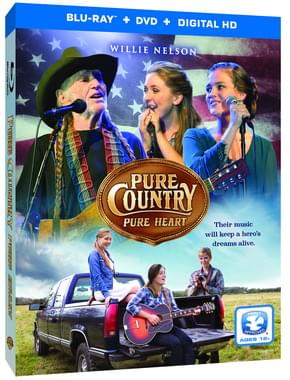 Pure Country: Pure Heart
is available exclusively at Walmart.
The movie is directed by Damon Santostefano and was written by best-selling author Holly Goldberg Sloan who has also written Angels in the Outfield and Made in America. It tells the story of two sisters, played by One Life to Live's Kaitlyn Bausch and Dolphin Tales' Cozi Zuehlsdorff, who stumble upon a letter about their late father, a Marine who died in Iraq while saving the lives of members of his unit. The wannabe country artists know very little about their father as their mother (Amanda Detmer) doesn't like to talk about the past. Aided by their photographer friend (Dara Sisterhen) and a friendly Korean War vet (the always great Ronny Cox), they discover that their father was a budding country music star and sneak off to Nashville to learn about the father and hero they barely knew.
Pure Country: Pure Heart defines family-friendly and the whole gang will feel comfortable watching this film together. The saltiest the language gets is a couple of uses of the word "hell" which the speakers are quickly chastised for. The film is sweet as pie (and you'll drool over the pies in this film) but it's not saccharine. Look, I'm a jaded, big city guy, but even I was charmed by the simple, yet heartfelt, story.
The film is driven by music, featuring 23 songs of which 16 are new. Willie Nelson performs his classic "We Don't Run", Tony Award nominee Laura Bell Bundy sings "Grass Ain't Greener" and Ronny Cox (who is also a singer-songwriter) performs his own "Silver City". There's also a performance by Billy Lynn's Long Halftime Walk's Matthew Barnes. The songs don't slow things down at all and the story moves along at a nice, yet not breakneck, pace.
I have one issue with this release but it's a small one. Willie Nelson, who has a lengthy acting resume besides being a country music icon, is featured prominently on the box art and his name is the only name gracing the cover. Taking out my stopwatch, Willie appears in about three minutes and fifty-two seconds of the film's 84 minute running time. This is no knock against Mr. Nelson (again, the man's a legend) but I think it detracts from the performances that carry this film. Bausch and Zuehlsdorff are engaging leads as sisters Ada and Piper and they harmonize beautifully when singing. Dara Sisterhen is the perfect combination of book smarts and adventure and Matthew Barnes will charm the women in the audience no matter the age. Cox's veteran has sparkle of mischief in his eye. Myra Turley has the perfect amount of strength and love as the girl's grandmother, who understands both her granddaughters' need to find out more about their father and the pain and loss that keeps her daughter evasive to their inquiries. Amanda Detmer's Elizabeth has both the backbone to raise two teenage girls alone and the softness to portray the loss that she's still feeling. Laura Bell Bundy, whose Broadway pipe's have also seen her work on a country music career, easily handles both her acting and singing duties. Music fans will also enjoy a small cameo by Ivan Neville, while wrestling fans will enjoy seeing WWE icon Shawn Michaels.
Pure Country: Pure Heart is a charming, heartfelt story that the whole family can enjoy.