Evans Above
Sep 15, 2017
Rough Night, now available as a Blu-ray release, confirms the old adage that it's never good when a stripper dies during your bachelorette party. The comedy stars Scarlett Johansson, Jillian Bell, Ilana Glazer, Zoë Kravitz and Kate McKinnon.
The AVC-encoded 1080p transfer is presented in the theatrical release's 2.39:1 aspect ratio. Shot digitally, the transfer is very good with only a small amount of noise noticeable in darker scenes. The colour palette around Miami pops, whether it's the sparkling blue waters or the neon signs of the night life. Details, from people's faces to clothing and structure textures are sharp. Black levels are deep.
Moving from the eyes to the ears, Rough Night's disc comes with an English, French, Italian and Portuguese DTS-HD Master Audio 5.1 soundtracks and a Spanish Dolby Digital 5.1 track. Subtitles are available in English, English SDH, French, Italian, Portuguese, and Spanish. Whether it's a campaign office or a nightclub, the surround channels immerse you in the environment and the low frequency obviously gets a workout with the thumping bass on the dance floor. Dialogue is clear.
Besides a digital copy code, the extras include the usual deleted scenes and bloopers. There's also a sing-along, the cast improvising lines and talking about each other.
Rough Night isn't the type of comedy that will go down in the history of the genre, but if you're a huge fan of one of the cast you'll probably add it to your collection for completeness.
Aug 12, 2017
Big Little Lies, the HBO dark comedy-drama miniseries written by TV icon David E. Kelley and directed by Jean-Marc Vallée, is now available to bring home on Blu-ray. HBO Canada gave us a look at the release, which is based on the novel by Liane Moriarty. The miniseries, whose actors like Nicole Kidman, Reese Witherspoon, Shailene Woodley, Laura Dern and Alexander Skarsgård are all nominated for Emmys, takes us to Monterey, California, where the sand and surf and well-heeled mothers are at the centre of a murder. Fans loved peeling away the layers to get to the truth in the seven episodes of season one.
The 1080p Blu-ray is presented in the series' original 1.78:1 aspect ratio and spans three discs. Vallée and cinematographer Yves Bélanger shot mostly with natural light but the video presentation doesn't lose any of its detail or sharpness, though some night scenes tend to have a bit of a bluish hue. Scenes have a bit of gauziness to them, but I file that under a style that Bélanger and Vallée were going for as opposed to a problem with the video presentation. Black levels are good but not great.
On the audio side of things, viewers get an English DTS-HD Master Audio 5.1 soundtrack as well as a French DTS 5.1 track and a Spanish DTS 2.0 track. Subtitles are available in English SDH, French, Spanish, Danish, Finnish, Norwegian, and Swedish. The surround channels get a good workout and you're immersed in the landscape's ambient sound well enough that you'd be forgiven for thinking you're getting hit with salt spray. The dialogue is obviously important when you're uncovering all the murky details of a mystery and its presentation here is clean and crisp.
In the extras department we get Inside the Episode clips for the show with the cast and crew talking about each episode. There's also a slightly longer featurette with more commentary.
Great writing, wonderful direction and a solid cast leading us through a mystery where we not only don't know whodunnit, but to which person it was done to. You'll love adding Big Little Lies to your home library.
Aug 09, 2017
We were recently given the chance to preview Pure Country: Pure Heart, part of the Pure Country series of family-friendly movies produced by Warner Bros. Home Entertainment and WWE Studios. It was released exclusively through Walmart on August 1st, 2017 and is available in-store and on Walmart.com, though I have yet to see it pop up on the Walmart.ca site. I reviewed the combo pack, which comes with Blu-ray and DVD discs as well an option for a digital download.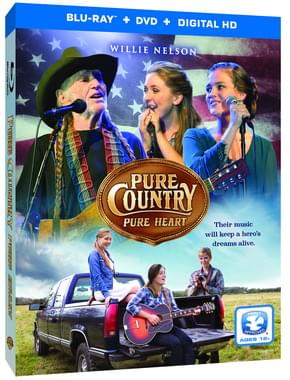 Pure Country: Pure Heart
is available exclusively at Walmart.
The movie is directed by Damon Santostefano and was written by best-selling author Holly Goldberg Sloan who has also written Angels in the Outfield and Made in America. It tells the story of two sisters, played by One Life to Live's Kaitlyn Bausch and Dolphin Tales' Cozi Zuehlsdorff, who stumble upon a letter about their late father, a Marine who died in Iraq while saving the lives of members of his unit. The wannabe country artists know very little about their father as their mother (Amanda Detmer) doesn't like to talk about the past. Aided by their photographer friend (Dara Sisterhen) and a friendly Korean War vet (the always great Ronny Cox), they discover that their father was a budding country music star and sneak off to Nashville to learn about the father and hero they barely knew.
Pure Country: Pure Heart defines family-friendly and the whole gang will feel comfortable watching this film together. The saltiest the language gets is a couple of uses of the word "hell" which the speakers are quickly chastised for. The film is sweet as pie (and you'll drool over the pies in this film) but it's not saccharine. Look, I'm a jaded, big city guy, but even I was charmed by the simple, yet heartfelt, story.
The film is driven by music, featuring 23 songs of which 16 are new. Willie Nelson performs his classic "We Don't Run", Tony Award nominee Laura Bell Bundy sings "Grass Ain't Greener" and Ronny Cox (who is also a singer-songwriter) performs his own "Silver City". There's also a performance by Billy Lynn's Long Halftime Walk's Matthew Barnes. The songs don't slow things down at all and the story moves along at a nice, yet not breakneck, pace.
I have one issue with this release but it's a small one. Willie Nelson, who has a lengthy acting resume besides being a country music icon, is featured prominently on the box art and his name is the only name gracing the cover. Taking out my stopwatch, Willie appears in about three minutes and fifty-two seconds of the film's 84 minute running time. This is no knock against Mr. Nelson (again, the man's a legend) but I think it detracts from the performances that carry this film. Bausch and Zuehlsdorff are engaging leads as sisters Ada and Piper and they harmonize beautifully when singing. Dara Sisterhen is the perfect combination of book smarts and adventure and Matthew Barnes will charm the women in the audience no matter the age. Cox's veteran has sparkle of mischief in his eye. Myra Turley has the perfect amount of strength and love as the girl's grandmother, who understands both her granddaughters' need to find out more about their father and the pain and loss that keeps her daughter evasive to their inquiries. Amanda Detmer's Elizabeth has both the backbone to raise two teenage girls alone and the softness to portray the loss that she's still feeling. Laura Bell Bundy, whose Broadway pipe's have also seen her work on a country music career, easily handles both her acting and singing duties. Music fans will also enjoy a small cameo by Ivan Neville, while wrestling fans will enjoy seeing WWE icon Shawn Michaels.
Pure Country: Pure Heart is a charming, heartfelt story that the whole family can enjoy.
Jul 22, 2017
Smurfs: The Lost Village can now be added to your home entertainment library as Sony Home Entertainment releases it on July 11th, 2017. We took a look at the Blu-Ray version, which also comes with the option of a digital download.
This time around, the Smurfs aren't in a live-action/animated mashup, which in the previous two films allowed them to interact with actors like Neil Patrick Harris and Hank Azaria, who played their nemesis, Gargamel. This is all animation, and this time, Gargamel is voiced by The Office's Rainn Wilson. This film builds on the origin story of Smurfette, the female Smurf voiced by Demi Lovato.
On the video side of things, we get a 1080p AVC encoded transfer in the movie's original 1.85:1 aspect ratio. The Blu-ray looks great. The world of the Smurfs has vibrant colours and the textures, from trees and grasses to clothing and buildings, have amazing detail and sharpness. Colours pop, shadow details have great black levels, and there are no digital glitches apparent.
On the audio side, we get DTS-HD Master Audio 5.1 tracks in English, French and Portuguese and a Spanish Dolby Digital 5.1 track. Subtitles are presented in English, English SDH, French, Portuguese, and Spanish. The soundscape on this release is smurfing wonderful. The music is clear and dynamic, while the surround channels put you clearly in the Smurfs environment. Low end frequencies give oomph where needed and dialogue is clear and understandable.
The disc also comes with a great amount of extras including a audio commentary from director Kelly Asbury and members of his team, deleted scenes, a "making-of" featurette, voice auditions, a dance-along, a music video from Meghan Trainor, and more.
Families who love the Smurfs will enjoy the story and the production of this disc is excellent.
Jun 19, 2017
To celebrate the movie's 75th anniversary, Disney has released the classic Bambi in a Blu-ray, DVD and Digital HD combo pack. In a day and age when far too many films are being reimagined or simply remade, it's great to see loving attention paid to a classic. The main movie's presentation (video and audio) is the same as the Blu-ray released in 2011, but several new extras have been added to make this a member of Disney's Signature Collection releases.
The disc's 1080p AVC encoded transfer is in a 1.35:1 aspect ratio, only slightly off the original's 1.37:1 ratio. The restoration work here is simply breathtaking and it's hard to believe that they were working with original materials from 1945. The forest landscape has natural colours whether it's in the green foliage of the summer and fall or winter's cold whites and grays. The black levels are nice and deep and contrast is top-notch. The line art of this hand-drawn animation is clean and crisp. There also doesn't appear to be any digital transfer issues like artifacts or banding. Simply put, it's a wonderful video presentation.
On the audio side of things we get an English DTS-HD HR 7.1 track, a Dolby Digital 2.0 track of the film's original audio presentation and French and Spanish Dolby Digital 5.1 tracks. Subtitles are available in English SDH, French, and Spanish. The work to put the origanal soundtrack into the ambient surround of a 7.1 track is admirable and given the source material they've done quite well moving some elements into the surround a low frequency channels.
Though the audio and video presentation is the same as the 2011 Blu-ray release, for the Signature Collection release there are some new extras and three missing extras from the 2011 release. The video presentation includes three ways to watch the film: the Original Theatrical Edition, a Disney View version that has artwork on the sidebars, and a Inside Walt's Story Meetings: Extended Edition that presents the film alongside filmed storyboard meetings with Walt and his team. The extras include archival clips, deleted scenes, an Oswald the Lucky Rabbit short, and a variety of featurettes.
If you already own the 2011 Blu-ray release, you don't really need to pick this one up, but if Bambi is not in your home theatre library, this is a must-have.
Jun 17, 2017
When the live action remake of Beauty and the Beast came out earlier this year, I said that it was "A worthy reimagining of its legendary predecessor…" and now it's available to take home and enjoy as Disney releases the Blu-ray.
The AVC-encoded 1080p transfer is in the theatrical releases 2.39:1 aspect ratio. This film has a wide-ranging colour palette from moody winter landscapes to dazzling ball scenes and the sharpness and colour depth is impressive. Black levels in the darker scenes are excellent and details are still present in low light scenes. The detail of the images is great, whether we're talking about the stitching on costumes or the hairs on the Beast. Buildings and landscapes have the right detail to put you in the scene. It's simply a great video presentation.
On the audio side of the equation, we get an English DTS-HD Master Audio 7.1 soundtrack as well as French and Spanish Dolby Digital 5.1 tracks. Subtitles are available in English SDH, French, and Spanish. Whether immersing us in the environment or entertaining us with the musical numbers, this soundscape is more than up to the task. The surround tracks envelope us with ambient details and the musical numbers are bright and clear with dialogue and lyrics clear and centered. Low-frequencies are put to good use during bad weather and action scenes.
The package does not skimp on extras, starting with a DVD copy and a code for a digital copy download. The disc can also be played in karaoke mode, presenting the lyrics for each song. There's a table read featurette, a look at the motion capture technology used to create the Beast, cast and crew interviews, a look at staging the musical numbers, deleted scenes, and an Ariana Grande/John Legend music video.
If you love Beauty and the Beast you should definitely be adding it to your home entertainment collection. If you want to see a great Blu-ray disc presentation you should definitely be adding it to your home entertainment collection. So what are you waiting for?
Apr 01, 2017
Rogue One: A Star Wars Story is a standalone story film that fills in some of the gaps between Star Wars: Episode III – Revenge of the Sith and Star Wars: Episode IV – A New Hope. The events that unfold and the characters we meet take us right up to the opening moments of the film that enthralled audiences starting in 1977. Rogue One: A Star Wars Story is now available for your home library as a Blu-ray, DVD, and Digital HD combo pack.
Shot digitally, the 1080p transfer is gorgeous and in a 2.39:1 aspect ratio. Textures sing in this release, from the grit and the grime, the rain and the dirt, to the cold interiors of the Death Star. While Rebel costumes are gritty and frayed, the shine of spit and polish on the Stormtroopers' uniforms only underline the order and lack of individuality in the Imperial forces. The depths of space are obviously a great test of black levels and the depth and detailing are flawless. And in a story so full of CGI, the digitally-created environments and characters blend excellently into the real actors and sets. All in all, this is an excellent video presentation.
On the audio side of things, viewers get an English DTS-HD Master Audio 7.1 soundtrack as well as French and Spanish Dolby Digital 5.1 tracks. Subtitles are available in English, French and Spanish. The soundtrack is gorgeous and makes perfect use of the channels. Dialogue is clear. The score, from composer Michael Giacchino and with John Williams' famous refrains, is rich and powerful but never overpowering. The surround and low-frequency tracks put you in the middle of the action, whether it's the pounding footsteps of the Imperial walkers or a rebel X-Wing fighter roaring from one side of the screen to the other. A perfect soundtrack to complement a perfect video presentation.
The package for Rogue One: A Star Wars Story is also overflowing with extras. We get detailed looks at many of the new characters introduced in this film as well as the actors behind them. There are also looks at the production design as well as a look at the various cameos and character secrets.
All in all, the home entertainment release of Rogue One: A Star Wars Story is a must-have. You won't be disappointed adding it to your collection.
Mar 06, 2017
Disney has always had a knack for releasing instantly classic animated fare that people want to watch and rewatch, sing-along to and dress up as the following Halloween. The streak has not been broken by Moana, which is now available as a Blu-ray release.
The AVC-encoded 1080p Blu-ray disc is presented in the theatrical release's 2.39:1 aspect ratio and the package also comes with a DVD version and a code for a digital download. I don't know if the palette had a choreographer, because the colours dance on this disc. The greens of the island foliage, the dazzling blues of the ocean, the warm hues of the earth are all a joy to look at. The sharp image and the details on hair, surfaces and fabrics are excellent. The black levels are great and I didn't see any artifacts to speak of. Yet another excellent video transfer from the team at Disney.
On the audio side of the presentation, you get an English DTS-HD Master Audio 7.1 soundtrack as well as French and Spanish Dolby Digital 5.1 tracks with subtitles in English, English SDH, French, and Spanish. The surround tracks are put to great use, immersing us in the crashing waves, island environment and musical numbers. Those musical numbers are powerful but not overpowering and the dialogue and lyrics are clear and centered in the soundscape.
On the extra, we get two theatrical shorts, Inner Workings and Gone Fishing, deleted scenes, commentary from directors John Musker and Ron Clements, a half-hour look at Pacific Islands life and culture, an in-depth look at the making of the musical numbers, and an Alessia Cara music video.
Moana is fun for the whole family, with a great video and audio presentation to boot. A worthy addition to your home entertainment library.
Feb 27, 2017
I loved Marvel's Doctor Strange when I saw it in the theatre and now all of the visual delights are available for the home as Disney releases it on Blu-ray on February 28th.
I had a chance to look at the 2D home release of this film (a 3D version is also available for those with the right equipment) and the visual quality of this release does not disappoint. The 1080p transfer is in the cinematic version's original 2.39:1 aspect ratio. Digitally captured, the movie transfers well with only some mild crush in the black areas. The image is very detailed, with great facial and surface textures. The film's palette matches many of its moody, darker scenes, though of course the metaphysical dimension moments exhibit great colours but nothing that pops as unrealistic, which is a strange thing to say when you're talking about metaphysical dimension scenes.
On the audio side, viewers get an English DTS-HD Master Audio 7.1 soundtrack, as well as French and Spanish Dolby Digital 5.1 tracks. Subtitles are available in English SDH, French and Spanish. Though the whole surround environment immerses you in Doctor Strange's world, the low end gets a great workout here, with its deep tones adding to the mind-bending visuals. Dialogue is centred and crystal clear.
The disc also comes with a nice assortment of extras, including featurettes on the cast, locations and filming, a look at the supporting characters both in the film and comics, a costume segment cleverly titled "The Fabric of Reality", as well as looks at the score and fight choreography. There's also an update on the Marvel Universe, a Thor scene, as well as the usual deleted scenes, gag reels and a commentary from director Scott Derrickson.
A top-notch film experience coupled with a top-notch presentation means that the Doctor Strange Blu-ray deserves a spot in your home library.
Feb 16, 2017
The 2017 Canadian International AutoShow pulls into the Metro Toronto Convention Centre and runs from February 17th to the 26th. I had the pleasure of attending the Media Preview Day and I can tell you that there's a lot of things to dazzle and awe you as well as a lot of information to help you with your automotive shopping. More details on the show can be found by visiting autoshow.ca.
Before I get to the vehicles, the 2017 CIAS is massive so parents can park their children at the Volkswagen Children's Playcare Centre, a FREE professional daycare service filled with exciting activities for your children brought to you by your local Volkswagen dealer. Kids can take part in arts and crafts, interactive activities and much more. It's on Level 600 in the South Building beside the restaurant and coat check.
Wait did I say restaurant? New this year is the Earth Café & Lounge where you can refuel with a wide range of healthy organic and fair trade snack, drink and lunch options, ranging from kale shakes to organic fair trade coffees to quinoa and kale salads.
Okay, but let's get down to business:
The always popular Auto Exotica, presented by Castrol and the Globe and Mail, will allow car enthusiasts to check out luxury vehicles from Aston Martin, Bugatti, Lamborghini, Bentley, Rolls Royce, Karma, McLaren, Singer, Pagani, Lotus and a six-car vintage Ferrari display presented by Ferrari of Ontario. A new addition is a display of classic exotics from some of Canada's most discerning collectors, presented by Autostrada Forum Magazine, which will be profiling several rare and visually stunning examples of exotic motoring in years gone by.
The Ontario Provincial Police have a large presence at CIAS 2017. Show visitors will be able get behind the wheel of several new service vehicles, including a Dodge Charger, a four-wheel drive off-road UTV and a Harley Davidson motorcycle. Throughout the week, the AutoShow Live Stage will host numerous OPP presentations and performances, including the OPP Golden Helmets, K9 and emergency response teams, and under water search and rescue demonstrations.
AutoShow Trivia Challenge will let you test your knowledge and your speed. Just visit game.autoshow.ca, enter your email address and slide to start. One daily prize will be awarded beginning Feb 15, 2017 and ending February 26, 2017 at 4 PM EST. One lucky winner will be awarded a Grand Prize of a $1,000 gift card from VIA Rail Canada. For full contest rules and regulations please contact the Canadian International AutoShow.
It's Canada 150 so celebrate Canada's first car, the 1867 Seth Taylor Steam Buggy, which was designed and built by Henry Seth Taylor, a prosperous watchmaker, jeweler and businessman in Stanstead, Que. The one-of-a-kind exhibit is being hosted by Cobble Beach Concours d'Elegance.
The 50 Years of Grand Prix Racing in Canada exhibit will feature the 1997 Williams FW19 that former F1 superstar Jacques Villeneuve drove in the 1997 European Grand Prix in Jerez, Spain, when he became the first, and so far only, Canadian to win the Formula 1 World Championship. It is the first time the car has been in North America since that 1997 season.
Electric Avenue will allow visitors a chance to check out the greenest vehicles around.
Over 41 vehicles will be unvieled at the AutoShow, including Aston Martin's AM-RB 001, Audi's R8 Spyder, RS3, TT RS, and SQ5, BMW's 5 Series, M760Li xDrive, and MINI Cooper S E Countryman All4, Cadillac's Escala Concept, Chevrolet's Traverse and Equinox Diesel, Ford's Mustang and F-150, Genesis' New York Concept, GMC's Terrain, Honda's 2018 Odyssey, Hyundai Canada's Elantra GT 5-Door, INFINITI's QX50 Concept, Jaguar's F-TYPE 400 Sport, Kia's Stinger and Cadenza, Lincoln's Navigator Concept, Maserati's Quattroporte GranSport, Mazda's CX-5, Mercedes-Benz's Mercedes-AMG E 63 S 4MATIC+, Mercedes-AMG GT R and Mercedes-AMG GT C Roadster, Nissan's Vmotion 2.0 Concept, Porsche's 991 GT3 Cup Car and Macan Turbo, Rinspeed's Oasis concept vehicle, Subaru's Viziv-7 Concept, Volkswagen's Tiguan – Long Wheel Base, and Volvo's V90 R Design.
Family Day is on February 20th, and the AutoShow celebrates it with Family Fun Day which will include special entertainment, prize giveaways, and more.
Castrol Alley with Legendary Motorcar Company will celebrate the muscle cars of the Golden Age of North American auto manufacturing. Ontario's own Legendary Motorcar Company will celebrate the beasts from the '60s and '70s in Castrol Alley on level 700 in the South Building.
Whether your ready to drop some cash on a new car, drop some drool on a luxury car, or drop a jaw for a concept car, the 2017 Canadian International AutoShow will have something for everyone. It was a great Media Preview day. Check out autoshow.ca for more details.
Here's a look at some of the things that caught our eye today: