Mailbag Roundup: Wreck-It Ralph Ultimate Collector's Edition
Mar 04, 2013- Permalink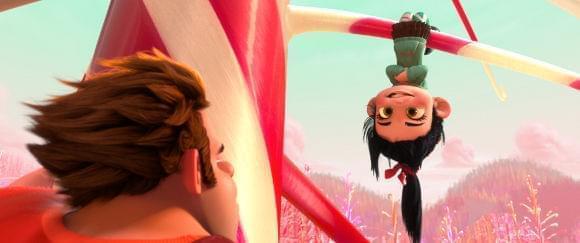 Photo: ©2012 Walt Disney Pictures
As you can tell from my review of the theatrical release, I totally loved Wreck-It Ralph. So you can understand why it was Christmas in March when my review copy of the Wreck-It Ralph Ultimate Collector's Edition arrived in the mail.
The UCE (hey, you keep typing Ultimate Collector's Edition…wait, I just did) contains a Blu-Ray 3D, a Blu-Ray, a DVD and a Digital Copy. Everything but the kitchen sink, but that might be in the case and I haven't found it yet.
As I mentioned in the theatrical review, the film has the perfect combination of video game cameos, in-jokes and real heart. So let's take a look at the home release.
The Blu-Ray is presented in 1080p, MVC-encoded for the 3D disc and AVC-encoded for the 2D. The aspect ratio of 2.39:1 is the same as the theatrical release. The 3D in this film brings you in to Ralph's world, though as a comedy it's not above throwing a few things out of the screen as well. The colours are bright and crisp and this film is a shiny, candy-coated sugar rush for the eyes.
On the audio side, the presentation gives us a DTS-HD Master Audio 7.1 English soundtrack as well as Dolby 5,1 French and Spanish soundtracks. The LFE and rear channels are given quite the workout as well, again immersing you in the video game world you're watching. You'll find yourself expecting to be battling the Cy-Bugs as well.
The presentation is loaded with extras as well. You get 3D and 2D versions of the Oscar-winning short Paperman, Bit by Bit: Creating the Worlds of Wreck-It Ralph, a 17 minute look at how they created the various game worlds, a series of alternate and deleted scenes, some amusing fake commercials for the video arcade over the years, the Disney Intermission feature that has Chris Hardwick discussing in-jokes and references when the disc is paused and a variety of sneak peeks for Disney flicks and properties.
Give yourself a treat and pick this one up.
blog comments powered by

Disqus