Evans Above
May 15, 2014
Julianne Moore will be playing President Alma Coin in The Hunger Games: Mockingjay Part 1 which will hit theatres on November 21st, 2014. Julianne talks about her upcoming role in this video.
Mar 25, 2014
Delivery Man is a remake of the French-Canadian film Starbuck. It follows David Wozniak (Vince Vaughn) an underachiever who has achieved one thing: he's fathered 533 children via his sperm bank donations and over one hundred of them have sued to learn his identity. The film traces his attempts to get to know his offspring.
This isn't Avatar, so it's not like we're expecting the world from its Blu-ray transfer. Still the 1080p/AVC transfer is very sharp and you can see facial textures and other surfaces very well. Colours in some darker interior scenes do have some saturation issues.
The lossless DTS-HD 5.1 audio mix is good t delivering dialogue, but one shouldn't expect this to be an immersive surround experience.
The extra are fairly simple. We get a 16 minute featurette where director Ken Scott and the cast (Vince Vaughn, Chris Pratt, and Cobie Smulders) talk about the film, a few minutes of Vaughn improvising, bloopers, a deleted scene and some upcoming release trailers.
If you're building a Vince Vaughn shrine in your basement a) buy the Blu-ray for your collection and b) hold on a sec while I call the police. If you can take or leave Vaughn, then you might want to wait until you can get it at a discounted price.
Mar 19, 2014
Another trip to the mailbox and another bounty of titles from Disney.
Though John Travolta may have messed up Idina Menzel's name – or is it Adele Dazeem's? — fans of Frozen know her rendition of Let It Go word by word. Frozen took home two Academy Awards – Best Animated Feature and Best Song – and now you can take it home on Blu-Ray. The film follows the quest of Princess Anna (Kristin Bell) to find her snow Queen sister Elsa (Idina Menzel) after an incident plunges their kingdom into an endless winter. Joined by an ice cutter, Kristoff (Jonathan Groff) and a talking snowman (Josh Gad), Anna makes her way through a world of ice and snow in a quest that takes us back to the classic animated musicals like Beauty and the Beast. Fully rounded characters and Broadway-worthy tunes make this one a keeper.
Frozen's 1080p video transfer obviously benefits from the fact that it's moving from digital source to digital output. A film set in winter needs to have clean whites and dark blacks and enough detail for the littlest snowflake and the blu-ray disc delivers.
A movie musical with howling winds, soaring songs and cracking ice needs a worthy audio presentation and Frozen delivers there too with a DTS-HD Master Audio 7.1 surround track. The lower end of things adds gravitas where needed and the other channels surround you in Frozen's world so well that you may end up watching it in a parka.
While a hot chocolate on a cold day is fine, extras like whipped cream and marshmallows make it great, so Frozen needs some great extras too. You get D'Frosted, a look at Walt Disney's desire to make a movie about a Snow Queen; a making of clip, deleted scenes, four different versions of the award-winning Let it Go, a trailer and the delightful new Mickey Mouse short, Get a Horse!
Grab Frozen, toss a log in the fireplace and enjoy.
When Saving Mr. Banks came out in theatres, I was a little torn. The film, which tracks the story behind Walt Disney's 20 year struggle to get P.L. Travers to give him the film rights to Mary Poppins, was full of interspersed flashbacks which I felt gave the film a jerky nature that made it feel longer than its running time. The performances were strong, especially by Emma Thompson, and if you're a real fan of Disney history, you may want this one as part of your library.
Saving Mr. Banks 1080p transfer is free from any noticeable issues. The scenes Disney's sunny California studios pop with sunshine and warmth which act as a contrast to the gloomier aspects of the story. The disc features a DTS-HD Master Audio 5.1 surround track with crisp, clear dialogue. The surround aspects are used to provide some ambiance, but since this isn't one of those immerse-you-in a-strange-world experiences, it's not something you'll miss. As for extras, there's From Poppins to the Present, a fifteen minute look at some aspects of the story and the history of Disney Studios, "Let's Go Fly a Kite" a brief video of cast and crew singing the song led by Mary Poppins co-songwriter Richard Sherman and some deleted scenes. I would have appreciated some more historical looks into the film but considering the film whitewashes some of Walt's dealings with Travers, I guess the Mouse House isn't the place to expect to give the whole story a hard look.
The Jungle Book 2 was originally intended as a direct-to-video release but hit the theatres back in 2003. Featuring the voices of Haley Joel Osment, John Goodman and Mae Whitman, the story follows the 1967 original with a "you can take the boy out of the jungle but not the jungle out of the boy" story. Is the story as good as the first one? Not really. Will it entertain younger members of the household? Probably.
The 1080p transfer has a 1.66:1 aspect ratio, a common ratio used by Disney's CAPS productions during a twenty year period from the early 1980s to 2000s. The transfer has good colours and the contrast looks very good. A DTS-HD Master Audio 5.1 sound mix presents dialogue and the musical numbers well. Considering its a film set in a jungle, I would have liked to have heard more use of the surround channels to place us into the environment. Extras include a look at the original film, discussions with the current cast about the legacy of their characters, some deleted scenes, music videos and sing-a-longs.
Speaking of sequels, I also took a look at Winnie the Pooh: Springtime with Roo. The movie was a direct-to-video release back in 2004 and tracks the honey-hungry bear and his pals in a bunch of Easter-themed escapades. The story is at-par with most of the direct-to-video releases and is just enough to cash in on a popular set of characters.
The 1080p transfer is pretty flawless. Animation lines are clean, colours pop like pastel Easter eggs and the whole thing is bright enough to capture the attention of young viewers. The 5.1 DTS-HD Master Audio track is crisp but doesn't really use the surround elements for much, sticking close to the front speakers like Pooh sticks to a honey pot. A few musical extras might keep the youngest entertained.
So after emptying the mailbox, I'd have to say the Frozen will warm your heart and settle in for repeat viewings, Saving Mr. Banks is good disc of a film with some issues but a great performance by Emma Thompson, while Springtime with Roo and Jungle Book 2 are probably passes for all but those who need the most complete Disney library.
Feb 18, 2014
I was just as surprised as anyone when the awards season seemed to have skipped over the release of Vivid Video's Farrah Superstar: Backdoor Teen Mom, in which MTV's truth-impaired reality star, Farrah Abraham, tried to convince us that it was a private sex tape as opposed to a professionally produced porn. You know, despite leaked emails from the company and statements from co-star James Deen saying otherwise.
As we know, all private sex tapes have sequels, right? Well they do if you give Vivid's Steve Hirsch contractual carte blanche to release the footage packaged and repackaged in as many ways as he can dream of. So now Vivid is releasing the first in what can only be a series of sequels.
They're going to need more titles, so as a public service, here are the top five titles for Farrah Abraham's porn video sequels:
If You Believe This is a Private Sex Tape, Have I Got a Bridge For You
Farrah Abraham: Vivid's Steve Hirsch Owns My Ass
Farrah Abraham/Joe Camel: Separated at Birth
Backdoor Teen Mom Now, Walmart Greeter Later
Hey, Sophia! You Proud of Momma Now?
Feb 14, 2014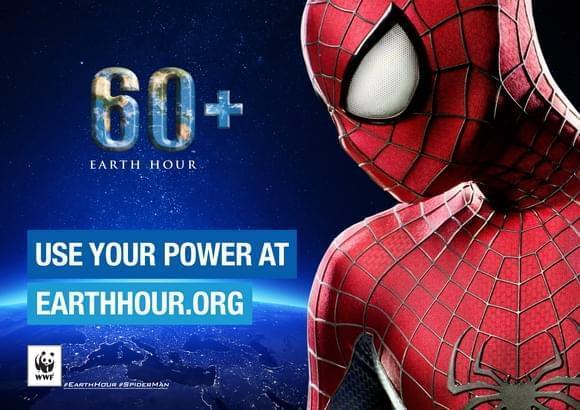 Earth Hour 2014 is coming up on March 29th. In the past I've told you about an Earth Hour hero — Jax and her Flicking the Lights Off song — but this year I have news about the first superhero to be involved with Earth Hour. The WWF had teamed with Spider-Man, naming him the first Super Hero Ambassador for Earth Hour, with a message that you too can be a superhero for the planet.
The announcement was made by Andy Ridley, the CEO and Co-Founder of Earth Hour, and Jeff Blake, Chairman, Worldwide Marketing and Distribution, Sony Pictures Entertainment, as they also announced Earth Hour Blue, a new crowdsourcing and crowdfunding platform that will help people engage with Earth Hour, which takes place on Saturday March 29, at 8:30pm.
Earth Hour will benefit from the added attention it will gain from publicity surrounding the release of The Amazing Spider-Man 2 and the help it gets from the films stars, Andrew Garfield, Emma Stone and Jamie Foxx.
Garfield, who plays the web-sling superhero, said, "I'm proud Spider-Man is the first Super Hero ambassador for Earth Hour because he shows we can all be Super Heroes when we realize the power we all have. Earth Hour is a movement that has created massive impact around the world, so imagine what we can do this year with Spider-Man by our side."
To learn more about how you can harness your energy to help the planet, visit http://www.earthhour.org/ and to see the Spider-Man announcement visit http://www.earthhour.org/spiderman.
Aug 25, 2013
A trip to the mailbox netted us some more Blu-rays from the Disney catalog. This month I'll look at The Sword in the Stone 50th Anniversary Edition Blu-ray Combo Pack, The Muppet Movie Nearly 35th Anniversary Edition Blu-ray Combo Pack and The Many Adventures of Winnie the Pooh Special Edition Blu-ray Combo Pack.
1977's The Many Adventures of Winnie the Pooh was a compilation of three Disney featurettes, 1966's Winnie the Pooh and the Honey Tree, '68's Winnie the Pooh and the Blustery Day and 1974's Winnie the Pooh and Tigger Too.
The 1080p video transfer is full of lively colour and though some purists may argue the noise reduction and grain removal might be too aggressive, it's not too crazy and works with the animation's minimalist style. The DTS-HD Master Audio 5.1 surround track provides us with clean voices, the sub-woofer doesn't get too much action and the rear speakers give us a little ambiance.
The set has a bunch of extras: Pooh Play-Along, Mini Adventures of Winnie the Pooh, A Day for Eeyore, The Story Behind the Masterpiece and the film's theme song performed by Carly Simon.
If you love Winnie the Pooh, and if you don't just move on, you'll love this release.
The Muppet Movie Nearly 35th Anniversary Edition is "nearly" because as a 1979 film, this release is one year early. Not to be confused with the 2011 film, The Muppets, this is the first time Jim Henson's TV gang made the jump to the big screen.
The film's 1080p video transfer doesn't suffer from heavy-handed noise reduction and the grain that remains gives the presentation a nice filmic look. In a felt and fur fabric world it's important that the colours pop and the ones in the presentation do so like a champagne cork.
On the audio side, the DTS-HD Master Audio 5.1 surround track didn't get quite the same attention as the visuals so don't expect much in the way of additional oomph being added to the slapstick adventures of Kermit and the gang.
The pack comes, um, packed with extras: Jim Frawley's Extended Camera Test, a Frog-E-Oke Sing-Along, Pepe Profiles Present Kermit: A Frog's Life, Disney Intermission, Doc Hopper's Commercial and the original trailers.
If the Muppets make you warm and fuzzy…or is that warm and Fozzie?…you need this set.
I remember reading about The Sword in the Stone in a Disney animation book I had but it's still surprising that this traditionally animated tale is now fifty years old. It's not one of the pillars of Disney's catalog — we're not talking Snow White here — but its release goes towards completing the Blu-ray releases of the Mouse House's cel animation collection. It tells the story of a young orphaned boy, Arthur, who is guided to his rightful royal destiny by the wizard Merlin.
The film's 1080p video transfer is, alas, plagued with a few problems. Though the colours look a bit bolder and the blacks blacker, the transfer suffers from a lot of softness. Digital noise reduction has been applied heavily to what could have only been a bad print and so this is not a release that anyone is going to hail as a great remastering.
The original mono soundtrack has been remastered as a DTS-HD Master Audio 5.1 surround track. It sounds clean but the audio is just competent, not innovative.
The pack does feature some extras like an alternate opening, Music Magic: The Sherman Brothers, an excerpt from All About Magic, hosted by Walt Disney, the animated shorts A Knight for a Day and Brave Little Tailor, and a chance to sing along with the movie.
If you must have a complete Disney catalog, buy it, but you might want to give this one a pass.
Jun 18, 2013
We reviewed the theatrical release of Stoker earlier this year and were excited to get another crack at this Park Chan-wook film on Blu-ray. We were get stoked (yes, pun intended) when it arrived in the mail. Stoker is a story of family secrets, sexual awakening, mystery and murder. In her review, Christine Lambert said it should be included as a master class for film students to see how a psychological thriller should be made.
The Blu-ray features a near flawless 1080p transfer of the 35mm original. The work of Chung Chung-hoon makes the digital transition with ease and the details of woods and fabrics and the play of light and shadow is all there with nary a compression artifact to be seen.
Mia Wasikowska's character has a heightened sense of hearing so a soundtrack that does justice to this is a must. The disc has a DTS-HD Master Audio 5.1 surround track and the rear speakers are used to full effect, immersing the viewer in the unsettling ambiance of the scenes. There are several other soundtracks available from English Descriptive audio to French, Spanish, Portuguese, Czech, Hungarian, Polish, Thai and Turkish tracks, all in Dolby Digital 5.1. The list of available subtitles is also longer than most others I've seen with English SDH, French, Spanish, Portuguese, Arabic, Bulgarian, Cantonese, Croatian, Czech, Greek, Hebrew, Hungarian, Icelandic, Indonesian, Malay, Mandarin, Polish, Romanian, Serbian, Slovenian, Thai, Turkish, Vietnamese. For a movie that film lovers the world over should see, the makers of this Blu-ray really have it covered.
The Stoker Blu-ray is also chock full of extras. You'll get deleted scenes, a half-hour "making of" documentary, a gallery of photographs by Mary Ellen Mark, red carpet footage and more.
Stoker is a worthy addition to your Blu-ray collection.
Mar 28, 2013

Photo: ©2012 DreamWorks II Distribution Co., LLC and Twentieth Century Fox Film Corporation
In my Lincoln review, I said that the film had my vote. Now that the Blu-ray is out, it has got my vote again.
There are a few versions out there including the Four Disc Blu-ray/DVD + Digital Copy and the Two Disc Blu-ray/DVD, which I received. Directed by Steven Spielberg, the film focuses on the time after Abraham Lincoln's second inauguration, when Lincoln worked, cajoled, wheeled-and-dealed to get the 13th Amendment passed before an embattled Confederacy could sue for peace. Daniel Day-Lewis is brilliant as his the supporting cast featuring Sally Field and Tommy Lee Jones.
On the video side, the 1080p transfer with a 2.40:1 aspect ratio does justice to cinematographer Janusz Kaminski's work, the contrast being perfect for his palette of dark and light and the grit of war and a lamp-lit Washington. The detail is all there and sets and fabrics look amazing,
On the sound side, the main DTS-HD Master Audio 7.1 surround track subtly immerses the viewer in the action, with the low-frequency channel giving just the right amount of oomph to scenes where needed. (I think "oomph" is a technical term.) The disc also has French and Spanish Dolby Digital 5.1 tracks and subtitles in English SDH, French and Spanish.
The four disc set outweighs the two disc when it comes to extras (about 80 minutes vs. 30), so if you're looking for a whole disc of Blu-ray supporting material, that would be the one to get. Here's a look at the extras for both sets:
Four Disc Extras:
The Journey to Lincoln is a short featurette interviewing Spielberg, Kathleen Kennedy, screenwriter Tony Kushner, production designer Rick Carter, and Team of Rivals author Doris Kearns Goodwin.
A Historic Tapestry: Richmond, Virginia – The filmmakers discuss shooting in Richmond.
In the Company of Character – Takes a look at the performances of Daniel Day-Lewis, Sally Field, Gloria Reuben, Tommy Lee Jones, Joseph Gordon-Levitt, James Spader, Hal Holbrook and David Strathairn.
Crafting the Past — A look at Rick Carter's production design and Joanna Johnston's costumes.
Living with Lincoln — a look at the lengths Spielberg and his team went to immerse themselves in this biopic.
In Lincoln's Footsteps — Spielberg and co-producer Kennedy, the film's editor Michael Kahn, and legendary composer John Williams discuss the techniques of editing and music used to draw the audience into the story.
Two Disc Extras:
The Journey to Lincoln and A Historic Tapestry: Richmond, Virginia.
As I said, if the extras interest you, get the four disc set, but either way you'll be satisfied.
Mar 12, 2013
I knew I was in for some Disney overload when I picked up the mail and received review copies of three new Blu-ray releases from the Mouse House: Mulan & Mulan II, The Hunchback of Notre Dame & The Hunchback of Notre Dame II and Brother Bear & Brother Bear 2. All three series, have the same evolution, the first is a cinematic release, while the sequel is one of Disney's direct-to-video follow-ups. Traditionally that means the budget (and therefore the artwork) is a little less glorious in the sequels. Let's recap the plots for you…
In 1998's Mulan, a Chinese maiden secretly takes the place of her father when the Emperor calls for more soldiers. Disguised as a man, Mulan ends up becoming one of China's greatest heroes. The film features the voice talents of Ming Na-Wen, BD Wong, and Eddie Murphy and the singing talents of Donny Osmond and Lea Solonga.
2005's Mulan II, our heroine is engaged to Li Shang, but the couple must escort three princesses to Chang'an before they can marry. Their mission is put into jeopardy by Mushu, who doesn't want to lose his job, and Mulan herself contradicts the Emperor's orders.
The Hunchback of Notre Dame, released in 1996, tells the story of Quasimodo, the deformed bell-ringer of Notre Dame who must defy the minister of justice to help a dancing gypsy girl. The film features the voice talents of Tom Hulce, Demi Moore, Jason Alexander, Tony Jay, and Kevin Kline. The film's 2002 sequel luckily saw most of the stellar voice talent return as well as the addition of Jennifer Love Hewitt. Quasimodo finds himself falling for the assistant of an evil circus magician, who forces his assistant to help him steal the famous cathedral bell.
2003's Brother Bear tells the story of Kenai (Joaquin Phoenix), an Inuit boy who is turned into a bear by the Spirits when he needlessly kills one of the animals. A young bear cub, Koda (Jeremy Suarez), helps the Kenai learn the error of his ways by seeing life through the eyes of his victims. The film's direct-to-video sequel, Brother Bear 2, was released in 2006 and had Patrick Dempsey taking over from Joaquin. In this story, Kenai must help an Inuit woman he shared a bond with when he was a young man. Will he keep his word and possibly abandon his Brother Bear?
Okay, now on to the discs. The Mulan 3-Disc Special Edition contains both movies on one Blu-ray and two DVDs. The Blu-ray versions of both films are in 1080p. Mulan has a 1.66:1 aspect ratio and Mulan II has a 1.78:1 ratio. While Mulan has rich, colouring that evokes a watercolour painting, its follow-up is less, say, artistic looking then its predecessor. That's not not say Mulan II is not a faithful Blu-ray transfer, but rather a good transfer of a film with a lower budget and production values than its theatrically-released sibling. On the audio side, we get English DTS-HD Master Audio 5.1 and Dolby Digital 2.0 soundtracks as well as French, Spanish and Portuguese Dolby Digital 5.1 tracks. Again, there's better use of the surround tracks in the theatrically-released original than in the sequel. In terms of extras, we get the usual assortment of behind the scenes looks, deleted scenes, commentaries and music videos.
The Hunchback of Notre Dame is not your typical Disney fare, with its death and darkness and all. Some consider it a great example of Disney's traditional animation. The same cannot be said for its sequel, which, like Mulan II, doesn't have the artistic merit or production values of its predecessor. Hunchback I has a 1.78:1 aspect ratio, while the sequel's ratio is 1.66:1. The colours are warmer and richer in Hunchback I, while II is definitely more cartoony in appearance. Both Blu-ray transfers do have some banding and artifacts in their pictures, though its more excusable in the first one as the artwork is still worth it.
On the audio side, we get English DTS-HD Master Audio 5.1 and Dolby Digital 2.0 soundtracks as well as French and Spanish Dolby Digital 5.1, and Russian and Portuguese Dolby Digital 2.0 tracks. Once again the theatrically-released first chapter makes good use of surround sound and low-frequency effects, while the direct-to-video sequel's production values don't really make as good a use of all the channels.
As far as extras go, they're not too exciting, with Jason Alexander giving us a look behind the scenes and commentary and sneak peeks for other Disney properties.
The first Brother Bear movie has an interesting aspect ratio change, moving from a boxy 1.85:1 to a widescreen 2.35:1 ratio as the lead turns into a bear. Brother Bear 2 has a 1.78:1 ratio throughout. Again, richer colours and details in the first film and less detail and artistry in the sequel.
On the audio side, we get English DTS-HD Master Audio 5.1 and Dolby Digital 2.0 tracks as well as French and Spanish Dolby Digital 5.1 tracks. Again — are we sensing a theme yet? — the soundtrack on the first flick makes better use of the surround than the sequel.
The extras for this release include the usual suspects like deleted scenes and "making of" pieces as well as audio commentary by Rick Moranis and Dave Thomas of SCTV fame.
To sum it up: while Mulan, Big Brother, and The Hunchback of Notre Dame are not the greatest of Disney's traditional animation films, they're still quite splendid to look at, especially The Hunchback of Notre Dame. The two II's and a 2? Abominations. The worst, cheap-looking, low production value direct-to-video Saturday morning cartoons. Take a look at the opening sequence of The Hunchback and then follow it up with its sequel. It's no contest. When John Lasseter became chief creative officer of Pixar and Walt Disney Animation Studios after Disney's Pixar purchase in 2006, he shut down the production of the cheaply made direct-to-video sequels which he thought was hurting Disney's reputation and people's opinion of drawn animation. To put the production values in focus, while a film like The Hunchback of Notre Dame might cost in the $70-100 million range, the direct-to-video sequels were quickly pushed out at a cost ranging from about $3.5 million to the low teens.
So, while you might want these collections for the first instalments, save yourself some time and skip the sequels.
Mar 04, 2013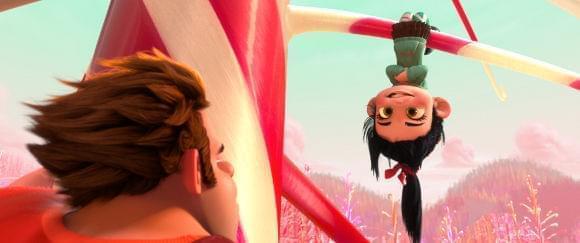 Photo: ©2012 Walt Disney Pictures
As you can tell from my review of the theatrical release, I totally loved Wreck-It Ralph. So you can understand why it was Christmas in March when my review copy of the Wreck-It Ralph Ultimate Collector's Edition arrived in the mail.
The UCE (hey, you keep typing Ultimate Collector's Edition…wait, I just did) contains a Blu-Ray 3D, a Blu-Ray, a DVD and a Digital Copy. Everything but the kitchen sink, but that might be in the case and I haven't found it yet.
As I mentioned in the theatrical review, the film has the perfect combination of video game cameos, in-jokes and real heart. So let's take a look at the home release.
The Blu-Ray is presented in 1080p, MVC-encoded for the 3D disc and AVC-encoded for the 2D. The aspect ratio of 2.39:1 is the same as the theatrical release. The 3D in this film brings you in to Ralph's world, though as a comedy it's not above throwing a few things out of the screen as well. The colours are bright and crisp and this film is a shiny, candy-coated sugar rush for the eyes.
On the audio side, the presentation gives us a DTS-HD Master Audio 7.1 English soundtrack as well as Dolby 5,1 French and Spanish soundtracks. The LFE and rear channels are given quite the workout as well, again immersing you in the video game world you're watching. You'll find yourself expecting to be battling the Cy-Bugs as well.
The presentation is loaded with extras as well. You get 3D and 2D versions of the Oscar-winning short Paperman, Bit by Bit: Creating the Worlds of Wreck-It Ralph, a 17 minute look at how they created the various game worlds, a series of alternate and deleted scenes, some amusing fake commercials for the video arcade over the years, the Disney Intermission feature that has Chris Hardwick discussing in-jokes and references when the disc is paused and a variety of sneak peeks for Disney flicks and properties.
Give yourself a treat and pick this one up.