Evans Above
Feb 14, 2014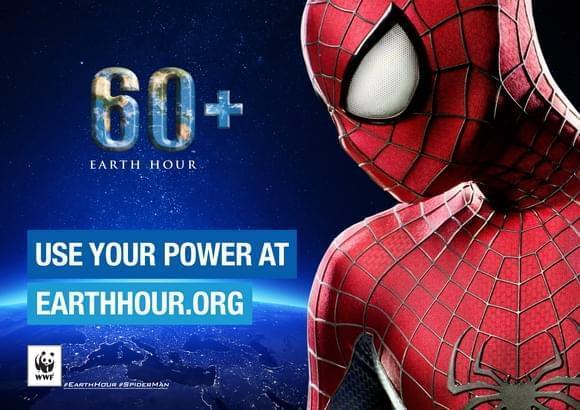 Earth Hour 2014 is coming up on March 29th. In the past I've told you about an Earth Hour hero — Jax and her Flicking the Lights Off song — but this year I have news about the first superhero to be involved with Earth Hour. The WWF had teamed with Spider-Man, naming him the first Super Hero Ambassador for Earth Hour, with a message that you too can be a superhero for the planet.
The announcement was made by Andy Ridley, the CEO and Co-Founder of Earth Hour, and Jeff Blake, Chairman, Worldwide Marketing and Distribution, Sony Pictures Entertainment, as they also announced Earth Hour Blue, a new crowdsourcing and crowdfunding platform that will help people engage with Earth Hour, which takes place on Saturday March 29, at 8:30pm.
Earth Hour will benefit from the added attention it will gain from publicity surrounding the release of The Amazing Spider-Man 2 and the help it gets from the films stars, Andrew Garfield, Emma Stone and Jamie Foxx.
Garfield, who plays the web-sling superhero, said, "I'm proud Spider-Man is the first Super Hero ambassador for Earth Hour because he shows we can all be Super Heroes when we realize the power we all have. Earth Hour is a movement that has created massive impact around the world, so imagine what we can do this year with Spider-Man by our side."
To learn more about how you can harness your energy to help the planet, visit http://www.earthhour.org/ and to see the Spider-Man announcement visit http://www.earthhour.org/spiderman.
Aug 25, 2013
A trip to the mailbox netted us some more Blu-rays from the Disney catalog. This month I'll look at The Sword in the Stone 50th Anniversary Edition Blu-ray Combo Pack, The Muppet Movie Nearly 35th Anniversary Edition Blu-ray Combo Pack and The Many Adventures of Winnie the Pooh Special Edition Blu-ray Combo Pack.
1977's The Many Adventures of Winnie the Pooh was a compilation of three Disney featurettes, 1966's Winnie the Pooh and the Honey Tree, '68's Winnie the Pooh and the Blustery Day and 1974's Winnie the Pooh and Tigger Too.
The 1080p video transfer is full of lively colour and though some purists may argue the noise reduction and grain removal might be too aggressive, it's not too crazy and works with the animation's minimalist style. The DTS-HD Master Audio 5.1 surround track provides us with clean voices, the sub-woofer doesn't get too much action and the rear speakers give us a little ambiance.
The set has a bunch of extras: Pooh Play-Along, Mini Adventures of Winnie the Pooh, A Day for Eeyore, The Story Behind the Masterpiece and the film's theme song performed by Carly Simon.
If you love Winnie the Pooh, and if you don't just move on, you'll love this release.
The Muppet Movie Nearly 35th Anniversary Edition is "nearly" because as a 1979 film, this release is one year early. Not to be confused with the 2011 film, The Muppets, this is the first time Jim Henson's TV gang made the jump to the big screen.
The film's 1080p video transfer doesn't suffer from heavy-handed noise reduction and the grain that remains gives the presentation a nice filmic look. In a felt and fur fabric world it's important that the colours pop and the ones in the presentation do so like a champagne cork.
On the audio side, the DTS-HD Master Audio 5.1 surround track didn't get quite the same attention as the visuals so don't expect much in the way of additional oomph being added to the slapstick adventures of Kermit and the gang.
The pack comes, um, packed with extras: Jim Frawley's Extended Camera Test, a Frog-E-Oke Sing-Along, Pepe Profiles Present Kermit: A Frog's Life, Disney Intermission, Doc Hopper's Commercial and the original trailers.
If the Muppets make you warm and fuzzy…or is that warm and Fozzie?…you need this set.
I remember reading about The Sword in the Stone in a Disney animation book I had but it's still surprising that this traditionally animated tale is now fifty years old. It's not one of the pillars of Disney's catalog — we're not talking Snow White here — but its release goes towards completing the Blu-ray releases of the Mouse House's cel animation collection. It tells the story of a young orphaned boy, Arthur, who is guided to his rightful royal destiny by the wizard Merlin.
The film's 1080p video transfer is, alas, plagued with a few problems. Though the colours look a bit bolder and the blacks blacker, the transfer suffers from a lot of softness. Digital noise reduction has been applied heavily to what could have only been a bad print and so this is not a release that anyone is going to hail as a great remastering.
The original mono soundtrack has been remastered as a DTS-HD Master Audio 5.1 surround track. It sounds clean but the audio is just competent, not innovative.
The pack does feature some extras like an alternate opening, Music Magic: The Sherman Brothers, an excerpt from All About Magic, hosted by Walt Disney, the animated shorts A Knight for a Day and Brave Little Tailor, and a chance to sing along with the movie.
If you must have a complete Disney catalog, buy it, but you might want to give this one a pass.
Jun 18, 2013
We reviewed the theatrical release of Stoker earlier this year and were excited to get another crack at this Park Chan-wook film on Blu-ray. We were get stoked (yes, pun intended) when it arrived in the mail. Stoker is a story of family secrets, sexual awakening, mystery and murder. In her review, Christine Lambert said it should be included as a master class for film students to see how a psychological thriller should be made.
The Blu-ray features a near flawless 1080p transfer of the 35mm original. The work of Chung Chung-hoon makes the digital transition with ease and the details of woods and fabrics and the play of light and shadow is all there with nary a compression artifact to be seen.
Mia Wasikowska's character has a heightened sense of hearing so a soundtrack that does justice to this is a must. The disc has a DTS-HD Master Audio 5.1 surround track and the rear speakers are used to full effect, immersing the viewer in the unsettling ambiance of the scenes. There are several other soundtracks available from English Descriptive audio to French, Spanish, Portuguese, Czech, Hungarian, Polish, Thai and Turkish tracks, all in Dolby Digital 5.1. The list of available subtitles is also longer than most others I've seen with English SDH, French, Spanish, Portuguese, Arabic, Bulgarian, Cantonese, Croatian, Czech, Greek, Hebrew, Hungarian, Icelandic, Indonesian, Malay, Mandarin, Polish, Romanian, Serbian, Slovenian, Thai, Turkish, Vietnamese. For a movie that film lovers the world over should see, the makers of this Blu-ray really have it covered.
The Stoker Blu-ray is also chock full of extras. You'll get deleted scenes, a half-hour "making of" documentary, a gallery of photographs by Mary Ellen Mark, red carpet footage and more.
Stoker is a worthy addition to your Blu-ray collection.
Mar 28, 2013

Photo: ©2012 DreamWorks II Distribution Co., LLC and Twentieth Century Fox Film Corporation
In my Lincoln review, I said that the film had my vote. Now that the Blu-ray is out, it has got my vote again.
There are a few versions out there including the Four Disc Blu-ray/DVD + Digital Copy and the Two Disc Blu-ray/DVD, which I received. Directed by Steven Spielberg, the film focuses on the time after Abraham Lincoln's second inauguration, when Lincoln worked, cajoled, wheeled-and-dealed to get the 13th Amendment passed before an embattled Confederacy could sue for peace. Daniel Day-Lewis is brilliant as his the supporting cast featuring Sally Field and Tommy Lee Jones.
On the video side, the 1080p transfer with a 2.40:1 aspect ratio does justice to cinematographer Janusz Kaminski's work, the contrast being perfect for his palette of dark and light and the grit of war and a lamp-lit Washington. The detail is all there and sets and fabrics look amazing,
On the sound side, the main DTS-HD Master Audio 7.1 surround track subtly immerses the viewer in the action, with the low-frequency channel giving just the right amount of oomph to scenes where needed. (I think "oomph" is a technical term.) The disc also has French and Spanish Dolby Digital 5.1 tracks and subtitles in English SDH, French and Spanish.
The four disc set outweighs the two disc when it comes to extras (about 80 minutes vs. 30), so if you're looking for a whole disc of Blu-ray supporting material, that would be the one to get. Here's a look at the extras for both sets:
Four Disc Extras:
The Journey to Lincoln is a short featurette interviewing Spielberg, Kathleen Kennedy, screenwriter Tony Kushner, production designer Rick Carter, and Team of Rivals author Doris Kearns Goodwin.
A Historic Tapestry: Richmond, Virginia – The filmmakers discuss shooting in Richmond.
In the Company of Character – Takes a look at the performances of Daniel Day-Lewis, Sally Field, Gloria Reuben, Tommy Lee Jones, Joseph Gordon-Levitt, James Spader, Hal Holbrook and David Strathairn.
Crafting the Past — A look at Rick Carter's production design and Joanna Johnston's costumes.
Living with Lincoln — a look at the lengths Spielberg and his team went to immerse themselves in this biopic.
In Lincoln's Footsteps — Spielberg and co-producer Kennedy, the film's editor Michael Kahn, and legendary composer John Williams discuss the techniques of editing and music used to draw the audience into the story.
Two Disc Extras:
The Journey to Lincoln and A Historic Tapestry: Richmond, Virginia.
As I said, if the extras interest you, get the four disc set, but either way you'll be satisfied.
Mar 12, 2013
I knew I was in for some Disney overload when I picked up the mail and received review copies of three new Blu-ray releases from the Mouse House: Mulan & Mulan II, The Hunchback of Notre Dame & The Hunchback of Notre Dame II and Brother Bear & Brother Bear 2. All three series, have the same evolution, the first is a cinematic release, while the sequel is one of Disney's direct-to-video follow-ups. Traditionally that means the budget (and therefore the artwork) is a little less glorious in the sequels. Let's recap the plots for you…
In 1998's Mulan, a Chinese maiden secretly takes the place of her father when the Emperor calls for more soldiers. Disguised as a man, Mulan ends up becoming one of China's greatest heroes. The film features the voice talents of Ming Na-Wen, BD Wong, and Eddie Murphy and the singing talents of Donny Osmond and Lea Solonga.
2005's Mulan II, our heroine is engaged to Li Shang, but the couple must escort three princesses to Chang'an before they can marry. Their mission is put into jeopardy by Mushu, who doesn't want to lose his job, and Mulan herself contradicts the Emperor's orders.
The Hunchback of Notre Dame, released in 1996, tells the story of Quasimodo, the deformed bell-ringer of Notre Dame who must defy the minister of justice to help a dancing gypsy girl. The film features the voice talents of Tom Hulce, Demi Moore, Jason Alexander, Tony Jay, and Kevin Kline. The film's 2002 sequel luckily saw most of the stellar voice talent return as well as the addition of Jennifer Love Hewitt. Quasimodo finds himself falling for the assistant of an evil circus magician, who forces his assistant to help him steal the famous cathedral bell.
2003's Brother Bear tells the story of Kenai (Joaquin Phoenix), an Inuit boy who is turned into a bear by the Spirits when he needlessly kills one of the animals. A young bear cub, Koda (Jeremy Suarez), helps the Kenai learn the error of his ways by seeing life through the eyes of his victims. The film's direct-to-video sequel, Brother Bear 2, was released in 2006 and had Patrick Dempsey taking over from Joaquin. In this story, Kenai must help an Inuit woman he shared a bond with when he was a young man. Will he keep his word and possibly abandon his Brother Bear?
Okay, now on to the discs. The Mulan 3-Disc Special Edition contains both movies on one Blu-ray and two DVDs. The Blu-ray versions of both films are in 1080p. Mulan has a 1.66:1 aspect ratio and Mulan II has a 1.78:1 ratio. While Mulan has rich, colouring that evokes a watercolour painting, its follow-up is less, say, artistic looking then its predecessor. That's not not say Mulan II is not a faithful Blu-ray transfer, but rather a good transfer of a film with a lower budget and production values than its theatrically-released sibling. On the audio side, we get English DTS-HD Master Audio 5.1 and Dolby Digital 2.0 soundtracks as well as French, Spanish and Portuguese Dolby Digital 5.1 tracks. Again, there's better use of the surround tracks in the theatrically-released original than in the sequel. In terms of extras, we get the usual assortment of behind the scenes looks, deleted scenes, commentaries and music videos.
The Hunchback of Notre Dame is not your typical Disney fare, with its death and darkness and all. Some consider it a great example of Disney's traditional animation. The same cannot be said for its sequel, which, like Mulan II, doesn't have the artistic merit or production values of its predecessor. Hunchback I has a 1.78:1 aspect ratio, while the sequel's ratio is 1.66:1. The colours are warmer and richer in Hunchback I, while II is definitely more cartoony in appearance. Both Blu-ray transfers do have some banding and artifacts in their pictures, though its more excusable in the first one as the artwork is still worth it.
On the audio side, we get English DTS-HD Master Audio 5.1 and Dolby Digital 2.0 soundtracks as well as French and Spanish Dolby Digital 5.1, and Russian and Portuguese Dolby Digital 2.0 tracks. Once again the theatrically-released first chapter makes good use of surround sound and low-frequency effects, while the direct-to-video sequel's production values don't really make as good a use of all the channels.
As far as extras go, they're not too exciting, with Jason Alexander giving us a look behind the scenes and commentary and sneak peeks for other Disney properties.
The first Brother Bear movie has an interesting aspect ratio change, moving from a boxy 1.85:1 to a widescreen 2.35:1 ratio as the lead turns into a bear. Brother Bear 2 has a 1.78:1 ratio throughout. Again, richer colours and details in the first film and less detail and artistry in the sequel.
On the audio side, we get English DTS-HD Master Audio 5.1 and Dolby Digital 2.0 tracks as well as French and Spanish Dolby Digital 5.1 tracks. Again — are we sensing a theme yet? — the soundtrack on the first flick makes better use of the surround than the sequel.
The extras for this release include the usual suspects like deleted scenes and "making of" pieces as well as audio commentary by Rick Moranis and Dave Thomas of SCTV fame.
To sum it up: while Mulan, Big Brother, and The Hunchback of Notre Dame are not the greatest of Disney's traditional animation films, they're still quite splendid to look at, especially The Hunchback of Notre Dame. The two II's and a 2? Abominations. The worst, cheap-looking, low production value direct-to-video Saturday morning cartoons. Take a look at the opening sequence of The Hunchback and then follow it up with its sequel. It's no contest. When John Lasseter became chief creative officer of Pixar and Walt Disney Animation Studios after Disney's Pixar purchase in 2006, he shut down the production of the cheaply made direct-to-video sequels which he thought was hurting Disney's reputation and people's opinion of drawn animation. To put the production values in focus, while a film like The Hunchback of Notre Dame might cost in the $70-100 million range, the direct-to-video sequels were quickly pushed out at a cost ranging from about $3.5 million to the low teens.
So, while you might want these collections for the first instalments, save yourself some time and skip the sequels.
Mar 04, 2013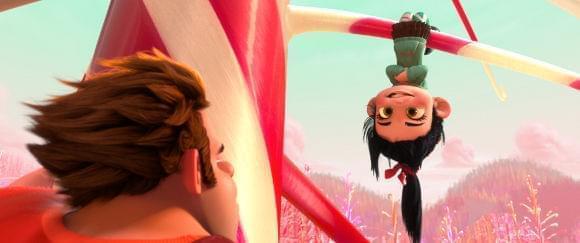 Photo: ©2012 Walt Disney Pictures
As you can tell from my review of the theatrical release, I totally loved Wreck-It Ralph. So you can understand why it was Christmas in March when my review copy of the Wreck-It Ralph Ultimate Collector's Edition arrived in the mail.
The UCE (hey, you keep typing Ultimate Collector's Edition…wait, I just did) contains a Blu-Ray 3D, a Blu-Ray, a DVD and a Digital Copy. Everything but the kitchen sink, but that might be in the case and I haven't found it yet.
As I mentioned in the theatrical review, the film has the perfect combination of video game cameos, in-jokes and real heart. So let's take a look at the home release.
The Blu-Ray is presented in 1080p, MVC-encoded for the 3D disc and AVC-encoded for the 2D. The aspect ratio of 2.39:1 is the same as the theatrical release. The 3D in this film brings you in to Ralph's world, though as a comedy it's not above throwing a few things out of the screen as well. The colours are bright and crisp and this film is a shiny, candy-coated sugar rush for the eyes.
On the audio side, the presentation gives us a DTS-HD Master Audio 7.1 English soundtrack as well as Dolby 5,1 French and Spanish soundtracks. The LFE and rear channels are given quite the workout as well, again immersing you in the video game world you're watching. You'll find yourself expecting to be battling the Cy-Bugs as well.
The presentation is loaded with extras as well. You get 3D and 2D versions of the Oscar-winning short Paperman, Bit by Bit: Creating the Worlds of Wreck-It Ralph, a 17 minute look at how they created the various game worlds, a series of alternate and deleted scenes, some amusing fake commercials for the video arcade over the years, the Disney Intermission feature that has Chris Hardwick discussing in-jokes and references when the disc is paused and a variety of sneak peeks for Disney flicks and properties.
Give yourself a treat and pick this one up.
Feb 15, 2013
Been away for a few days but came back to discover the Blu-Ray of The Sessions waiting for us to toss in the ol' LG BP200. (As an aside, we covered the premiere of The Sessions at the Toronto International Film Festival.)
We received the Canadian Blu-Ray only version from Fox Searchlight, but there's also a Blu-Ray plus Ultraviolet version available in the United States. If you're new to the whole Ultraviolet thing, it's a "buy once, play anywhere" system that you can read about here.
The Sessions tells the story of a man in an iron lung (John Hawkes) who wishes to lose his virginity. After consulting with his priest (William H. Macy) he hires a professional sex surrogate (Helen Hunt) to help him take this step n his life. Written and direced by Ben Lewin, and based on a story by and about Mark O'Brien, The Sessions debuted at the 2012 Sundance Film Festival, where it won both the Audience Award and a Special Jury Prize for Ensemble Acting.
The Sessions has had a great critical response and the awards season has been kind to it as well. Hawkes and Hunt were both nominated for the Golden Globes, the SAG Awards and the Independednt Spirit Awards. Hunt was also nominated for an Academy Award.
The Blu-Ray is at 1080p resolution and is released in a 1.84:1 aspect ratio. Shot on a Red One camera system, the transfer to Blu-Ray is understandably flawless. This isn't a Transformers flick, so you're not going to notice the dazzling surround effects that 5.1 brings you but still, the audio is good and the dialogue levels — important in such a dialogue-heavy film — are clear. The film does have an English DTS-HD Master Audio 5.1 track, an English Descriptive Audio track, as well as French and Spanish Dolby Digital 5.1. There are English, French and Spanish subtitles and the English subtitles are SDH (Subtitles for the Deaf and Hearing Impaired) which means they add effect notes like "(dog barks)" to the subtitles.
Extras on the Blu-Ray include deleted scenes, director Ben Lewin discussing how he came upon the story, John Hawkes and Helen Hunt talking about their roles, as well as cast interviews as well as a piece called "The Women Who Loved Mark O'Brien."
With a moving story and great performances, The Sessions is a great addition to your movie library.
Feb 05, 2013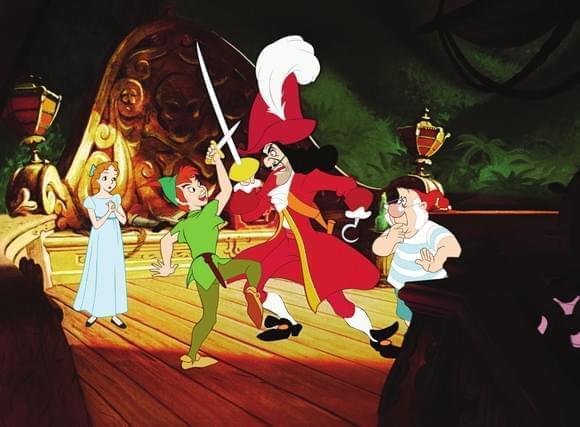 Courtesy Walt Disney Studios
To celebrate the 60th Anniversary of Walt Disney's Peter Pan, the studio has released a Diamond Edition package (available in three and two disc combo versions) that for the first time sees the 1953 film released on Blu-Ray.
Based on the play and novel by J.M. Barrie, the film tells the story of Peter Pan, the boy who never grew up, his trusty sidekick Tinker Bell, and the three siblings — Wendy, John and Michael — who joined him on a trip to Never Land where they battled Captain Hook and his band of pirates.
The film, directed by Walt's "Nine Old Men", has been carefully restored for its Blu-Ray release and its bonus features include:
Disney Intermission
Growing up with Nine Old Men
Disney View
Introduction by Diane Disney Miller
Deleted Songs & Scenes
You Can Fly: The Making of Peter Pan
Tinker Bell: A Fairy's Tale
Disney Song Selections
Audio Commentary Hosted by Roy Disney
Music Videos
The film is presented in its original 1.33:1 aspect ratio, so those expecting a widescreen film should be forewarned. (That may seem like an unnecessary bit of info, but just check Amazon comments on some older films like Casablanca where clueless buyers wonder why the sides were chopped off. Sigh…)
The video transfer is 1080p and there's both a DTS-HD 7.1 soundtrack and the original mono track.
Parents should also be warned that this film is a product of its time and the film's portrayal of Native Americans is stereotypical and racist especially in the "What Makes the Red Man Red?" musical number. Though there's no revisionism in this release and we're seeing the film as it was intended to be seen in the Fifties, I am a little surprised that the way Disney chose to handle the controversy was by ignoring it. Surely there could have been an small bonus feature on the disc that parents and teachers could have used as a discussion point.
Dec 06, 2012
It's pretty weird. It's only the beginning of December, but I'm pretty sure I heard Santa's sleigh landing on our mailbox. Looking inside this week I noticed that Christmas came early in the form of three new Blu-Ray/DVD combo sets from Disney: the Up 3D 5-Disc Combo Pack, the Finding Nemo 3D: Ultimate Collector's Edition 5-Disc Combo Pack and The Odd Life of Timothy Green 2-Disc Combo Pack.
Up tells the story of Carl Fredericksen (Ed Asner) a curmudgeonly 78-year-old balloon seller and widower who straps thousands of helium balloons to avoid getting sent off to the Shady Oaks Retirement Home. As he floats off to South America he discovers a surprise passenger, a young Wilderness Explorer Scout named Russell (Jordan Nagai). They end up in an adventure that has them crossing paths with a crazy explorer (Christipher Plummer), an exotic bird named Kevin and Dug (Bob Peterson), a golden retriever fitted with a voice box. As per Pixar standards, there's laughs and heartfelt moments galore.
The Up 3D 5-Disc Combo Pack contains the Blu-Ray 3D version (requires a 3D-compatible TV and Blu-Ray player), the regular Blu-Ray version, Blu-Ray bonus features disc, a DVD version and a digital copy for your computer or portable device. The 1080p/AVC-encoded transfer is stunning and the 3D immerses into the world that Carl and Russell set off to explore. You're further brought into the action by the 5.1 surround sound. The 2D Blu-Ray is just as stunning. Extras include Cine-Explore Commentary with picture-in-picture commentary and storyboards, animated shorts and several documentaries.
Finding Nemo won our hearts in 2D back in 2003 and came back with a 3D version in 2012. When a young clownfish named Nemo gets captured, it's up to his father Marlin (voiced by Albert Brooks) to find him. He's aided by a blue tang fish named Dory (voiced by Ellen DeGeneres) who's eager to help but has short-term memory issues. Toss in pelicans and seagulls, sea turtles and sharks and you've got an underwater adventure for the whole family. Again the 1080p transfer is amazing and the 3D version immerses us (excuse the pun) in their underwater world. A TrueHD 7.1 soundtrack will have you feeling like you need scuba gear. Extras include a Cine-Explore Documentary and a whole seafood platter of featurettes , deleted scenes and behind-the-scenes looks.
The Odd Life of Timothy Green 2-Disc Combo Pack brings us the story of a married couple (Jennifer Garner and Joel Edgerton) who dream what their child would be like only to have a young boy (CJ Adams) appear on their doorstep. No 3D here and the sound isn't as immersive as the magical worlds above. Some may find the story a little too sweet and sentimental. Extra include a music video and director commentary.
People who love these films and want to add them to their collections, can't go wrong with these versions.
Oct 17, 2012
If you haven't seen the video "Wilder" by a singer named Gnesa, then you can count yourself among the lucky ones. In days, or perhaps hours, you won't be able to escape the onslaught of news outlets that will play clips and ponder whether this is better or worse than Rebecca Black's ode to awful, "Friday".
Gnesa's video does not come off as an ad for Auto-Tune, which appears to have either been turned off or incapable of containing the ear-bleeding insanity that Gnesa uses as vocal stylings.
The video, which features poor singing, bland direction, bad outfits and trowel-applied makeup, must surely be the first wave of the "cyber Pearl Harbor" that U.S. Defence Secretary Leon Panetta has warned us about.
Listen at your own risk. I had to stop about 58 seconds in.