Ari Graynor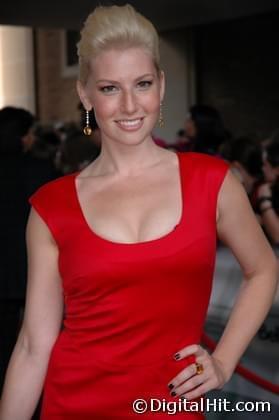 Check out our Ari Graynor photo gallery.
Born: Apr. 27, 1983 Boston, Massachusetts, USA
[Please note that we are recovering from a bad database backup and some of our bio entries might be a bit stale. We are baking up a fresh batch as soon as possible.]
Ariel Geltman Graynor was born on April 27th, 1983 in Boston, Massachusetts. She attended the private school Buckingham Brown and Nichols and then went to Trinity College in Connecticut.
Her television debut was on The Sopranos, where she landed a small recurring role in 2001. She then played a manipulative psychopath an episode of Law & Order: Special Victims Unit in 2003, a year that would also see her make her film debut in Clint Eastwood's Mystic River, which starred Sean Penn and Laura Linney.
In 2004, Graynor made the films Book of Love with Simon Baker and Imaginary Heroes with Sigourney Weaver and Emile Hirsch. The following year she appeared in Game 6 with Michael Keaton and The Great New Wonderful with Will Arnett.
2006 saw Graynor play a production assistant in Christopher Guest's For Your Consideration. That was followed by 2007's An American Crime with Catherine Keener and Ellen Page and Turn the River with Famke Janssen. Ari was in the comedy Nick and Norah's Infinite Playlist in 2008 alongside Michael Cera and Kat Dennings and she then landed a recurring role on the series Fringe with Joshua Jackson.
She teamed with Cera again in Youth in Revolt, a year that also saw her in Drew Barrymore's Whip It! with Kristen Wiig and Ellen Page. A busy 2010 saw Ari with roles in Holy Rollers with Jesse Eisenberg and Justin Bartha, Date Night with Steve Carell and Tina Fey, and Conviction with Hilary Swank.
2011 was also a busy one for Graynor as she appeared in Lucky with Colin Hanks, What's Your Number? with Anna Faris and Chris Evans, 10 Years with Channing Tatum and Justin Long and The Sitter with Jonah Hill. The following year, she was in Celeste & Jesse Forever with Rashida Jones and Andy Samberg and For a Good Time, Call with Lauren Miller.
As time progresses, we'll have more info about Ari Graynor here. If you have any comments or suggestions about our coverage, please email us.