Entertainment News
Latest Avengers film comes out April 26, 2019.
Live action version of the animated classic opens May 24th, 2019.
Movie Profiles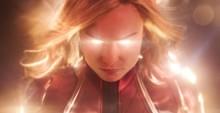 Recent Evans Above
Mary Poppins Returns Blu-ray review: When Mary Poppins Returns hit theatres, I said my quick take...
The Little Mermaid 30th Anniversary Signature Collection Edition Blu-ray review: The Disney animated classic The Little Mermaid is now celebrating its 30th...
Ralph Breaks the Internet Blu-ray review: When Ralph Breaks the Internet was in its theatrical release, I...
Read Evans Above...
Top DVDs
Content temporarily unavailable.
Current Poll
We're sorry, this poll is now closed. Would you like to see the results?
Countdowns