Entertainment News
Film now playing in select cities.
Animated flick hits theatres November 21st.
Movie Profiles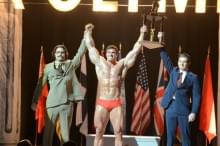 Recent Evans Above
Ant-Man and the Wasp Blu-ray review: When Ant-Man came out in 2015, I found it a nice blast...
Solo: A Star Wars Story Blu-ray review: During production, it sometimes seemed that most of the drama with Solo:...
Breaking In Blu-ray review: Breaking In is a competent thriller about a mother (Gabrielle Union) who...
Read Evans Above...
Current Poll
We're sorry, this poll is now closed. Would you like to see the results?
Countdowns