Entertainment News
It's the latest trailer for an Uber trip gone wrong.
David Lynch, Wes Studi, Lina Wertmüller and Geena Davis to be honoured on October 27th.
Movie Profiles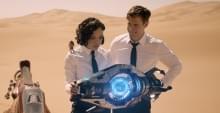 Recent Evans Above
Us Blu-ray review: Writer-director Jordan Peele's Us is a terrifying and thought-provoking horror film with...
Captain Marvel Blu-ray review: When I reviewed Captain Marvel, I said that it was a...
Glass Blu-ray review: M. Night Shyamalan's Glass unites three characters that he's introduced us to...
Read Evans Above...
Top DVDs
Content temporarily unavailable.
Current Poll
We're sorry, this poll is now closed. Would you like to see the results?
Countdowns