Kate Hudson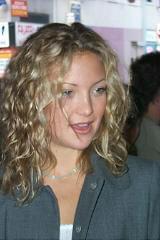 Check out our Kate Hudson photo gallery.
Born: Apr. 19, 1979 Los Angeles, California, USA
[Please note that we are recovering from a bad database backup and some of our bio entries might be a bit stale. We are baking up a fresh batch as soon as possible.]
Kate Hudson started off her career as "the daughter of actress Goldie Hawn and singer-comedian Bill Hudson" but has since blossomed into an actress that charms critics and audiences alike.
After TV appearances including Party of Five and EZ Streets, Kate made her film debut in 1998's Desert Blue. That same year she also appeared in Ricochet River.
1999's 200 Cigarettes was her first major studio film, but Kate really exploded onto the scene in Cameron Crowe's 2000 flick Almost Famous. Her performance as "band aid" Penny Lane won her a Golden Globe Award and also earned her an Academy Award® nomination.
Besides Almost Famous, Kate will also remember 2000 for her wedding to Black Crowes frontman Chris Robinson.
After 2001's About Adam, Kate worked with Elizabeth director Shekhar Kapur in The Four Feathers, which premiered at the 27th Toronto International Film Festival. In early 2003, Kate starred opposite Matthew McConaughey in How to Lose a Guy in 10 Days. That same year she also appeared in Alex and Emma with Luke Wilson and Le Divorce with Naomi Watts.
She and husband Chris Robinson welcomed their first son, Ryder Russell Robinson, into the world on January 7th, 2004. That same year saw Kate appear in Raising Helen, which she followed with The Skeleton Key in 2005 and You, Me and Dupree in 2006.
In August of 2006, Kate separated from her husband of six years.
As time progresses, we'll have more info about Kate Hudson here. If you have any comments or suggestions about our coverage, please email us.