Matthew McConaughey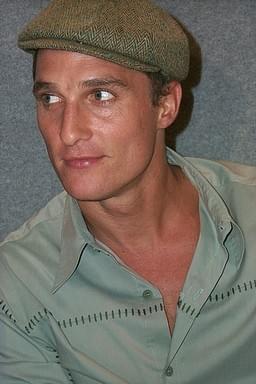 Check out our Matthew McConaughey photo gallery.
Born: Nov. 4, 1969 Uvalde, Texas, USA
[Please note that we are recovering from a bad database backup and some of our bio entries might be a bit stale. We are baking up a fresh batch as soon as possible.]
Born in Uvalde, Texas on November 4th, 1969, Matthew McConaughey's first big film role was in Richard Linklater's 1993 flick Dazed and Confused. After making My Boyfriend's Back, Angels in the Outfield and Return of the Texas Chainsaw Massacre (with Renée Zellweger) over the next couple of years, he really caught the public's eye in 1995 when he played Drew Barrymore's boyfriend in Boys on the Side.
In 1996, McConaughey worked with director John Sayles in the well-received Lone Star and followed that with the lead in Joel Schumacher's A Time to Kill opposite Sandra Bullock and Samuel L. Jackson. Though more established actors were being considered, Matthew lobbied hard for the role and it was his screen test that finally won over author/producer John Grisham.
McConaughey was a hot property at the moment but had a couple of stumbles in 1997 when he appeared in a small role in Contact (as Jodie Foster's love interest) and as a lawyer in Amistad. Both roles were thought not to capitalize on the "heat" and momentum his career had at that time.
In 1998, he reteamed with Richard Linklater to make The Newton Boys before trying his hand directing the short film The Rebel.
McConaughey appeared opposite Jenna Elfman, Woody Harrelson and Elizabeth Hurley in Ron Howard's 1999 flick EDtv which was hurt by comparisons to the earlier released Jim Carrey film The Truman Show. The comparisons were unfortunate because though both were about a man on TV 24/7, EDtv had less in common with Truman's Big Brother environment and more to do with reality TV.
Matthew went from EDtv's box-office sinking ship to a submarine when he starred in 2000's U-571 and tapped into his natural comic abilities again in 2001 opposite Jennifer Lopez in The Wedding Planner. McConaughey's next big flick, 2002's Reign of Fire, had him battling dragons, while he battled Kate Hudson in the January 2003 release How to Lose a Guy in 10 Days.
As time progresses, we'll have more info about Matthew McConaughey here. If you have any comments or suggestions about our coverage, please email us.