Drew Barrymore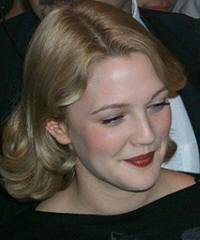 Check out our Drew Barrymore photo gallery.
Born: Feb. 22, 1975 Los Angeles, California, USA
[Please note that we are recovering from a bad database backup and some of our bio entries might be a bit stale. We are baking up a fresh batch as soon as possible.]
When Drew Barrymore appeared at the 1998 Toronto International Film Festival to promote her new film Home Fries, she was mobbed by cheering fans. While she signed autographs and posed for photos, one of the photographers commented, "When did she get so popular?"
Things haven't always been good for the heir to the Barrymore acting dynasty, but let's start at the beginning. She was born in Los Angeles on February 22nd, 1975. At the ripe old age of 11 months she made her first TV appearance when she appeared in a dog food commercial. At the age of two she made her first TV movie, playing a boy in Suddenly, Love.
Her first feature film happened at age five when the young Barrymore appeared in Altered States. Two years later Drew landed her most famous role playing Gertie in the hugely popular E.T. The Extra-Terrestrial. Appearing in one of the top films of all time helps to put an actress on the map. In 1984, Drew appeared in Firestarter and earned a Golden Globe nomination for her role in Irreconcilable Differences.
That's when things started to go bad for Drew. At age 9, she was drunk at a party thrown for Rob Lowe. At age 10, she was smoking pot and by her thirteenth year she had escalated to cocaine. At an age when most teens are getting ready for high school, Drew was checking in to rehab.
She left rehab after just a couple of weeks. Her mother eventually had to use private investigators to track her down and drag her back. After a three month rehab stay, Drew tried to become the poster child for clean teens. She did an "I'm sober" interview with People and filmed an anti-drug TV movie. Drew found being on the wagon a bit bumpy. She started taking drugs again and eventually tried to commit suicide. Though she seemed to have lived a lifetime of problems, she was still only fifteen.

This trip to rehab was much more successful. Drew felt she had finally beaten her demons and that same year she also legally declared herself free of her mother's control; the two had shared a rocky relationship for years. Clean and sixteen, Drew co-authored a book, Little Girl Lost, that chronicled her life so far.
Drew now started working on getting her career back on track. In 1992, she appeared in the steamy thriller Poison Ivy. She also tried her hand at series television that year, starring in the short-lived primetime soap 2000 Malibu Road. In 1993 she played Long Island Lolita Amy Fisher in a TV movie. That same year she married actor Jeremy Thomas, but that union only lasted two months. In 1995, the 20-year-old Barrymore showed the world she was no longer a teen by posing in the January Playboy. She also gave talk show host David Letterman an on air birthday present by dancing on his desk and flashing him out of camera view. She rounded out 1995 by appearing in movies like Mad Love, Batman Forever, and Boys on the Side.
In 1996, she appeared in the teen horror parody Scream and worked opposite Edward Norton in Woody Allen's Everyone Says I Love You. She teamed up with Adam Sandler in 1998 to appear in the wildly popular hit The Wedding Singer and ended the year with a strong performance in Ever After. The now hard-working actress turned her hand to producing as well. In 1999, she produced and starred in Never Been Kissed and also produced Charlie's Angels which co-starred Cameron Diaz and Lucy Liu.
Drew married comedian Tom Green in July 2001, but he filed for divorce in December of the same year. That same year she also starred in Riding in Cars with Boys.
In 2002, Drew appeared in George Clooney's Confessions of a Dangerous Mind. She tossed her producer's hat on again for 2003's Charlie's Angels: Full Throttle. That same year, she appeared with Ben Stiller in Duplex. The following year, she co-starred with Adam Sandler in 50 First Dates.
In 2005, Drew appeared in the romantic comedy Fever Pitch with former SNL'er Jimmy Fallon. She provided the voice of Maggie in 2006's animated flick Curious George and sang with Hugh Grant in the 2007 romantic comedy Music and Lyrics. That same year, she worked with Eric Bana and Robert Duvall in Lucky You.
In 2008, Drew lent her voice to Beverly Hills Chihuahua. In 2009, she produced and starred in He's Just Not That Into You, whose ensemble cast featured Ben Affleck, Jennifer Aniston, Jennifer Connelly, Bradley Cooper and Scarlett Johansson. She also appeared in the HBO film Grey Gardens with Jessica Lange. 2009 also marked her feature directorial debut with Whip It. Barrymore appeared in the roller derby flick along with Elliot Page, Kristen Wiig and Ari Graynor.
As time progresses, we'll have more info about Drew Barrymore here. If you have any comments or suggestions about our coverage, please email us.