Scarlett Johansson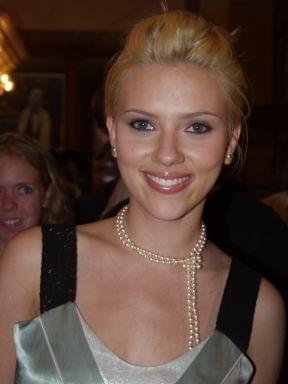 Check out our Scarlett Johansson photo gallery.
Born: Nov. 22, 1984 New York, New York, USA
[Please note that we are recovering from a bad database backup and some of our bio entries might be a bit stale. We are baking up a fresh batch as soon as possible.]
Though audience and critical attention to her performances in Lost in Translation and Girl with a Pearl Earring seemed to make 2003 "Scarlett Johansson Year", the young actress already had some impressive work behind her.
Born in New York City on November 22nd, 1984, Scarlett made her stage debut at the age of eight in the Playwrights Horizons Theatre production of Sophistry. Her film debut was in Rob Reiner's critically-savaged North, the 1994 film that made Roger Ebert say, "I hated this movie. Hated hated hated hated hated this movie. Hated it. Hated every simpering stupid vacant audience-insulting moment of it."
Luckily Scarlett's career was unscathed and she next played Sean Connery and Kate Capshaw's daughter in 1995's Just Cause. In 1996, Scarlett appeared in If Lucy Fell with Sarah Jessica Parker and co-starred in the indie flick Manny & Lo. Her performance in the latter earned her an Independent Spirit Award nomination. Bigger studio projects then cast the young actress, including Home Alone 3 and the 1998 Kristin Scott Thomas/Robert Redford romance The Horse Whisperer, where she again earned critical praise.
Scarlett lay low for a couple of years before appearing with Thora Birch in Ghost World. Keeping busy in 2001, Scarlett played a young Hungarian girl in An American Rhapsody and held her own working with the Coen brothers and Billy Bob Thornton in The Man Who Wasn't There.
Though 2002 saw her appear in Eight Legged Freaks, she hit the screen twice in 2003, working opposite Bill Murray in Sofia Coppola's Lost in Translation and with Colin Firth in Girl with a Pearl Earring. She earned raves for both acting gigs and actually got nominated for both roles in several of the international award shows, winning a BAFTA for Lost in Translation.
In 2004, Scarlett also tossed off a role in the teen action flick The Perfect Score. She also appeared with John Travolta in A Love Song for Bobby Long, worked with Helen Hunt in A Good Woman, voiced Mindy in The SpongeBob Squarepants Movie, and starred with Dennis Quaid and Topher Grace in the comedy In Good Company.
In 2005, Scarlett played opposite Jonathan Rhys Meyers in Woody Allen's Match Point and did the sci-fi action flick The Island with Ewan McGregor. The next year, she teamed up with Woody Allen again, acting with him and Hugh Jackman in Scoop. She also appeared in Brian De Palma's The Black Dahlia whose cast featured Aaron Eckhart, Hilary Swank and then-boyfried Josh Hartnett. She also appeared in 2006's The Prestige with Hugh Jackman, Christian Bale and Michael Caine.
After two busy years, Johansson was seen on screen once in 2007, starring in The Nanny Diaries with Laura Linney.
2008 was a big year for Johansson on several fronts. In the movies, she appeared in The Other Boleyn Girl with Natalie Portman and Eric Bana, reteamed with Woody Allen for Vicky Cristina Barcelona with Javier Bardem, Penelopé Cruz and Rebecca Hall and joined Gabriel Macht, Samuel L. Jackson and Eva Mendes in The Spirit. On the musical side, she released a CD Anywhere I Lay My Head. And on the personal side, Scarlett married actor Ryan Reynolds on September 27th.
As time progresses, we'll have more info about Scarlett Johansson here. If you have any comments or suggestions about our coverage, please email us.