Bill Murray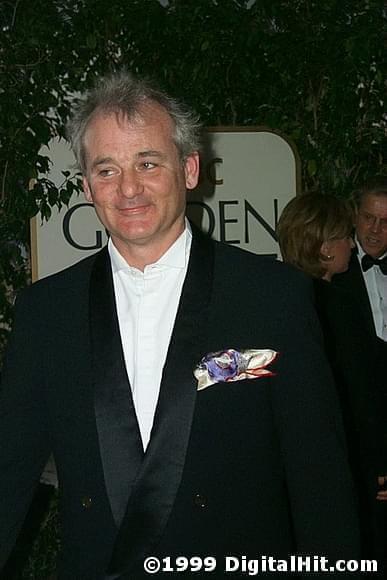 Check out our Bill Murray photo gallery.
Born: Sept. 21, 1950 Wilmette, Illinois, USA
[Please note that we are recovering from a bad database backup and some of our bio entries might be a bit stale. We are baking up a fresh batch as soon as possible.]
William James Murray, the fifth of nine children, was born in Wilmette, Illinois on September 21, 1950. Three of his other brothers, Brian Doyle-Murray, Joel Murray and John Murray, are also in the entertainment industry.
Bill followed his brother Brian when he joined Chicago's Second City troupe. He also worked with his brother on The National Lampoon Radio Hour and The National Lampoon Show. When Chevy Chase left Saturday Night Live before the 1977 season, Bill joined the cast. His initial reception was lukewarm, a fact that Murray poked fun of in a famous sketch were he said that he felt that he hadn't been very funny so far. That same year, he won an Emmy for his work on SNL.
In 1978, Bill was one of several SNL alumni to appear in Eric Idle's Beatles spoof, The Rutles. The following year, Murray worked on Ivan Reitman's Meatballs, a summer camp comedy that had been penned by Harold Ramis. This would be the first of several collaborations by the trio.
He played Hunter S. Thompson in 1980's Where the Buffalo Roam, which co-starred Peter Boyle. That same year, he played the very determined groundskeeper in Harold Ramis' directorial debut Caddyshack. He followed that with another Reitman film, Stripes, which had him playing opposite Ramis.
Murray's next role was uncredited. He appeared in Sidney Pollack's Tootsie, playing Dustin Hoffman's roommate. The film, which also starred Teri Garr, Jessica Lange and Dabney Coleman, became a comedy classic.
In 1984, Murray experienced both sides of movie success. He starred with Harold Ramis and Dan Aykroyd in Ivan Reitman's Ghostbusters, a smash-hit comedy. He then appeared in The Razor's Edge, a dramatic flop. After a cameo as Steve Martin's dental patient in Little Shop of Horrors, Murray took some time off before resurfacing in the updated Christmas story, Scrooged (1988), which also featured a role for his brother, John.
Murray's next two films, Ghostbusters II and his directorial debut, 1990's Quick Change, were not well-received, but he hit his stride again opposite Richard Dreyfuss in the comedy What About Bob? In 1993, Murray worked with director Ramis again on the comedy hit Groundhog Day, which co-starred Andie MacDowell, Chris Elliott and Brian Doyle-Murray. That same year he appeared with Uma Thurman and Robert De Niro in Mad Dog and Glory.
Murray had supporting roles in 1994's Ed Wood (starring Johnny Depp) and the Farrelly Brothers' Kingpin, the 1996 comedy with Woody Harrelson and Randy Quaid, before starring in The Man Who Knew Too Little.
Bill had a busy year in 1998. He played a sleazy lawyer in the steamy Wild Things with Neve Campbell, Denise Richards and Matt Dillon, appeared in With Friends Like These and had a critically-hailed turn in Rushmore opposite Jason Schwartzmann.
In 1999, Murray played a Depression-era ventriloquist in Tim Robbins' Cradle Will Rock and the next year played Polonius to Ethan Hawke's Hamlet and Julia Stiles' Ophelia in Hamlet. That same year, Murray played Bosley to Cameron Diaz, Drew Barrymore and Lucy Liu's angels in Charlie's Angels. There were several reports from the set of intense friction between Murray and co-star Liu. Murray then appeared with Gwyneth Paltrow, Ben Stiller and Gene Hackman in 2001's The Royal Tenenbaums, which was followed by Speaking of Sex with James Spader.
In 2003, Murray played opposite Scarlett Johansson in Sofia Copolla's Lost in Translation. Sofia wrote the role with Murray in mind and the performance earned him critical raves and numerous nominations and awards. In 2004, Murray voiced the lasagna-eating feline star of Garfield: The Movie.
As time progresses, we'll have more info about Bill Murray here. If you have any comments or suggestions about our coverage, please email us.