Ben Stiller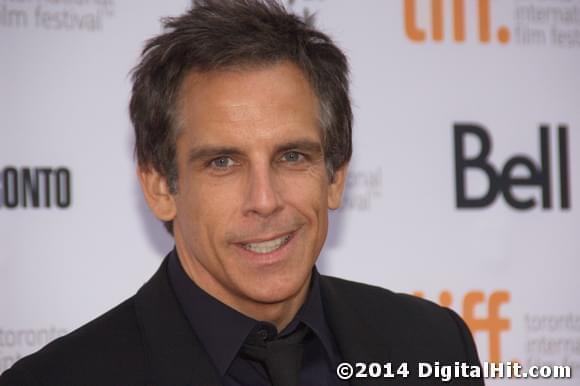 Check out our Ben Stiller photo gallery.
Born: Nov. 30, 1965 New York, New York, USA
[Please note that we are recovering from a bad database backup and some of our bio entries might be a bit stale. We are baking up a fresh batch as soon as possible.]
Ben was born in New York on November 30, 1965. His parents, Jerry Stiller (George's father on Seinfeld) and Anne Meara (Mrs. Sherwood in the Fame movie), were both actors and comedians and Ben and his sister Amy grew up surrounded by show business. In fact, Ben made his professional acting debut when he was only ten years old, appearing on his mother's show Kate McShane.
He knew he was going to follow in his parents' footsteps and headed off to study film at UCLA in 1983. Nine months later he was back in New York, having decided that being so immersed in the scene he didn't need to study it.
He landed a role in the Broadway revival of The House of Blue Leaves. While there, he shot a satirical documentary about fellow cast member John Mahoney (Frasier). The two teamed up again in the follow-up, a ten minute parody of The Color of Money. The producers of SNL got their hands on the tape and aired it on the show in 1987.
1987 also marked his feature debut in Steven Spielberg's Empire of the Sun. He also appeared that year in the TV adaptation of The House of Blue Leaves on PBS.
In 1989, Stiller spent a year on SNL, which he followed with an MTV comedy special called Back to Brooklyn. That gig landed him his own series on MTV but the show disappeared off that network and landed on FOX's network schedule in 1992. The show featured newcomers like Janeane Garofalo and Andy Dick. Still, even at the new network it failed to set fire to the ratings.
With his namesake show cancelled, Stiller made a few TV guest appearances, but channeled most of his energies on getting a film career going. He directed and starred in 1994's Reality Bites, which besides Garofalo, also featured Ethan Hawke and Winona Ryder. Not a boffo box office hit, the film did do steady rental business.
The film also helped him land his next directorial gig, 1996's The Cable Guy, which starred Jim Carrey and Matthew Broderick. Though audiences weren't ready to see Carrey in a dark comedy, Stiller did get great reviews for his directing. Positive reviews also greeted his acting role in Flirting with Disaster.
With acting and directorial kudos under his belt, Stiller's next hurdle was mainstream notice and the 1998 summer hit There's Something About Mary, co-starring Cameron Diaz, took care of that.
Stiller followed Mary with a role in Your Friends and Neighbors. He also appeared as the heroin-addicted TV writer Jerry Stahl in Permanent Midnight, which starred Elizabeth Hurley and Janeane Garofalo. Garofalo also appeared with him in the superhero comedy Mystery Men and the two co-wrote a comedic book on relationships called Feel This Book : An Essential Guide to Self-Empowerment, Spiritual Supremacy, and Sexual Satisfaction.
Stiller married Wedding Singer actress Christine Taylor in May 2000. He also had several projects that year, appearing with his father Jerry Stiller and Janeane Garofalo in The Independent, starring in Keeping the Faith with the film's director Edward Norton and Jenna Elfman and working with Robert De Niro, Teri Polo and Blythe Danner on the comedy Meet the Parents.
The following year, Stiller directed, starred in and co-wrote Zoolander, which saw him teamed up with his wife and Owen Wilson in the story of a clueless male model who gets brainwashed into becoming an assassin. He also appeared in Wes Anderson's ensemble comedy The Royal Tenenbaums alongside Gene Hackman, Anjelica Huston, Gwyneth Paltrow, Bill Murray and Owen Wilson. After voicing Thomas Jefferson on the PBS cartoon Liberty's Kids in 2002, Stiller appeared with Drew Barrymore in Duplex.
Ben seemed to be everywhere in 2004. He was in the romantic comedy Along Came Polly with Jennifer Aniston and Philip Seymour Hoffman, reteamed with Owen Wilson for Starsky & Hutch, worked opposite Jack Black and Rachel Weisz in Envy, starred with wife Christine Taylor and Vince Vaughn in Dodgeball: A True Underdog Story, appeared with Will Ferrell, Christina Applegate and Steve Carell in Anchorman: The Legend of Ron Burgundy and made Meet the Fockers, which added Dustin Hoffman and Barbra Streisand to the returning cast of De Niro, Polo and Danner.
In 2005, Stiller lent his voice to the animated comedy Madagascar opposite Chris Rock, David Schwimmer and Jada Pinkett Smith and appeared in the Jason Bateman sitcom Arrested Development. The following year, Ben appeared in the film School for Scoundrels starring Billy Bob Thornton and Jon Heder, appeared in the Jack Black and Kyle Gass vehicle Tenacious D in The Pick of Destiny and starred opposite Robin Williams and Carla Gugino in Night at the Museum. 2007 saw him in The Heartbreak Kid with Michelle Monaghan and Malin Akerman.
In 2008, Stiller co-wrote and directed Tropic Thunder, which teamed him up with Jack Black and Robert Downey Jr. He also voiced Alex again in Madagascar: Escape 2 Africa. Amy Adams and Owen Wilson joined the ensemble cast of that year's Night at the Museum: Battle of the Smithsonian. That same year, he starred opposite Jason Schwartzman in The Marc Pease Experience.
In 2010, Stiller starred with Greta Gerwig and Jennifer Jason Leigh in Noah Baumbach's Greenberg. He kept busy that year, appearing in Casey Affleck's Joaquin Phoenix mockumentary I'm Still Here, appearing in and producing Submarine, adding his voice to the cast of Megamind featuring Will Ferrell, Brad Pitt, Tina Fey, and Jonah Hill and reteaming with the Fockers ensemble for Little Fockers. A year later, he worked in Tower Heist with Eddie Murphy, Alan Alda, Matthew Broderick and Téa Leoni.
2012 saw Stiller once again voice Alex in Madagascar 3: Europe's Most Wanted and star with Vince Vaughn, Jonah Hill and Richard Ayoade in The Watch. The next year, he reprised his Tony Wonder role in the Netflix reboot of Arrested Development and starred in The Secret Life of Walter Mitty opposite Kristen Wiig.
In 2014, Ben starred opposite Naomi Watts in While We're Young, which also featured Adam Driver and Amanda Seyfried. He also starred in Night at the Museum: Secret of the Tomb, which was one of Robin Williams' final films.
As time progresses, we'll have more info about Ben Stiller here. If you have any comments or suggestions about our coverage, please email us.