Jada Pinkett Smith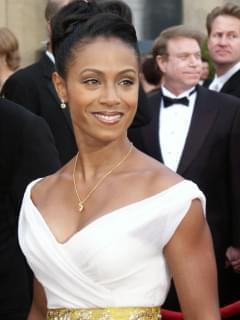 Check out our Jada Pinkett Smith photo gallery.
Born: Sept. 18, 1971 Baltimore, Maryland, USA
[Please note that we are recovering from a bad database backup and some of our bio entries might be a bit stale. We are baking up a fresh batch as soon as possible.]
Small in size but big on talent, Jada Pinkett was born in Baltimore, Maryland on September 18th, 1971. Building her acting chops in the theater, Jada found a mentor in the form of Keenen Ivory Wayans, who helped her negotiate the transition to Hollywood. After landing some guest spots and a role in a pilot, Jada was cast as a street-smart college student in the fifth season of The Cosby Show spin-off A Different World.
Her first feature, 1993's Menace II Society teamed her with the Hughes Brothers directing duo. She kept herself busy in 1994, appearing in The Inkwell, Jason's Lyric and Keenen Ivory Wayans's A Low Down Dirty Shame. 1995 had her in Tales From the Crypt Presents Demon Knight while 1996 saw Jada appear in Martin Lawrence's feature directorial debut, A Thin Line Between Love and Hate and Eddie Murphy's romantic lead in his remake of The Nutty Professor.
Jada, who has also directed several music videos, has kept her acting schedule busy appearing in films like Set It Off, Scream 2, Blossoms and Veils, Woo, Return to Paradise, Bamboozled and Kingdom Come.
During that time (1997 to be exact) she married actor/rapper Will Smith and changed her billing to Jada Pinkett Smith. The couple had a chance to work together in 2001's Ali.
2003 was a big film year for Jada as she appeared in the two Matrix sequels, The Matrix Reloaded and The Matrix Revolutions.
In 2004, Jada worked with Tom Cruise and Jamie Foxx on Collateral and in 2005 joined Ben Stiller, Chris Rock and David Schwimmer in the voice cast of the animated Madagascar.
2007 saw Jada in Reign Over Me with Adam Sandler and Don Cheadle. The following year saw her act in The Women with Meg Ryan, Annette Bening, Eva Mendes and Debra Messing, write, direct and appear in The Human Contract with Jason Clarke and Paz Vega, and lend her voice talents to Madagascar: Escape 2 Africa.
Heading to TV, 2009 saw her start a two year run as the title character of the series Hawthorne. In 2012, she voiced Gloria again in Madagascar 3: Europe's Most Wanted.
Heading back to TV in 2014, she played Fish Mooney in the first season of Gotham.
As time progresses, we'll have more info about Jada Pinkett Smith here. If you have any comments or suggestions about our coverage, please email us.