Debra Messing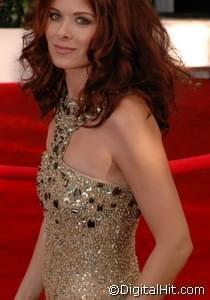 Check out our Debra Messing photo gallery.
Born: Aug. 15, 1968 Brooklyn, New York, USA
[Please note that we are recovering from a bad database backup and some of our bio entries might be a bit stale. We are baking up a fresh batch as soon as possible.]
Debra Messing was born in Brooklyn, New York on August 15, 1968. She graduated from Brandeis University and went on to earn her Master's degree in drama from New York University.
Debra was first seen on the small screen in guest starring roles on Partners and NYPD Blue. Her first film role was in A Walk in the Clouds (1995) starring Keanu Reeves. That same year she won the female lead in the short-lived sitcom Ned and Stacey opposite Thomas Haden Church. Debra landed a role in the disastrous 1997 remake of McHale's Navy (starring Tom Arnold) and the next year she played an anthropologist in Prey.
Debra made her first appearance in a Woody Allen movie when she landed a role in Celebrity in 1998. That same year, she won the role of Grace Adler in the NBC series Will & Grace, which co-starred Eric McCormack, Sean Hayes and Megan Mullally.
In 1999, she played Mary Magdalene in the miniseries Jesus. She earned her first Emmy nomination for Will & Grace in 2000. In 2000, she had supporting roles in The Mothman Prophecies (with Richard Gere and Laura Linney) and Hollywood Ending opposite Woody Allen. In 2003, after four nominations, Debra won the Emmy for her performance in Will & Grace. She was the last of her co-stars to win.
She was seen in 2004's Along Came Polly with Ben Stiller, Jennifer Aniston and Philip Seymour Hoffman and was unseen voicing Arlene in the movie Garfield.
After starring with Dermot Mulroney and Amy Adams in 2005's The Wedding Date, Messing said goodbye to Grace Adler as the series Will & Grace ended in 2006. That same year, she lent her voice to the animated comedy Open Season.
In 2007, she appeared in Purple Violets with Selma Blair and Edward Burns and Lucky You with Eric Bana and Drew Barrymore. She also returned to the small screen with the cable series The Starter Wife.
In 2008, she was in Nothing Like the Holiday with Alfred Molina and Freddy Rodríguez and appeared in The Women with Meg Ryan, Annette Bening, Eva Mendes and Jada Pinkett Smith.
Debra married Daniel Zelman in 2000. The couple had a son in 2004.
As time progresses, we'll have more info about Debra Messing here. If you have any comments or suggestions about our coverage, please email us.