Keanu Reeves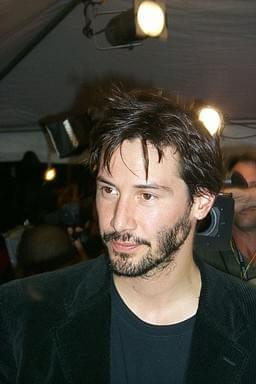 Check out our Keanu Reeves photo gallery.
Born: Sept. 2, 1964 Beirut, Lebanon
[Please note that we are recovering from a bad database backup and some of our bio entries might be a bit stale. We are baking up a fresh batch as soon as possible.]
Keanu Reeves was born in Beirut, Lebanon on September 2, 1964. He spent his childhood moving to Australia, New York and finally Toronto, where he began to fanning the acting flame with roles on stage. From there, he appeared on Canadian shows like Hanging In before making his film debut with Rob Lowe in the 1986 hockey flick Youngblood.
A year later, Keanu gained attention for his work in the drama River's Edge. In 1988 he appeared in The Prince of Pennsylvania and Permanent Record before working opposite John Malkovich and Glenn Close in Dangerous Liasons.
After working with such respected actors it seemed a bit of a step backwards when he played surfer dude Ted opposite Alex Winter in Bill and Ted's Excellent Adventure. Reeves was so convincing as the dim-witted dude that audiences and critics alike began to think he really was Ted. Similar roles in 1989's Parenthood and 1990's I Love You to Death seriously threatened to typecast the actor.
Luckily for Reeves, director Gus Van Sant cast him opposite River Phoenix in My Own Private Idaho. Though some of the public still thought he was a dimwit, those in the industry saw him as a leading man. Francis Ford Coppola cast Keanu in 1992's Bram Stoker's Dracula. Reeves then tackled Shakespeare in Kenneth Branagh's Much Ado About Nothing. He followed that with Bernardo Bertolucci's Little Buddha in 1994, a year that also saw him dip his toe into the action hero pool in Speed opposite Sandra Bullock. Rather than make a string of action films, Reeves decided to tackle Shakespeare again. This time he headed back to Canada and played Hamlet in a Winnipeg stage production. Reviews for his performance were mixed. The critics continued to pound him in his next two films, 1995's A Walk in the Clouds and the 1996 action flick Chain Reaction. Reviews were generally better for him when he appeared opposite Al Pacino in 1997's The Devil's Advocate.
He achieved huge box office success with the 1999 sci-fi action film The Matrix and agreed to appear in two sequels. His other projects during this period continued to include a mixed bag of genres. He was a former quarterback hired to work during the 1987 football strike in 2000's The Replacements, a serial killer in The Watcher , an abusive husband opposite Hilary Swank in The Gift and he teamed with Charlize Theron in the critically-bashed Sweet November.
With not one, but two, Matrix films released in 2003, Keanu's position as an action hero is currently secure. It just remains to be seen if audiences will let him have a success outside the action mold.
Speaking of stepping outside the action mold, Keanu ended 2003 by appearing opposite Diane Keaton and Jack Nicholson in the romantic comedy Something's Gotta Give.
Keanu kept busy in 2005, appearing in Ellie Parker with Naomi Watts, Thumbsucker (which also featured Vince Vaughn and Tilda Swinton) and Constantine with Rachel Weisz, Shia LaBeouf and Djimon Hounsou.
He then appeared in 2006's A Scanner Darkly and opposite Sandra Bullock in The Lake House. In 2008, Keanu starred in the crime thriller Street Kings and played Klaatu in the remake of The Day the Earth Stood Still.
As time progresses, we'll have more info about Keanu Reeves here. If you have any comments or suggestions about our coverage, please email us.