Vince Vaughn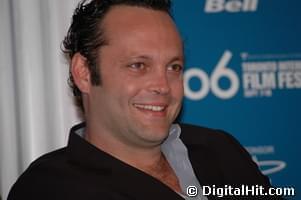 Check out our Vince Vaughn photo gallery.
Born: Mar. 28, 1970 Minneapolis, Minnesota, USA
[Please note that we are recovering from a bad database backup and some of our bio entries might be a bit stale. We are baking up a fresh batch as soon as possible.]
Vince Vaughan was born on March 28th, 1970 in Minneapolis, Minnesota.
After winning a spot on a national commercial for Chevrolet's Heat of America campaign, Vince Vaughn headed west to California, hoping to strike it big. He struggled for a while before landing parts on shows like China Beach and 21 Jump Street in 1989. He made his feature film debut on the film Rudy which starred Sean Astin. It was on the set of this film where he met fellow actor Jon Favreau and the pair started up a friendship that would produce many great projects.
Three years later, Vaughn starred in Swingers, which was written by Favreau and also stared Ron Livingston and Heather Graham. The next year, he appeared in Steven Spielberg's The Lost World: Jurassic Park, which starred Jeff Goldblum and Julianne Moore. That same year, Vince also worked with Kate Capshaw, Jeremy Davis and Ashley Judd in The Locusts.
He had a busy 1998. He played a single father in A Cool, Dry Place (with Monica Potter) and also appeared in Return to Paradise and Clay Pigeons, both of which co-starred Joaquin Phoenix. That same year, he also appeared opposite Anne Heche in Gus Van Sant's shot-by-shot remake of Psycho. The remake was a critical and box office disappointment.
The new millennium started with Vaughn playing an FBI agent in The Cell, which also starred Jennifer Lopez and Vincent D'onofrio. His next project once again showed the chemistry he shared with buddy Jon Favreau as the two appeared in 2001's Made. That same year he played a sadistic stepfather in the John Travolta vehicle Domestic Disturbance.
In 2003, Vaughn appeared opposite Elisha Cuthbert, Leah Remini, Juliette Lewis, Ellen Pompeo, Jeremy Piven, Will Ferrell and Luke Wilson in the huge comedy Old School. That same year he also appeared in the indie comedy, I Love Your Work.
Keeping his comedy string intact, Vaughn appeared in 2004's Starsky & Hutch, which starred Owen Wilson and Ben Stiller. He worked with Stiller again that year in the comedy Dodgeball: A True Underdog Story.
Vince kept busy again in 2005, appearing in Thumbsucker with Tilda Swinton, Vincent D'Onofrio and Keanu Reeves, Be Cool with John Travolta and Uma Thurman, Mr. & Mrs. Smith opposite Brad Pitt and Angelina Jolie and the huge hit, Wedding Crashers, with Owen Wilson and Rachel McAdams.
When his Mr. & Mrs. Smith co-star Brad Pitt divorced Jennifer Aniston, rumours abounded that Vaughn was there to pick up the pieces on the set of 2006's ironically titled The Break-Up. That film also had roles for Jon Favreau and their other pal, Peter Billingsley, who has worked with them on several projects. The film piqued the interests of audiences who wanted to see if there was any chemistry between Vaughn and Aniston. Though the pair never publicly confirmed their relationship, they did confirm its end in December of 2006.
A busy 2007 saw Vince onscreen in The Gift: Life Unwrapped, taking direction from Sean Penn in Into the Wild with Emile Hirsch and Kristen Stewart and playing the older brother to Paul Giamatti's Santa in Fred Claus. He continued the holiday theme with Reese Witherspoon in 2008's Four Christmases. In 2009, Vaughn wrote, produced and starred in Couples Retreat.
As time progresses, we'll have more info about Vince Vaughn here. If you have any comments or suggestions about our coverage, please email us.