Brad Pitt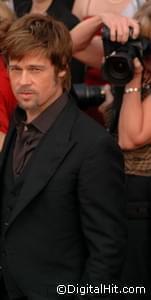 Check out our Brad Pitt photo gallery.
Born: Dec. 18, 1963 Shawnee, Oklahoma, USA
[Please note that we are recovering from a bad database backup and some of our bio entries might be a bit stale. We are baking up a fresh batch as soon as possible.]
Actor Brad Pitt has sometimes been called the world's sexiest man. Of course that's a title that changes hands faster than a dollar bill, so Brad has been careful to work on his craft in some great movies.
Brad was born on December 18th 1963, in Shawnee, Oklahoma. Just days away from graduating from the University of Missouri with a major in advertising and graphics design, he headed off to LA to pursue his true dream of acting.
He was pretty lucky. He landed the role of the boyfriend of Priscilla Presley's daughter on Dallas and also appeared on the soap Another World.
He appeared in an awful teen slasher flick, Cutting Class in 1989, but two years later caught the public's attention with his role in Thelma & Louise. From there he set hearts beating and critics praising with roles in A River Runs Through It, Johnny Suede, Legends of the Fall, Interview with a Vampire, 12 Monkeys, and Seven. He was savaged by some critics for the films The Devil's Own, Seven Years in Tibet and Meet Joe Black.
His 1999 film, Fight Club with Edward Norton, received mixed reviews for its violent storyline.
In 2000 he received good notices and big laughs for his role as an unintelligible boxer in Snatch. He followed that with a busy 2001, which saw him star opposite Julia Roberts in The Mexican, George Clooney in Ocean's Eleven and Robert Redford in Spy Game.
In May of 2004, Brad appeared in Troy and ended the year with a role in Ocean's Twelve.
Befitting a sex symbol, Brad has dated some of Hollywood's leading ladies, including Juliette Lewis, Gwyneth Paltrow (they were engaged at one point) and Jennifer Aniston. Brad and Jennifer were married on July 29th, 2000.
Pitt and Aniston separated in January of 2005. Divorce papers were filed by Jennifer in March of 2005 and the divorce was finalized in October 2005. The paparazzi went even crazier, as they tried to confirm their new relationships: he with his Mr. & Mrs. Smith co-star Angelina Jolie and Jennifer with Vince Vaughn. Paparazzi cameras followed Jolie and Pitt around the planet. They shot Pitt hanging out with Jolie and her adopted son, Maddox, and they shot the couple going to Ethiopia to pick up her newly-adopted daughter, Zahara. By the end of 2005, Pitt had filed adoption papers to adopt Angelina's children, while Jolie sought to have their legal names changed to Zahara Jolie-Pitt and Maddox Jolie-Pitt. In January of 2006, Pitt's publicist announced that Angelina was expecting Brad's child. They welcomed their daughter, Shiloh Nouvel Jolie-Pitt, on May 27th, 2006.
2006 also saw Brad working with Cate Blanchett on Babel. The following year he teamed up with his pals again for Ocean's Thirteen, which was followed by The Assassination of Jesse James by the Coward Robert Ford.
As time progresses, we'll have more info about Brad Pitt here. If you have any comments or suggestions about our coverage, please email us.