Julia Roberts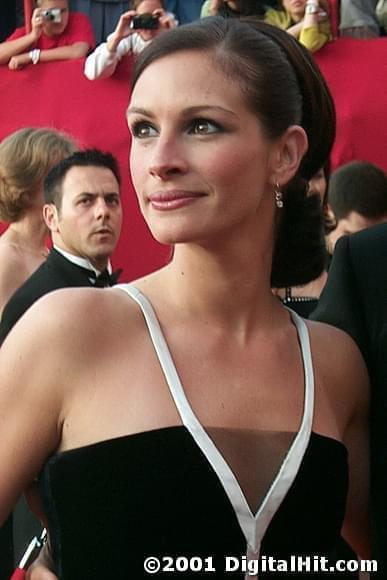 Check out our Julia Roberts photo gallery.
Born: Oct. 28, 1967 Smyrna, Georgia, USA
[Please note that we are recovering from a bad database backup and some of our bio entries might be a bit stale. We are baking up a fresh batch as soon as possible.]
Julia Roberts was born in Smyrna, Georgia on October 28th, 1967. She studied at Georgia State University but did not graduate, heading off to New York to pursue an acting career.
She filmed Blood Red__with brother Eric Roberts in 1986 but the film was not released for two years, so audiences first saw her in 1988's __Satisfaction opposite Justine Bateman and Liam Neeson. That same year brought her a role in the season finale of the popular series Miami Vice and a critically-acclaimed turn in the indie flick Mystic Pizza. In 1999, she earned a Best Supporting Actress Oscar® nomination for her role in Steel Magnolias, where she worked with Sally Field, Shirley MacLaine, Dolly Parton and Olympia Dukakis. She then won audiences' hearts and a surprise Best Actress nomination for her portrayal of the warm-hearted hooker opposite Richard Gere in the red light Cinderella story Pretty Woman. That film's huge success rubbed off on the box office numbers of Flatliners and Sleeping With the Enemy.
Julia's box office magic stumbled a bit with the syrupy romance Dying Young. 1991 also saw Roberts appear as Tinkerbell in Steven Spielberg's Peter Pan flick, Hook. Critics either panned her performance or said her huge spirit and energy was wasted on the pint-size character.
1991 was also a big year for Julia Roberts personally and launched her into the tabloids in a big way. In fact, her career has always survived on equal parts of talent and celebrity. In 1991, Julia was supposed to walk down the aisle and marry Flatliners co-star Kiefer Sutherland. Instead, she set mouths a-buzzing when she ran off to Ireland with Kiefer's friend, Jason Patric. The incident raised its head again in 1999. Roberts told Vanity Fair that she thought Steven Spielberg was a "turncoat" for telling 60 Minutes that the breakup made her work on Hook difficult. She disappeared from movie screens (except for a cameo in Robert Altman's The Player) for two years.
Julia returned to the screens in 1993 with a commercial hit, appearing opposite Denzel Washington in The Pelican Brief. She followed that with mixed reactions to I Love Trouble, Ready to Wear, Something to Talk About and the period horror film Mary Reilly. After three years of being bashed by critics and audiences, she received pretty good notices for her work in Woody Allen's Everyone Says I Love You. 1996 also saw her appear as Liam Neeson's love interest in the historical drama Michael Collins.
Julia put another jewel in her sometimes tarnished box-office crown when she starred in the very successful My Best Friend's Wedding with Cameron Diaz. However, she repeated her roller coaster pattern by following that up with mixed receptions for Conspiracy Theory with Mel Gibson and Stepmom opposite Susan Sarandon and Ed Harris. She zipped back up when she appeared in the ratings-winning 200th episode of then boyfriend Benjamin Bratt's TV show Law & Order.
On December 20th, 1999, Julia was nominated for the 57th Annual Golden Globe Awards for her role in the box-office hit Notting Hill with Hugh Grant. 1999 also saw her reunite with Richard Gere for the romantic comedy Runaway Bride.
Julia received another Golden Globe nomination in 2000 for Erin Brockovich, where she worked with Albert Finney and Aaron Eckhart. She followed that up by winning the People's Choice Award for Favorite Movie Actress. Her role in Erin Brockovich earned her Golden Globe in January 2001. She also won the Screen Actors Guild award for the role and on March 25th, 2001, she added her first Oscar to her collection.
David Letterman's favorite guest kept herself busy in 2001. She worked opposite Brad Pitt in The Mexican, John Cusack, Billy Crystal and Catherine Zeta Jones in America's Sweethearts and George Clooney, Matt Damon and Brad Pitt in Ocean's Eleven.
A busy 2002 saw Roberts in the family film Grand Champion, Steven Soderbergh's Full Frontal and the George Clooney-directed Confessions of a Dangerous Mind with Sam Rockwell and Drew Barrymore.
2003 saw Julia in Mike Newell's Mona Lisa Smile, with Kirsten Dunst, Maggie Gyllenhaal, and Julia Stiles. Though the film earned her a then record $25 million, it was met with lukewarm reviews. The follow year, she worked on Mike Nichols's Closer with Jude Law, Natalie Portman and Clive Owen and returned with George Clooney and friends for Ocean's Twelve.
In 2006, Roberts was heard but not seen in theatres as she lent her voice talents to two animated films, The Ant Bully and Charlotte's Web. That same year, she made her Broadway debut opposite Bradley Cooper and Paul Rudd in Three Days of Rain. Her reviews weren't too good with the New York Post's Clive Barnes saying, "Hated the play. To be sadly honest, even hated her. At least I liked the rain…"
She was seen on the big screen again in 2007, when she starred in Charlie Wilson's War with Tom Hanks and Philip Seymour Hoffman. In 2008, she appeared with Ryan Reynolds and Willem Dafoe in Fireflies in the Garden.
In 2009, she reunited with her Closer co-star Clive Owen for Duplicity. The following year, she was part of the large ensemble cast for the romantic comedy Valentine's Day and also starred in the movie adaptation of the popular book Eat Pray Love.
She re-teamed with Tom Hanks for 2011's Larry Crowne and the following year appeared with Lily Collins in Mirror Mirror. 2013 saw her working opposite Meryl Streep and a large ensemble cast in the movie adaptation of the play August: Osage County. In 2014, she worked with Matt Bomer in The Normal Heart.
On the personal side, Roberts married country singer Lyle Lovett in 1993. The marriage ended in 1995 and she dated actor Benjamin Bratt from 1998 to 2001 before marrying cameraman Daniel Moder in 2002. They have three children twins Hazel and Phinnaeus and Henry.
As time progresses, we'll have more info about Julia Roberts here. If you have any comments or suggestions about our coverage, please email us.