Jude Law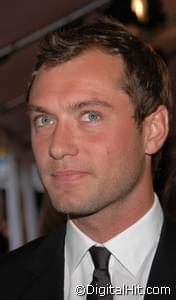 Check out our Jude Law photo gallery.
Born: Dec. 29, 1972 London, England, UK
[Please note that we are recovering from a bad database backup and some of our bio entries might be a bit stale. We are baking up a fresh batch as soon as possible.]
Jude Law was born on December 29th, 1972 in London, England. He was a member of the National Youth Music Theatre when he was a child and had the lead in their production of Joseph and the Amazing Technicolor Dreamcoat.
His first TV gig came about with 1989's The Tailor of Gloucester. The next year, he was cast as a runaway in the British soap opera Families. After leaving the show, Law went on to tour Italy with Pygmalian and then back to the London stage for The Fastest Clock in the Universe. A production of Les Parents Terrible/Indiscretions in London was then remounted in New York. Law was the only actor from the British production asked to reprise his role and that won him his first Tony nomination.
Jude's feature film debut was in 1994's Shopping, which co-starred his future wife Sadie Frost. His next film was I Love You, I Love You Not which starred James Van Der Beek and Claire Danes. 1997 was a busy year with a variety of roles in films Bent with Ian McKellan and Mick Jagger, Wilde starring Stephen Fry and Vanessa Redgrave, Gattaca with Ethan Hawke and Uma Thurman and Midnight in the Garden of Good and Evil, which starred Kevin Spacey and John Cusack.
Lead roles followed in 1998 with Music From Another Room which also featured Gretchen Mol, Jennifer Tilly, and Martha Plimpton, Final Cut which reteamed him with Sadie Frost and The Wisdom of Crocodiles. The next year, he made eXistenZ with Jennifer Jason Leigh and Willem Dafoe. That same year saw Jude's breakout role as Dickie Greenleaf in The Talented Mr. Ripley which starred Matt Damon, Gwyneth Paltrow and Cate Blanchett. That role earned him his first Oscar nomination.
He followed that success with 2000's Love, Honour and Obey again with Frost. In 2001, Law made Enemy at the Gates with Ed Harris and Rachel Weisz and Artificial Intelligence: AI with Haley Joel Osment and Frances O'Connor. The next year, he appeared in a strong supporting role opposite Tom Hanks in Road to Perdition. The second of his Oscar® nominations was to follow in 2003's Cold Mountain which also starred Nicole Kidman and Renée Zellweger.
2004 was an exceedingly busy year for Jude on screen. Though he had made the films over a two year period, they all ended up being released within six months of each other. He joined an ensemble that featured Jason Schwartzman, Dustin Hoffman, Mark Wahlberg and Naomi Watts for I Heart Huckabees. He worked opposite green screens, Gwyneth Paltrow and Angelina Jolie in Sky Captain and the World of Tomorrow. He remade Michael Caine's role in Alfie. He voiced Lemony Snicket in Lemony Snicket's A Series of Unfortunate Events. He worked with Clive Owen, Julia Roberts and Natalie Portman in Closer and played Errol Flynn to Leonardo DiCaprio's Howard Hughes in The Aviator.
Law had another busy year in 2006. After sitting on the shelf for a little bit, All the King's Men was released. The film had an all-star cast that included Sean Penn, Anthony Hopkins, Kate Winslet and James Gandolfini. Law also appeared in Breaking and Entering with Juliette Binoche and Robin Wright Penn and The Holiday with Jack Black, Cameron Diaz and Kate Winslet.
In 2007, Jude played Michael Caine's original role in Sleuth, while Caine took on the role originated by Laurence Olivier. He also appeared in My Blueberry Nights with Rachel Weisz and singer Norah Jones.
2009 saw Jude in Rage with Judi Dench and Eddie Izzard. He was also one of three actors (along with Johnny Depp and Colin Farrell) who stepped in to play variations of Heath Ledger's character after he died during the filming of Terry Gilliam's The Imaginarium of Doctor Parnassus. That same year he also starred in Sherlock Holmes with Robert Downey Jr. and Rachel McAdams.
Law worked with Forest Whitaker on 2010's Repo Men. The following year, he was in Contagion with Matt Damon and Gwyneth Paltrow, 360 with Anthony Hopkins, Rachel Weisz and Ben Faster, Hugo with Asa Butterfield, and reteamed with Robert Downey Jr. for Sherlock Holmes: A Game of Shadows.
2012 saw Jude working with Keira Knightley on Anna Karenina and with Chris Pine, Alec Baldwin and Hugh Jackman on Rise of the Guardians. In 2013, he worked with Rooney Mara, Catherine Zeta-Jones and Channing Tatum on Side Effects and played opposite Richard E. Grant in Dom Hemingway.
Jude checked into Wes Anderson's The Grand Budapest Hotel in 2014 alongside Ralph Fiennes, F. Murray Abraham and Adrien Brody. That same year, he also starred in Black Sea.
As time progresses, we'll have more info about Jude Law here. If you have any comments or suggestions about our coverage, please email us.