Mark Wahlberg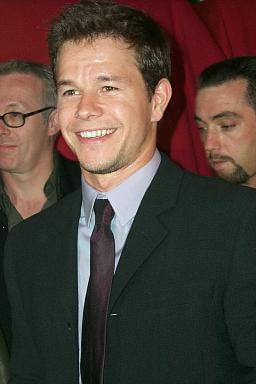 Check out our Mark Wahlberg photo gallery.
Born: June 5, 1971 Dorchester, Massachusetts, USA
[Please note that we are recovering from a bad database backup and some of our bio entries might be a bit stale. We are baking up a fresh batch as soon as possible.]
Mark was born on June 5th, 1971 in Dorchester, Massachusetts. Childhood was tough for this youngest of nine. His parents divorced when he was 11 and he dropped out of school at 14 to concentrate on his career. Unfortunately his career at that time involved stealing and selling drugs. At 16, Wahlberg was convicted of beating two Vietnamese men that he was trying to steal beer from. Many felt the attack had racist intent as he had previously been arrested for racist comments made to schoolchildren. Wahlberg denies these charges of racism. He ended up spending 45 days in jail for the attack and says that experience changed the direction of his life.
Upon his release, Mark needed a new road for his new direction. His older brother Donnie had the answer. Donnie Wahlberg was a member of the teeny-bopper band New Kids on the Block and had the connections in the industry. He thought his brother's look, attitude and background could make him a passable rap artist. Marky Mark and the Funky Bunch were born.
Their first album, Music for the People, was a platinum seller and featured the hit singles Good Vibrations and Wildside. When Marky Mark started ripping his shirt off and dropping his pants at concerts, David Geffen told friend Calvin Klein that he'd found the model for his next campaign. Wahlberg's image was now everywhere.
By 1992, Wahlberg had already published a small autobiography, but you only had to pick up a tabloid to read about his life. That quest for information took a sharp turn in 1993 when the press turned up the facts about his youth and the racist accusations that were made. He wasn't helped much when he appeared on a British talk show with fellow guest Shabba Ranks. Ranks said that homosexuals should be crucified and many felt that Wahlberg's behavior on the show condoned that statement. The backlash started.
His second album You Gotta Believe, was already having bad sales; the demonstrations by gay and Asian anti-defamation groups helped bring unwanted attention on his past. To top it off, he also had to face charges of an unprovoked attack on a security guard. Wahlberg was in serious need of help if he was to put his past behind him. As part of the process he made several public service ads against bias crime.
1994 arrived and Wahlberg continued to work on his image. He appeared in Penny Marshall's comedy Renaissance Man. He followed that with a role as Leonardo DiCaprio's best friend in The Basketball Diaries. He scared audiences with his performance as a psychotic, obsessive boyfriend in Fear and then appeared opposite Bill Paxton in Traveller.
Now that he had some work under his belt and had shown himself to be a hard-working actor, a director wanted him to play a character known for what was below his belt. Wahlberg joined the cast of Paul Thomas Anderson's Boogie Nights, a look at the Seventies porn scene. Wahlberg gained critical notice for his performance and his strap-on 13-inch prosthetic penis. He immediately followed that with performances in the rental-quality flicks The Big Hit and The Corruptor.
In 1999 and 2000, Wahlberg made a couple of film choices that put him back in the well-received film category. He appeared with George Clooney and Ice Cube in Three Kings and appeared with Clooney again in The Perfect Storm.
Mark Wahlberg attended the opening of The Yards at the Toronto International Film Festival with with co-star Joaquin Phoenix. In 2001, Wahlberg starred in Planet of the Apes and Rock Star with Jennifer Aniston.
In 2002, he co-starred with Thandie Newton in a remake of the 1963 thriller, The Truth About Charlie. He then teamed up with Charlize Theron and Edward Norton in another remake, an update of Micheal Caine's 1969 vehicle The Italian Job. Wahlberg's 2004 flick, I Heart Huckabees, teamed him with an ensemble cast that included Dustin Hoffman, Jude Law, Jason Schwartzman and Naomi Watts. In 2005's Four Brothers, Wahlberg was one of four adopted brothers avenging their mother's death. His three onscreen siblings were played by Tyrese Gibson, André Benjamin and Garrett Hedlund.
In 2006, he starred in an uplifting, family-friendly film, Invincible, which told the true life story of Vince Papale, a down-on-his-luck Philadelphia Eagles fan who lands a spot on the team after an open tryout. Wahlberg was also in the crime drama The Departed, which costars Leonardo DiCaprio, Matt Damon and Jack Nicholson.
In 2007, Wahlberg starred in Shooter and We Own the Night (with Joaquin Phoenix, Robert Duvall and Eva Mendes).
2008 saw Mark in M. Night Shyamalan's summer thriller The Happening and Max Payne with Mila Kunis. The following year, he appeared in the Peter Jackson drama The Lovely Bones with Rachel Weisz and Saoirse Ronan.
A busy 2010 saw Wahlberg in Date Night with Steve Carell and Tina Fey, The Other Guys opposite Will Ferrell and David O. Russell's The Fighter with Christian Bale and Amy Adams.
In 2012, Mark appeared in the crime drama Contraband with Kate Beckinsale and starred opposite a foul-mouthed teddy bear voiced by Seth MacFarlane in Ted.
He had another busy year in 2013, starring with Russell Crowe and Catherine Zeta-Jones in Broken City, Dwayne Johnson and Anthony Mackie in Pain & Gain, Denzel Washington in 2 Guns and working with director Peter Berg on the war film Lone Survivor.
In 2014, he starred in Transformers: Age of Extinction and The Gambler.
Wahlberg has also kept busy on the producing side of things, getting involved with shows like Entourage, In Treatment and Boardwalk Empire.
As time progresses, we'll have more info about Mark Wahlberg here. If you have any comments or suggestions about our coverage, please email us.