Steve Carell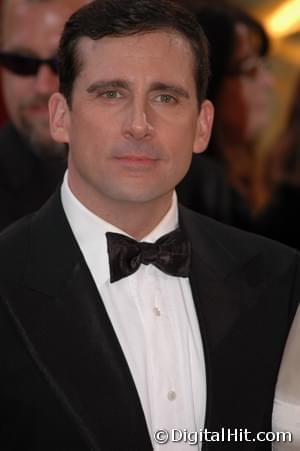 Check out our Steve Carell photo gallery.
Born: Aug. 16, 1962 Concord, Massachusetts, USA
[Please note that we are recovering from a bad database backup and some of our bio entries might be a bit stale. We are baking up a fresh batch as soon as possible.]
Steven John Carell was born on August 16, 1962 in Concord, Massachusetts. After high school, he attended Denison University and upon graduation left for Chicago and became a member of Second City. There he met his future wife Nancy Walls and friend Stephen Colbert.
His first stint on television was in 1991's Life As We Know It!, a sketch comedy show that showcased some of the best Second City talents. His feature film debut came with 1991's Curly Sue which starred James Belushi. He appeared as various characters in 1996's short-lived The Dana Carvey Show and then landed guest roles on Just Shoot Me! and Strangers with Candy. He also had a recurring role on Watching Ellie with Julia Louis-Dreyfus.
He had also started working as a "correspondent" for The Daily Show with Jon Stewart. The satirical news show has often been lauded as being more truthful then actual news programs and won Carell many admirers and certainly upped his profile. Before leaving the show in 2005, Carell was seen in the films Bruce Almighty with Jim Carrey and Jennifer Aniston, Anchorman: The Legend of Ron Burgundy with Will Ferrell, Christina Applegate, Paul Rudd and Fred Willard and Woody Allen's Melinda and Melinda.
2005 began a weekly dose of Steve Carell as he led the cast of the U.S. version of The Office, based on Ricky Gervais critically-acclaimed British show. Steve played the bumbling manager Michael in a paper sales office whose ensemble cast also featured Rainn Wilson, John Krasinski and Jenna Fischer. On the big screen in 2005, he was in Bewitched with Nicole Kidman and Will Ferrell and then wrote and starred in the Judd Apatow-directed The 40 Year Old Virgin, which also featured Catherine Keener, Paul Rudd and Elizabeth Banks.
In 2006, he joined Wanda Sykes, Garry Shandling, Bruce Willis and Avril Lavigne in the voiceover cast of the animated Over the Hedge. In the same year, he also appeared in the critically-acclaimed Little Miss Sunshine with Greg Kinnear, Abigail Breslin, Toni Collette and Alan Arkin. He then starred in 2007's less successful sequel to Bruce Almighty, Evan Almighty and Dan in Real Life which featured Juliette Binoche and Dane Cook.
Another voiceover gig came with 2008's family hit Horton Hears a Who! with Jim Carrey, Carol Burnett, Will Arnett and Seth Rogen. That same year, he starred in Get Smart with Anne Hathaway, Alan Arkin and Dwayne Johnson.
In 1995, he married Nancy Walls. They have two children.
As time progresses, we'll have more info about Steve Carell here. If you have any comments or suggestions about our coverage, please email us.