Nicole Kidman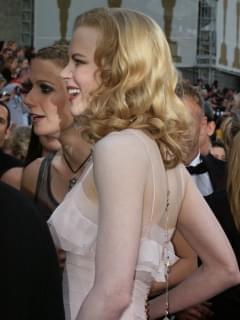 Check out our Nicole Kidman photo gallery.
Born: June 20, 1967 Honolulu, Hawaii, USA
[Please note that we are recovering from a bad database backup and some of our bio entries might be a bit stale. We are baking up a fresh batch as soon as possible.]
Aussie import Nicole Kidman was actually born on June 20, 1967, in Honolulu, Hawaii, where her biochemist father was conducting a research project. The family then moved to Washington, D.C. for three years before heading back to her parents' native Australia.
Growing up just outside of Sydney, the young Nicole had already developed a love for the arts and started dancing at the age of three. The red-headed dancer made her acting debut at the age of six in a nativity play and was in drama school by ten. Nicole studied at St. Martin's Youth Theatre in Melbourne and at Sydney's Phillip Street Theatre before landing her first professional gig in the 1983 Australian TV movie Bush Christmas, which she followed with BMX Bandits. She shot several TV movies and in 1986 was chosen by director John Duigan to star in the miniseries Vietnam. The work also earned her a slew of positive notices.
Kidman was now armed with an American agent. In 1989, she landed a starring role in Phillip Noyce's Dead Calm opposite Sam Neill and Billy Zane and then went on to star in the acclaimed miniseries Bangkok Hilton.
Noticed by audiences and critics alike, Nicole was also noticed by one person in particular: Tom Cruise. He chose her to co-star with him in her first U.S. film, 1990's Days of Thunder. They played lovers in the film — and off the set — and by December of 1990 they were married.
In 1991, Kidman worked opposite Dustin Hoffman in Billy Bathgate and also reunited with director John Duigan for Flirting, a film that also starred fellow Aussie and friend, Naomi Watts. The following year, Nicole teamed up with her husband again to star in Ron Howard's Far and Away. The film didn't do too well, nor did her follow-ups, 1993's My Life and Malice.
In 1995, she made her first big action flick, Batman Forever, but made people sit up and notice her when she starred in Gus Van Sant's To Die For, a film that earned her critical acclaim and a Golden Globe. The critical acclaim continued for her performance in 1996's The Portrait of a Lady.
Heading for some lighter fare, Nicole appeared opposite George Clooney in the 1997 action film The Peacemaker and with Sandra Bullock in 1998's Practical Magic.
Heading back to the stage, Kidman steamed up audiences with her performance and her birthday suit in the London and New York runs of The Blue Room.
Hollywood's hot couple teamed up again in 1999, working with director Stanley Kubrick on Eyes Wide Shut. The film had wildly mixed reviews.
2001 was a busy year for both Kidman's career and her personal life. She appeared in Birthday Girl, Baz Luhrmann's musical Moulin Rouge, and the thriller The Others, which was produced by Tom Cruise. In a move that she says caught her by surprise, Cruise filed for divorce in February 2001, a month before Kidman, who had two adopted children with Tom, suffered a miscarriage. If that wasn't enough, Kidman also had a stalker, who felt the now-single Kidman needed a boyfriend. The stalker, Matthew E. Hooker, was found guilty of unlawfully harassing her in May of 2001. Hooker, who published several websites claiming she was defaming him and hurting his future presidential bid, claimed Kidman and the Hollywood establishment were out to get him.
If 2001 was hard, at least she had some good news in 2002. The 59th Golden Globe Awards nominated her for her performance in both Moulin Rouge and The Others. She won the Globe for Moulin Rouge, the film that also earned her an Oscar® nomination. She earned another Golden Globe in 2003 for her role as Virginia Woolf in The Hours. Nicole also won the Best Actress Oscar® for The Hours at the 75th Academy Awards.
Nicole kept herself busy in 2003, appearing in Lars von Trier's Dogville, working with Anthony Hopkins in The Human Stain and opposite Jude Law and Renée Zellweger in the Civil War drama Cold Mountain.
In 2004, Kidman worked opposite Matthew Broderick in a remake of The Stepford Wives and Birth with Cameron Bright and Lauren Bacall. The following year, she worked with Sean Penn on Sydney Pollack's The Interpreter and starred in Nora Ephron's film version of the TV series Bewitched with Will Ferrell, Shirley MacLaine, and Michael Caine.
In 2006, she played the title character in Fur: An Imaginary Portrait of Diane Arbus and lent her voice to the animated Happy Feet. That was followed by a busy 2007 that saw her in The Invasion with Daniel Craig, Margot at the Wedding with Jack Black and The Golden Compass, again with Daniel Craig.
In 2008, Nicole worked with opposite Hugh Jackman in Baz Luhrmann's epic drama Australia. Though large in scope, the film had poorer than expected results at the box office.
Nicole married country singer Keith Urban in 2006. Their daughter, Sunday Rose, was born in 2008.
As time progresses, we'll have more info about Nicole Kidman here. If you have any comments or suggestions about our coverage, please email us.