Dustin Hoffman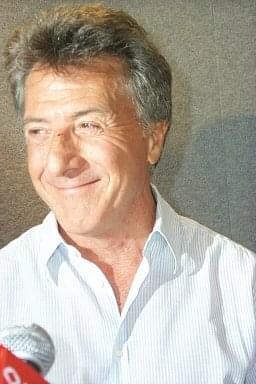 Check out our Dustin Hoffman photo gallery.
Born: Aug. 8, 1937 Los Angeles, California, USA
[Please note that we are recovering from a bad database backup and some of our bio entries might be a bit stale. We are baking up a fresh batch as soon as possible.]
Dustin Hoffman was born in Los Angeles, California on August 8th, 1937. After working on the New York stage (and briefly rooming with fellow actor Gene Hackman), he shot his first movie, Madigan's Million in 1966. That film wasn't released until 1968, so it was up to Hoffman's second film to gain the young actor some attention.
That second film was The Graduate, Mike Nichol's coming-of-age film that featured Hoffman as a young man uncertain of his future but certain that his parents' friend, Mrs. Robinson (Anne Bancroft), was trying to seduce him. Hoffman didn't fit the mold of what Hollywood leading men were supposed to look like, but the 1960's were all about breaking molds. Hoffman's portrayal of Benjamin Braddock earned him critical kudos and an Academy Award® nomination.
Another nomination awaited Dustin in 1969 when he played shifty loser Ratso Rizzo in Midnight Cowboy. Like many actors of his generation, this performance showed that Hoffman was not afraid to take on roles that audiences would find unattractive. That same year, Hoffman played a more conventional role in John and Mary before tackling the role of a 121-year-old man in the Old West satire Little Big Man in 1970. In 1971, Hoffman worked with director Sam Peckinpah in the controversial drama Straw Dogs. He also wowed critics with his role as a Devil's Island prisoner in Papillon.
The Academy gave Hoffman another nomination in 1974 for his lead in Lenny, Bob Fosse's look at controversial comic Lenny Bruce. In 1976, he worked opposite Laurence Olivier in the Marathon Man. That same year, he played Bernstein to Robert Redford's Woodward in the classic Watergate film All the President's Men, before crossing to the other side of the law for 1978's Straight Time, where he played a hardened criminal.
Hoffman finally won the Oscar® in 1979, when he played opposite Meryl Streep in the divorce drama Kramer vs. Kramer. His next big hit was 1982's Tootsie. Donning a dress, Hoffman hilariously portrayed an unemployed actor who suddenly lands a soap opera gig when he pretends to be a woman. The film, which also features Jessica Lange, Dabney Coleman, Teri Garr and an uncredited Bill Murray, is a comedy classic and earned Hoffman another Oscar® nomination.
Broadway called the actor in 1984 and he took on the role of Willy Loman in the revival of Death of a Salesman. Though the stage production earned him mixed reviews, he won an Emmy for the role in 1985 after a filmed version of the stage play was televised.
Hoffman's 1987 project with buddy Warren Beatty, Ishtar, bombed big time. The film had been plagued with problems and delays and despite the fact that Hoffman and Beatty were actually pretty funny in it, audiences didn't respond. That failure was followed by another success. Hoffman won his second Oscar® for his performance as Tom Cruise's autistic savant brother in Rain Man.
His next few films didn't do as well. He played son to Sean Connery and father to Matthew Broderick in Family Business, played Mumbles in a Dick Tracy cameo and played another gangster in 1991's Billy Bathgate.
He teamed with Steven Spielberg, Robin Williams and Julia Roberts for the Peter Pan update Hook and turned to romantic comedy for 1992's Hero.
In 1995, Dustin played a real hero in the military flick Outbreak, surprisingly taking on a military doctor role turned down by Harrison Ford. The following year he appeared in the film version of David Mamet's play American Buffalo.
Hoffman then reteamed with his Rain Man director, Barry Levinson, for three pictures: 1996's Sleepers, 1997's Wag the Dog (with Robert De Niro) and 1999's Sphere. 1999 also saw Hoffman honored by the American Film Institute who gave him their AFI Lifetime Achievement Award.
In 2002, Hoffman appeared with Susan Sarandon and Jake Gyllenhaal in Moonlight Mile. He followed that up with 2003's Confidence with Ed Burns and Runaway Jury with John Cusack, Rachel Weisz, and Gene Hackman.
Hoffman had a busy year in 2004. He appeared in Finding Neverland with Johnny Depp and Kate Winslet, I Heart Huckabees with Jason Schwartzman, Lily Tomlin, Jude Law, Mark Wahlberg, and Naomi Watts,
and Meet the Fockers with Ben Stiller, Robert De Niro, and Barbra Streisand.
Hoffman lent his voice to a Shetland pony in 2005's Racing Stripes and played Meyer Lansky in The Lost City with Andy Garcia. The following year, Dustin appeared in Perfume: The Story of a Murderer and Stranger Than Fiction with Will Ferrell, Emma Thompson and Maggie Gyllenhaal.
In 2007, he starred with Natalie Portman in Mr. Magorium's Wonder Emporium. He was busy again in 2008, lending his voice to Kung Fu Panda with Jack Black and Angelina Jolie, working with Emma Thompson on Last Chance Harvey and doing more voicework for The Tale of Despereaux.
As time progresses, we'll have more info about Dustin Hoffman here. If you have any comments or suggestions about our coverage, please email us.