Johnny Depp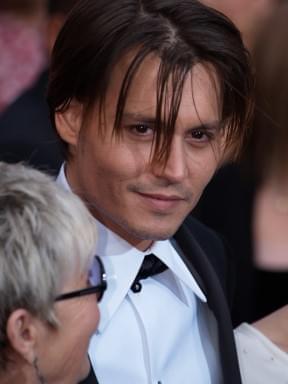 Check out our Johnny Depp photo gallery.
Born: June 9, 1963 Owensboro, Kentucky, USA
[Please note that we are recovering from a bad database backup and some of our bio entries might be a bit stale. We are baking up a fresh batch as soon as possible.]
Johnny Depp was born John Christopher Depp on June 9, 1963 in Owensboro, Kentucky. He made his big screen debut with the slasher flick A Nightmare on Elm St. in 1984. He had a supporting role in Oliver Stone's Platoon with Tom Berenger, Charlie Sheen, Willem Dafoe and Forrest Whitaker in 1986.
Depp became a household name and a teen heartthrob when he was cast as detective Tom Hanson on TV's 21 Jump Street from 1987 to 1990. When he jumped back into films after leaving the series, he chose characters as far from his TV character as possible. He poked fun at his heartthrob status in John Water's Cry Baby with Ricki Lake and Traci Lords and earned a Golden Globe nomination for his title role in Tim Burton's Edward Scissorhands which co-starred Winona Ryder.
He kept himself busy in 1993, appearing with Jerry Lewis, Faye Dunaway and Lili Taylor in Arizona Dream, with Mary Stuart Masterson, Aidan Quinn and Julianne Moore in Benny and Joon, and opposite Leonardo DiCaprio and Juliette Lewis in What's Eating Gilbert Grape.
In 1994, Depp earned himself another Golden Globe nod playing the awful, cross-dressing director in Ed Wood, which co-starred Sarah Jessica Parker and Martin Landau.
He hit another filmography triple in 1995, appearing in Don Juan DeMarco, Dead Man and Nick of Time.
In 1997, he starred in Donnie Brasco with Al Pacino and made his directorial feature film debut with The Brave, which teamed him with Don Juan co-star Marlon Brando. The following year he appeared with Benicio Del Toro in Terry Gilliam's trippy Fear and Loathing in Las Vegas. He was all over movie screens again in 1999 as he performed in Roman Polanski's The Ninth Gate, worked opposite Charlize Theron in The Astronaut's Wife and starred in Sleepy Hollow with Christina Ricci.
Johnny followed that with a supporting role in Julian Schnabel's Before Night Falls with Javier Bardem and the lead in Chocolat with Juliette Binoche. The next year, Depp starred in Blow with Penelope Cruz and From Hell with Heather Graham. In 2003, he took the lead in the summer action hit Pirates of the Caribbean: The Curse of the Black Pearl and stole the show with his Keith Richards-inspired take on a pirate captain. He was nominated for an Academy Award, a Golden Globe, and took home the SAG award for his portrayal. 2003 also had Depp appearing in 3rd installment of Robert Rodriguez's El Mariachi series, Once Upon a Time in Mexico, which starred Antonio Banderas and Salma Hayek.
Hot off his successful awards season, Depp played a troubled writer in Secret Window with Maria Bello and John Turturro and that same year also appeared in Finding Neverland and The Libertine.
In 2005, Depp played Willy Wonka in Tim Burton's remake of Charlie and the Chocolate Factory and voiced the lead in Burton's Corpse Bride. Following that he played Jack Sparrow again in 2006's
Pirates of the Caribbean: Dead Man's Chest and 2007's Pirates of the Caribbean: At World's End. He then teamed with Tim Burton again for the movie musical Sweeney Todd: The Demon Barber of Fleet Street.
Depp has two children with girlfriend Vanessa Paradis: Lily-Rose Melody Depp, born. May 27, 1999 and son John Christopher, born April 10, 2002.
As time progresses, we'll have more info about Johnny Depp here. If you have any comments or suggestions about our coverage, please email us.