Benicio Del Toro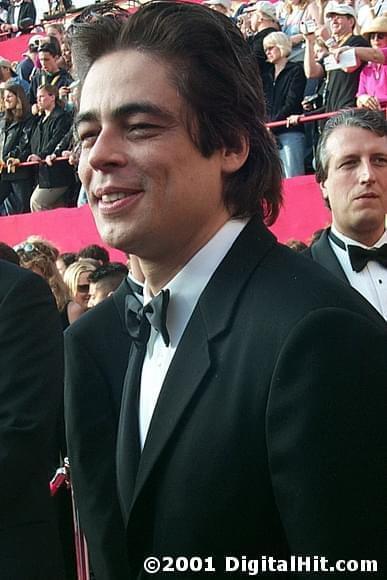 Check out our Benicio Del Toro photo gallery.
Born: Feb. 19, 1967 Santurce, Puerto Rico
[Please note that we are recovering from a bad database backup and some of our bio entries might be a bit stale. We are baking up a fresh batch as soon as possible.]
Benicio Del Toro was born in Puerto Rico on February 19th, 1967. Raised in Pennsylvania. Del Toro went to the University of California to study law but caught the acting bug and began training at the Stella Adler Conservatory and the Circle in the Square Theater School.
Benicio's film debut was playing Duke the Dog-faced boy in Big Top Pee-wee. After appearing in other projects like License to Kill, the mini series Drug Wars: The Camarena Story and Sean Penn's The Indian Runner, Del Toro gained notice in 1995 with his role in The Usual Suspects opposite Gabriel Byrne and Kevin Spacey. The next year proved to be a busy year, as he appeared in Basquiat (directed by Julian Schnabel), The Fan (with Robert De Niro and Wesley Snipes), The Funeral starring Christopher Walken and Joyride starring Tobey Maguire. His next film was the critically-slammed Alicia Silverstone vehicle Excess Baggage.
In 1998, he gained 40 lbs. to play Dr. Gonzo in Fear and Loathing in Las Vegas starring Johnny Depp. Del Toro had another busy year in 2000 with Guy Ritchie's Snatch (with Brad Pitt), The Way of the Gun with James Caan and Taye Diggs and Steven Soderbergh's Traffic, whose huge ensemble included Michael Douglas, Catherine Zeta-Jones and Don Cheadle. He won an Oscar® for best supporting actor for his role in that film.
Del Toro was cast in Sean Penn's 3rd directorial effort The Pledge, which starred Jack Nicholson. In 2003, Del Toro was seen in The Hunted with Tommy Lee Jones and 21 Grams with Naomi Watts and Sean Penn. Del Toro was once again nominated for an Academy Award, this time for his portrayal of 21 Grams' Jack Jordan.
He played Jackie Boy in Robert Rodriguez and Frank Miller's Sin City, an adaptation of the graphic novel that also starred Jessica Alba, Clive Owen, Bruce Willis and in 2007 starred with Halle Berry in Things We Lost in the Fire.
In 2008, Benicio appeared in two films by Steven Soderbergh, playing Che Guevara in Guerrilla and The Argentine. Soderbergh screened the pair as one four hour plus film called Che at Cannes.
As time progresses, we'll have more info about Benicio Del Toro here. If you have any comments or suggestions about our coverage, please email us.