Sean Penn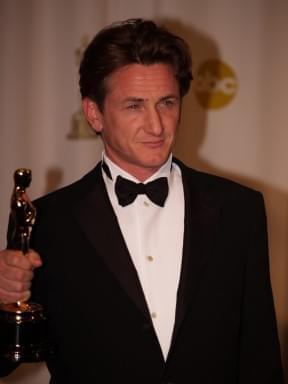 Check out our Sean Penn photo gallery.
Born: Aug. 17, 1960 Santa Monica, California, USA
[Please note that we are recovering from a bad database backup and some of our bio entries might be a bit stale. We are baking up a fresh batch as soon as possible.]
Sean Penn has emerged as one of the finest actors of our time. Not one to compromise his artistic integrity, he has taken projects and worked for salaries that would be unheard of for most in Hollywood. He is known for many real-life roles: Academy Award®-winner for Mystic River, paparazzi attacker, ex-husband to Madonna, anti-war activist…the list goes on. Sean Penn has solidified himself as a main stay in Hollywood.
Sean Justin Penn was born into a show biz family on August 17th, 1960 in Santa Monica, California. His father, Leo Penn was an actor/director blacklisted during the McCarthy era, his mother is actor Eileen Ryan, and Chris and Michael are an actor and a musician respectively.
In his teens, Sean took an active part at the Los Angeles' Group Repertory Theater where he apprenticed and worked as assistant to actor/director Pat Hingle. He was on the Broadway stage with Heartland before his feature film debut in 1981's Taps with Timothy Hutton and Tom Cruise. The following year, he appeared in an unforgettable supporting role as Jeff Spicoli in Fast Times at Ridgemont High. The film starred a bevy of then unknown actors: Jennifer Jason Leigh, Phoebe Cates, Eric Stoltz, Anthony Edwards, and Forrest Whittaker, to name a few. In 1983, he starred in Bad Boys and went another direction in 1984 with Racing with the Moon opposite Elizabeth McGovern and Nicolas Cage. He teamed up again in 1985 with Taps' Timothy Hutton and Pat Hingle from his theater days to star in the thriller The Falcon and the Snowman. That same year he also married pop star, Madonna, a pairing that kept the volatile couple in the headlines.
Penn's next film, At Close Range, was full of familiar faces for Sean. His brother Chris and mother Eileen were both in the film as was Christopher Walken. His wife recorded the film's title track, Live To Tell. He followed that film by starring opposite Madonna in Shanghai Surprise, a film that is arguably the worst of his career.
A couple of years later, Penn starred in Colors (1988) with Robert Duvall, who also directed the film. That same year he appeared in Judgement in Berlin with Martin Sheen, a film directed by his father, Leo.
In 1989, he appeared in the drama Casualties of War with Michael J. Fox and the comedy We're No Angels with Robert DeNiro. That same year, the volatile marriage with Madonna came to an end.
In 1990, he appeared with Ed Harris and Gary Oldman in State of Grace, a film that also introduced him to his future wife, Robin Wright.
Penn then took some time off from acting to follow in his father's footsteps and try his hand behind the camera. His directorial debut, which he also wrote, was 1991's The Indian Runner. He returned to the screen with Al Pacino in Carlito's Way. He directed Jack Nicholson and David Morse in 1995's The Crossing Guard. He also appeared in Dead Man Walking with Susan Sarandon, a role that earned him his first Oscar®) nomination.
Sean had a busy year in 1997, appearing in Robert Downey Sr.'s Hugo Pool, The Game with Michael Douglas, Oliver Stone's U Turn (with Jennifer Lopez, Nick Nolte, John Voight, Billy Bob Thornton and Joaquin Phoenix) and She's So Lovely starring wife Robin Wright Penn and John Travolta. In 1998, he starred in Hurlyburly with Kevin Spacey, Robin Wright Penn, Anna Paquin and The Thin Red Line with Adrien Brody, James Caviezel, George Clooney, John Cusack and Woody Harrelson.
Penn's second Academy Award nomination came with Woody Allen's Sweet and Lowdown (1999). The next year, Penn had three movies come out: The Weight of Water (2000) with Elizabeth Hurley, Julian Schnabel's Before Night Falls starring Javier Bardem and Johnny Depp, and Up at the Villa starring Kirsten Scott Thomas and Anne Bancroft.
A combination that seemed to work well, Penn took the director's chair once again with Jack Nicholson in 2001's The Pledge and starred in I am Sam with Dakota Fanning and Michelle Pfeiffer, a role that earned him his third Oscar nomination. A couple of years later in 2003, Sean once again had a busy year with 21 Grams with Naomi Watts, and Benicio Del Toro and Clint Eastwood's Mystic River, a film that earned both Sean Penn and Tim Robbins Academy Awards. He also appeared in It's All About Love with U Turn co-stars Joaquin Phoenix and Claire Danes.
He teamed up with 21 Grams co-star Naomi Watts for 2004's The Assassination of Richard Nixon.
Penn married Robin Wright in 1996 and the couple has two children: Dylan Frances born 1991 and Hopper Jack born in 1993.
As time progresses, we'll have more info about Sean Penn here. If you have any comments or suggestions about our coverage, please email us.