Joaquin Phoenix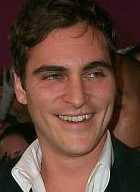 Check out our Joaquin Phoenix photo gallery.
Born: Oct. 28, 1974 San Juan, Puerto Rico
[Please note that we are recovering from a bad database backup and some of our bio entries might be a bit stale. We are baking up a fresh batch as soon as possible.]
For several years Joaquin Phoenix had to deal with being known solely as "River Phoenix's younger brother" and the voice heard on the 911 call the night his older sibling died of a drug overdose. With his Golden Globe nomination for Gladiator, Joaquin moved firmly into his own spotlight and out of the shadow of his brother.
Joaquin was born on October 28th, 1974 in San Juan, Puerto Rico where his parents were missionaries for the Children of God. When they learned of a sexual scandal involving the church's leader they moved their family back to the mainland and settled in Florida.
Joaquin's parents were hippies in the truest sense and Joaquin decided that he too should have an earthy name like his brother River and sister Rainbow. So at the age of four Joaquin became Leaf. His last name was to change as his parents sought to seek work for their talented brood (they sang on street corners and in talent shows) and headed for Los Angeles. As this move represented a new start for the struggling family, they decided to change their last name to Phoenix.
Older brother River landed a role in the CBS series Seven Brides for Seven Brothers and Leaf landed a guest shot on the short-lived show. He followed that up with a guest spot on Murder, She Wrote and roles in TV movies.
1986 marked Leaf's big screen debut when he appeared SpaceCamp which also starred Kate Capshaw and Lea Thompson. He followed that in 1987 with a role in Russkies and earned good reviews for his performance in the Steve Martin vehicle Parenthood in 1989.
Leaf decided to take a break from acting at that point, feeling there weren't any good roles for him. He went to Mexico with his father and decided to formally resume the use of his birth name, Joaquin.
Heading back to the States, Joaquin made up for lost time and hung out with his siblings in L.A.'s trendy club scene. He was with them on October 31st, 1993 when River came out of the Viper Room and died of a drug-induced heart attack. Joaquin's 911 call was repeatedly played on news and tabloid shows.
Joaquin's first film after his brother's death was To Die For which not only helped to relaunch his career but strengthen the career of Nicole Kidman.
Two years later, in 1997, Joaquin appeared in two films: Inventing the Abbotts, which didn't break any records at the box office but did introduce him to Liv Tyler, and Oliver Stone's U-Turn. He made two films again in 1998, appearing with Vince Vaughn and Anne Heche in Return to Paradise and working with Vaughn again in Clay Pigeons. Though neither film was a smash, Joaquin continued to get good notices.
Though 1999's 8MM didn't do much for him, 2000 proved to be another great year for him he appeared in Gladiator with Russell Crowe, The Yards with Mark Wahlberg and ended the year with a role in Quills with Geoffrey Rush.
Joaquin and his 2001 film Buffalo Soldiers made an appearance at the Toronto International Film Festival.
In 2002, Joaquin worked opposite Mel Gibson on M. Night Shyamalan's Signs. He followed that by working with Claire Danes and Sean Penn on It's All About Love and then lent his voice to Disney's Brother Bear. He worked with M. Night Shyamalan again in 2004 as he starred in The Village which also featured Adrien Brody. 2004 also saw him in the films Hotel Rwanda (with Don Cheadle) and Ladder 49 (with John Travolta).
In 2005, he received critical acclaim for his performance as Johnny Cash in the biopic Walk the Line opposite Reese Witherspoon. The film earned him an Oscar® nomination and a Golden Globe win.
In 2007, Joaquin appeared in We Own the Night (with Mark Wahlberg, Robert Duvall and Eva Mendes) and Reservation Road (with Mark Ruffalo, Jennifer Connelly and Mira Sorvino). That same year saw Phoenix, a vegan and PETA member, narrating the documentary Earthlings which studied animal abuses in factory farms and other areas.
While 2008 had Phoenix appearing in Two Lovers with Gwyneth Paltrow it was his actions and appearance that really caught people's attention. Joaquin grew a huge bushy beard and said he was leaving acting to become a rapper. His bizarre actions, including an outrageous appearance on Late Night with David Letterman, were all documented by brother-in-law Casey Affleck. People wondered whether it was a celebrity gone off the deep end or an elaborate hoax to fuel a documentary on modern celebrity. The jury's still out on this latest chapter of Phoenix's life.
As time progresses, we'll have more info about Joaquin Phoenix here. If you have any comments or suggestions about our coverage, please email us.