Gwyneth Paltrow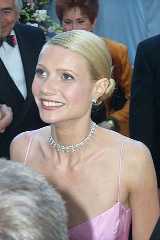 Check out our Gwyneth Paltrow photo gallery.
Born: Sept. 28, 1972 Los Angeles, California, USA
[Please note that we are recovering from a bad database backup and some of our bio entries might be a bit stale. We are baking up a fresh batch as soon as possible.]
Gwyneth is so adept at doing an English accent that many people forget that she's not a Brit, a situation she poked fun at in an appearance on Saturday Night Live.
The daughter of Bruce Paltrow and Blythe Danner, Gwyneth has performed on film, TV and the stage. She's managed to rack up some impressive credits in just a few short years including Emma, Seven and Sliding Doors. Her performance as Viola De Lesseps in Shakespeare in Love put a Golden Globe, and an Academy Award®, on her mantelpiece.
She followed that working opposite Matt Damon and Jude Law in The Talented Mr. Ripley in 1999.
In 2000, Gwyneth made an appearance at the Toronto International Film Festival to support a film she made with her father, Duets. The film was critically savaged and probably would not have been released were it not for her involvement. She ended up the year appearing opposite her ex-beau Ben Affleck in Bounce.
She kept herself busy in 2001, appearing in The Anniversary Party, Shallow Hal and The Royal Tenenbaums.
In 2002, Gwyneth appeared in Possession. She followed that with 2003's View from the Top and Sylvia. Once a tabloid darling for her past relationships with Brad Pitt and Ben Affleck, she married Coldplay rocker Chris Martin in December 2003. The couple welcomed their first child, daughter Apple Blythe Alison Martin, into their family in May of 2004.
As time progresses, we'll have more info about Gwyneth Paltrow here. If you have any comments or suggestions about our coverage, please email us.