Matt Damon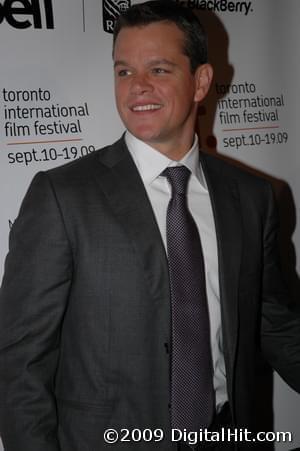 Check out our Matt Damon photo gallery.
Born: Oct. 8, 1970 Cambridge, Massachusetts, USA
[Please note that we are recovering from a bad database backup and some of our bio entries might be a bit stale. We are baking up a fresh batch as soon as possible.]
Matt Damon has all the bases covered. The first produced screenplay he wrote with pal Ben Affleck, Good Will Hunting, won the duo an Oscar® and a Golden Globe. His acting in GWH earned him an Oscar® nomination and his performance in The Talented Mr. Ripley earned him a Golden Globe nomination. He appears determined to leave his mark on Hollywood.
Matt Damon was born on October 8, 1970 in Harvard's home, Cambridge, Massachusetts. Acting was in his blood at an early age and he appeared in several local theater productions. His friend, Ben Affleck, was also serious about acting and the pair soon started working as extras on films shot around Boston.
His eighteenth year not only saw him enter Harvard, but also earn a one line part in Mystic Pizza which also featured a young Julia Roberts. Two years later, he appeared with Brian Dennehy in the TV movie Rising Son and he and Affleck appeared with Chris O'Donnell and Brendan Fraser in 1992's School Ties.
With that work under his belt, Damon dropped out of Harvard and headed to LA to continue his quest for a career in acting. In 1993 people took notice of his supporting role in Geronimo: An American Legend, where he worked with veteran actors Gene Hackman and Robert Duvall. That helped him land a starring role in the Tommy Lee Jones-directed TV flick The Good Old Boys.
1996 rolled around and Damon again received attention and critical kudos for his performance in Courage Under Fire with Meg Ryan and Denzel Washington. That role caught the attention of Francis Ford Coppola who thought Damon would be perfect for The Rainmaker which he starred in with Danny DeVito. Suddenly the studios were taking notice of him and that attention helped him get a greenlight to make the film he had written with Affleck in a screenwriting course. The script had received some interest before, but with Damon's newfound luster he was able to convince the producers that he and buddy Ben should star. The film earned them a screenwriting Oscar® and Robin Williams a Best Supporting Actor.
Damon then appeared with Tom Hanks in the title role of Steven Spielberg's Saving Private Ryan. He then co-starred in Rounders with Edward Norton. 1999 saw him reteam with Affleck in Kevin Smith's Dogma which also featured Chris Rock and Salma Hayek. He rounded out 1999 with The Talented Mr. Ripley opposite Gwyneth Paltrow and Jude Law. Critics took notice of that performance and he received a Golden Globe nomination for it.
Damon also appeared the Robert Redford flick Bagger Vance with Will Smith and the Billy Bob Thornton directed All The Pretty Horses.
While making All The Pretty Horses, Damon dumped girlfriend Winona Ryder and rumors started circulating that he had left her for gorgeous Horses co-star, Penélope Cruz. This wouldn't be the first time Damon has dated a co-star. He previously squired School Days co-star Claire Danes and Good Will Hunting co-star Minnie Driver, who found out she had been dumped when he mentioned it to Oprah Winfrey during an interview.
In 2001, Damon starred in the Ocean's Eleven remake. He did his first big solo action role in 2002's The Bourne Identity.
Matt followed that performance with an appearance in Confessions of a Dangerous Mind, co-starred with Greg Kinnear in Stuck On You (2003) and also appeared in Eurotrip and Jersey Girl in 2004. He returned to high-speed action with 2004's The Bourne Supremacy and returned to ensemble action/comedy in Ocean's Twelve.
2005 saw Matt work with Heath Ledger on The Brothers Grimm, voiced Al Shepard for Magnificent Desolation: Walking on the Moon 3D, and worked with George Clooney on Syriana.
In 2006, Matt worked with Leonardo DiCaprio, Jack Nicholson and Mark Wahlberg on Martin Scorsese's The Departed then continued with another great cast in The Good Shepherd, which starred Angelina Jolie, Alec Baldwin, Billy Crudup and Robert De Niro.
The next year, Damon returned to two successful franchise with his roles in Ocean's Thirteen and The Bourne Ultimatum.
In 2008, Damon appeared in Che with Javier Bardem and in 2009 he starred in The Informant! with Scott Bakula and Clint Eastwood's Invictus with Morgan Freeman.
As time progresses, we'll have more info about Matt Damon here. If you have any comments or suggestions about our coverage, please email us.