Denzel Washington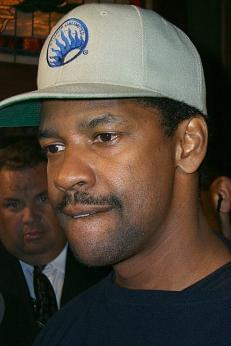 Check out our Denzel Washington photo gallery.
Born: Dec. 28, 1954 Mount Vernon, New York, USA
[Please note that we are recovering from a bad database backup and some of our bio entries might be a bit stale. We are baking up a fresh batch as soon as possible.]
Denzel Washington combines a dedication to his craft with matinee idol good looks and ends up with a very popular package.
Denzel was born in Mount Vernon, New York on December 28th, 1954. As a child he hung out in his father's church and worked with his mother in beauty salons and barber shops. That much people watching couldn't help but rub off on young Denzel.
His parents separated when he was fourteen and Washington went off to boarding school. He enrolled at Fordham University for journalism and landed several starring roles in student productions. After completing his B.A. in 1977, Denzel left for San Francisco to follow his new passion for acting. He had a scholarship at the American Conservatory Theater but only stayed there one year. Feeling confident, Denzel decided to seek a professional career.
Described by many as a "natural", he landed a role in the NBC TV movie Wilma. In 1979 he was in a New York Shakespeare Festival production of Coriolanus and by 1981 he had made his film debut playing George Segal's illegitmate son in Carbon Copy.
In 1982, Denzel became a weekly visitor to people's TV sets when he won the role of resident Dr. Phillip Chandler on the NBC drama St. Elsewhere. He used his hiatuses wisely and during the show's 6 year run he appeared in movies like A Soldier's Story, Power, and Cry Freedom, for which he received Oscar® and Golden Globe nominations for Best Supporting Actor. With that work behind him, more film work was easy to find when the show ended and in 1989 Denzel won a Best Supporting Actor Academy Award® and Golden Globe for his performance as a Civil War soldier in Glory.
The award shows would come calling again in 1992, when he earned a Best Actor Nomination for his performance in Malcolm X. Denzel has worked with director Spike Lee several times. Besides Malcolm X he has appeared in the director's Mo' Better Blues and He Got Game.
Whether he's a lawyer (Philadelphia), a Shakespearean character (Much Ado About Nothing), or a Navy Lt. Cmdr. (Crimson Tide), Denzel always comes across with great performances. Speaking about great performances, audiences and critics loved his work in The Hurricane, where Denzel Washington portrays the true life story of the wrongly convicted Rubin "Hurricane" Carter. Working again with Norman Jewison (A Soldier's Story) the pair screened a work-in-progress screening of the film at the 1999 Toronto International Film Festival. After the screening they received a several minute ovation that was due in no small part to Denzel's powerful performance.
On December 20th, 1999, Denzel was nominated for the 57th Annual Golden Globe Awards for his role in The Hurricane. He won the award on January 23rd.
In 2002, Denzel won an AFI Award for his performance in Training Day. The role also earned him a Golden Globe nomination and an Oscar® nomination. Denzel won the Oscar® on March 24th, 2002.
As time progresses, we'll have more info about Denzel Washington here. If you have any comments or suggestions about our coverage, please email us.