Billy Crudup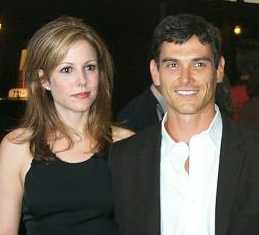 Check out our Billy Crudup photo gallery.
Born: July 8, 1968 Manhasset, New York, USA
[Please note that we are recovering from a bad database backup and some of our bio entries might be a bit stale. We are baking up a fresh batch as soon as possible.]
Actor Billy Crudup does not court stardom. He's one of those hard-working actors who'll shoot the movie, do the required publicity, but not parade his personal life before the public.
Born in Manhasset, New York on July 8, 1968, Billy was raised in Florida and Texas. His family frequently moved and always being the new kid meant Billy had to develop some way of gaining acceptance. Being the class clown was his ticket in.
He sparked his interest in drama at the University of North Carolina and upon graduation headed to NYC to study at New York University's Tisch School of the Arts.
Just prior to his graduation in 1994, Crudup won a role in the indie flick Grind. Though this was his feature debut, it ended up without a distributor for three years.
He landed a role in the 1995 Broadway production of Tom Stoppard's Arcadia, a role which won him both critical praise and the Outer Critics Circle award. In 1996, he hit the screen again, this time with Brad Pitt and Jason Patric in Sleepers. That year he also appeared in Woody Allen's Everyone Says I Love You.
Crudup returned to the stage for the Broadway revival of Bus Stop. Not only did he win critical praise, he also won the heart of co-star Mary-Louise Parker.
He again found himself on screen in 1997's Inventing the Abbotts, which also starred Joaquin Phoenix, Liv Tyler, and Jennifer Connelly. Though the film didn't set the box office on fire, it did give Crudup's career an added push and his first film Grind finally found a distributor.
1998. Enter Tom Cruise. Crudup won the role of Steve Prefontaine in the Cruise-produced Without Limits. The film had a gala premiere and press conference at the 1998 Toronto International Film Festival. The media attention on the Cruise-produced, Robert Towne-written and directed project ensured that attention would be on Crudup too. 1998 also saw Crudup starring with Woody Harrelson and Patricia Arquette in Stephen Frears' The Hi-Lo Country.
In 1999 Crudup made Waking the Dead and Jesus' Son. He returned to the Toronto Film Festival's red carpet again as one of the cast of Cameron Crowe's Almost Famous.
In 2001, he appeared in World Traveler and Charlotte Gray. Two years later, he appeared with Ewan McGregor in Big Fish.
Crudup cause a bit of a media stir in 2004 when he and Stage Beauty co-star Claire Danes ended long-term relationships to be with each other. Crudup had left actress Mary-Louise Parker while she was pregnant with their first child. Danes and Crudup split in 2006.
In 2005, Billy appeared in Trust the Man. He followed that up with 2006's Mission: Impossible III and The Good Shepherd and 2007's Dedication. That same year, he won Tony Award for Best Featured Actor in a Play for his performance in The Coast of Utopia. In 2008, Crudup appeared in Pretty Bird and in 2009 he starred as Dr. Manhattan in the highly-anticipated comic book film Watchmen.
As time progresses, we'll have more info about Billy Crudup here. If you have any comments or suggestions about our coverage, please email us.