Jennifer Connelly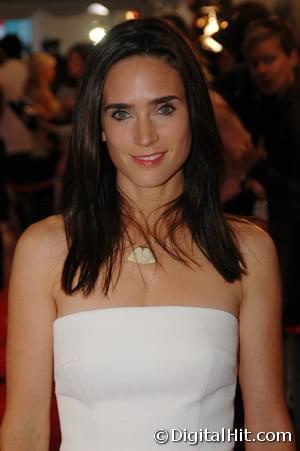 Check out our Jennifer Connelly photo gallery.
Born: Dec. 12, 1970 Catskill Mountains, New York, USA
[Please note that we are recovering from a bad database backup and some of our bio entries might be a bit stale. We are baking up a fresh batch as soon as possible.]
Jennifer Lynn Connelly was born December 12th, 1970 in Catskill Mountains, New York. Starting off as a child model, Connelly naturally made her way into film with her stunning beauty and natural talent. She made her film debut in Once Upon a Time in America in 1984 playing the younger version of Elizabeth McGovern's character in flashbacks. She was then seen in 1985's Phenomena and Seven Minutes in Heaven.
She was cast opposite David Bowie in the fantasy film Labyrinth in 1986 and followed that with 1988's Some Girls with Patrick Dempsey where she played one of three sisters who turn his world upside down. She showed off her ample assets in The Hot Spot in 1990 to the delight of audience members and in 1991 worked opposite Billy Campbell in The Rocketeer and with Frank Whaley in Career Opportunities.
Jennifer left acting briefly to pursue higher education at both Yale and Stanford. She returned to acting finding a new passion for the art and was seen in 1995's Of Love and Shadows and Higher Learning and then was cast in 1996's Mulholland Falls playing Nick Nolte's mistress.
She played the naughty sister who routinely disobeys her father in 1997's Inventing the Abbotts with Billy Crudup and Joaquin Phoenix and joined Kiefer Sutherland in the thriller Dark City in 1998. Meatier roles started coming Connelly's way in 2000 with Ed Harris' Pollock where she played the painter's other woman, playing a fashion designer drug addict in Requiem for a Dream opposite Ellen Burstyn and Jared Leto and Waking the Dead with Billy Crudup.
Connelly was cast in the short-lived series The $treet about the lives of workers in a brokerage firm. The series, which lasted twelve episodes also starred Tom Everett Scott and Christina Campbell. She was then seen in Ron Howard's A Beautiful Mind in 2001. Playing the true-life Alicia Nash to Russell Crowe's eccentric math genius Nobel laureate John Forbes Nash Jr. earned Jennifer her first Academy Award for Best Supporting Actress. Another positive thing to come out of shooting that film was that she met her future husband Paul Bettany.
A couple of years later, she was seen in the much anticipated Hulk in 2003 starring Eric Bana, a year that also saw her work opposite Ben Kingsley in House of Sand and Fog. She made the thriller Dark Water in 2005, and in 2006 worked opposite Kate Winslet in Little Children and with Leonardo DiCaprio and Djimon Hounsou in Blood Diamond. She then went on to play a mother who loses her son to a hit-and-run accident in 2007's Reservation Road with Joaquin Phoenix playing her husband obsessed with finding the killer.
In 2008, Jennifer teamed with Keanu Reeves in the remake of The Day the Earth Stood Still and then teamed with Brendan Fraser and husband Paul Bettany for the children's fantasy Inkheart. A busy 2009 saw Jennifer in the ensemble cast of He's Just Not That Into You with Ben Affleck, Jennifer Aniston, Drew Barrymore, Bradley Cooper and Scarlett Johansson, lending her voice to 9, and working opposite husband Paul Bettany in Creation.
She then appeared in 2010's Virginia with Ed Harris, 2011's The Dilemma opposite Vince Vaughn and Salvation Boulevard with Greg Kinnear, Pierce Brosnan and Ed Harris and 2012's Writers with Greg Kinnear and Lily Collins.
A busy 2014 saw roles in Winter's Tale (with Colin Farrell), Aloft and Darren Aronofsky's Noah opposite Russell Crowe and Emma Watson.
On the private side, Jennifer married actor Paul Bettany on New Year's Day 2003. They have two children.
As time progresses, we'll have more info about Jennifer Connelly here. If you have any comments or suggestions about our coverage, please email us.