Kate Winslet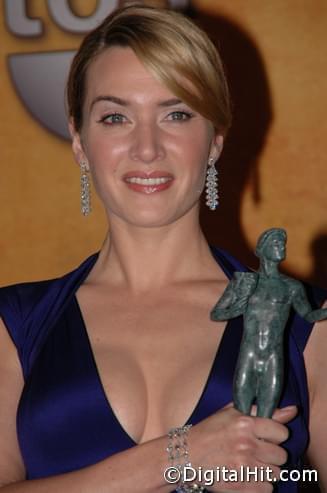 Check out our Kate Winslet photo gallery.
Born: Oct. 5, 1975 Reading, England, UK
[Please note that we are recovering from a bad database backup and some of our bio entries might be a bit stale. We are baking up a fresh batch as soon as possible.]
Kate Winslet was born on October 5th, 1975 in Reading, England. She seemed to be destined to be a performer as it's in her genes. Her parents Roger and Sally were both stage actors, maternal grandparents Oliver and Linda Bridges ran the Reading Repertory Theatre, and uncle Robert Bridges was a fixture in London's West End theatre district.
Kate made TV guest appearances early in her career, but it was the role of Juliet Hume in 1994's Heavenly Creatures that caught people's attention. Also starring Melanie Lynskey, the movie was based on the true story of two teenagers whose fantasy world overshadows reality when they commit a brutal murder. She followed this up with the role of Marianne Dashwood in Sense and Sensibility with Emma Thompson, Hugh Grant and Tom Wilkinson, a role that earned her a Best Supporting Actress Oscar nomination. That same year, she co-starred with Daniel Craig in A Kid in King Arthur's Court.
The next year, she was in Jude with Christopher Eccleston and played Ophelia in Kenneth Branagh's Hamlet. In 1997, she played Rose DeWitt Bukater in the blockbuster Titanic with Leonardo DiCaprio. She received her second Oscar nomination (for Best Actress) and became the youngest actress to receive two nominations.
Winslet's next two films were much smaller in comparison. She starred in Hideous Kinky, the story of two young sisters that travel with their mother from London to Morocco in the 60's, and Holy Smoke with Harvey Keitel.
In 2000, Kate appeared with Joaquin Phoenix, Geoffrey Rush, and Michael Caine in Quills. She followed that with a role in 2001's Enigma which also starred Dougray Scott and Saffron Burrows. That same year, she played the young Iris Murdoch in Iris with Judi Dench and James Broadbent. This would lead to Winslet's 3rd Oscar nomination, another nod for Best Supporting Actress.
In 2003, she starred with Kevin Spacey and Laura Linney in The Life of David Gale. 2004 saw her teamed with Jim Carrey and Mark Ruffalo in Eternal Sunshine of the Spotless Mind, a role that earned Winslet her fourth Oscar nomination, this time for Best Actress. That same year, she starred in Finding Neverland, the true story of JM Barrie's writing of Peter Pan, a film whose cast included Johnny Depp, Julie Christie, Dustin Hoffman and Freddie Highmore.
The next year, she starred in John Turturro's Romance & Cigarettes with James Gandolfini and Susan Sarandon. Kate was everywhere in 2006 as audiences saw her in the long-delayed All the King's Men with Sean Penn, Jude Law, James Gandolfini, Patricia Clarkson and Mark Ruffalo, and in Little Children with Jennifer Connelly, Patrick Wilson and Jackie Earle Haley. The Academy again recognized her with a Best Actress nomination. She also lent her voice to that year's animated adventure Flushed Away which co-starred Hugh Jackman and co-starred with Jude Law, Jack Black and Cameron Diaz in the comedy The Holiday.
2008 and the 2009 awards season were nothing short of remarkable for Winslet. She reteamed with Leonardo DiCaprio in Revolutionary Road and also played a woman charged with war crimes in The Reader. She won a Best Actress Oscar for The Reader. At the Golden Globes, she won Best Performance by an Actress in a Motion Picture – Drama for Revolutionary Road and also a Best Performance by an Actress in a Supporting Role in a Motion Picture for The Reader. At the Screen Actors Guild Awards, Kate won Outstanding Performance by a Female Actor in a Supporting Role for The Reader and was nominated for Outstanding Performance by a Female Actor in a Leading Role for Revolutionary Road. She also won a BAFTA for Best Leading Actress for The Reader and was nominated in the same category for Revolutionary Road.
Winslet was married to James Threapleton from 1998 to 2001 and has one child with him. She also has a second child by husband Sam Mendes. She married the director of Revolutionary Road in 2003.
As time progresses, we'll have more info about Kate Winslet here. If you have any comments or suggestions about our coverage, please email us.