Jack Black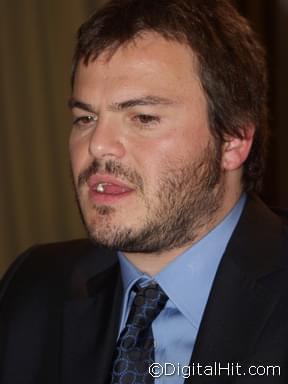 Check out our Jack Black photo gallery.
Born: Aug. 28, 1969 Hermosa Beach, California, USA
[Please note that we are recovering from a bad database backup and some of our bio entries might be a bit stale. We are baking up a fresh batch as soon as possible.]
Thomas Jack Black was born on August 28, 1969 in Hermosa Beach, California. Black veered from the family business early on; his parents are both satellite engineers. His focus since he was a teenager was performing.
After high school, Black enrolled in the Theater Studies program at UCLA, but since he spent more time than not with Tim Robbin's theatre group, Actor's Gang, Black eventually dropped out of school. It was during this time he would meet his future band mate Kyle Gass, the other half of his rock group Tenacious D.
Jack made his feature film debut in Robbin's directorial debut, 1992's political satire Bob Roberts. He spent the next few years in guest-starring roles on television and in television movies like Northern Exposure, All American Girl and The X-Files.
He appeared in Airborne in 1993, The Neverending Story III in 1994 and Waterworld in 1995. More notable features followed with Dead Man Walking in 1995 with Susan Sarandon and Sean Penn, 1996's The Cable Guy with Jim Carrey and Matthew Broderick, The Fan with Robert De Niro and Wesley Snipes and Mars Attacks! with Jack Nicholson and Glenn Close.
In 1997, he appeared in The Jackal with Bruce Willis and Richard Gere and followed that up with 1998's Enemy of the State with Will Smith and Gene Hackman. In 1999, Black teamed up with Tim Robbins again for the movie Cradle Will Rock and appeared in Jesus' Son with Billy Crudup. He followed that up with High Fidelity opposite John Cusack and Catherine Zeta-Jones.
Larger roles and projects poured in with Saving Silverman in 2001 alongside Jason Biggs and Steve Zahn, Shallow Hal with Gwyneth Paltrow, and 2002's Orange County with Colin Hanks and Schuyler Fisk. In 2003, Jack starred in School of Rock, where he played a failing musician who poses as a teacher to a bunch of fifth graders. He also had a memorable guest role as a doctor on Will & Grace. In 2004, he appeared in Envy opposite Ben Stiller and voiced Lenny the shark in Shark Tale with Will Smith, Renée Zellweger and Angelina Jolie.
2005 saw Black star with Adrien Brody and Naomi Watts in the Peter Jackson remake of King Kong. The next year, he'd also put on the producer's hat and the wrestler's costume for Nacho Libre. 2006 continued to be busy for him as he also played alongside Jude Law, Cameron Diaz and Kate Winslet in The Holiday and teamed up with his musical pal Kyle Gass for Tenacious D in The Pick of Destiny.
In 2007, he had a role in Margot at the Wedding with Nicole Kidman and Jennifer Jason Leigh and played Paul McCartney in Walk Hard: The Dewey Cox Story with John C. Reilly. In 2008, he worked with Mos Def in Be Kind Rewind, voiced the title character in Kung Fu Panda with Angelina Jolie and Dustin Hoffman, and teamed up with Ben Stiller and Robert Downey Jr. for Tropic Thunder.
He married cellist Tanya Haden in 2006. The couple have two children.
As time progresses, we'll have more info about Jack Black here. If you have any comments or suggestions about our coverage, please email us.