Angelina Jolie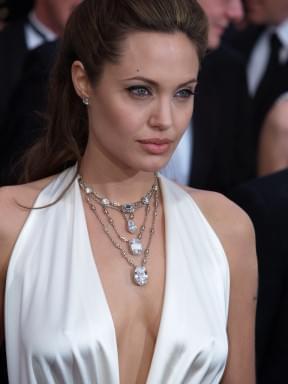 Check out our Angelina Jolie photo gallery.
Born: June 4, 1975 Los Angeles, California, USA
[Please note that we are recovering from a bad database backup and some of our bio entries might be a bit stale. We are baking up a fresh batch as soon as possible.]
Whenever a child of a Hollywood figure enters the world of entertainment, charges of nepotism and hand-holding always rear their ugly heads. Well, though the definitely beautiful head of Angelina Jolie owes its genes to actors Jon Voight and Marcheline Bertrand, the three Golden Globes on her mantle are due to her talent alone. For three years in a row, Angelina took home a Globe. At the 55th Globes it was for her supporting role in George Wallace and at the 56th it was for her starring role in Gia. The year 2000 was her year too. Her third Globe was for her performance in Girl, Interrupted, a role that also landed the actress her first Oscar.
Angelina started studying acting at the famous Lee Strasberg Theater Institute when she was only 11. She moved into the world of professional modelling, acted in music videos, and appeared in five student films directed by her brother, James Haven Voight.
While a part of the Met Theater in Los Angeles, Angelina worked alongside Holly Hunter, Ed Harris and Amy Madigan. Playing a hybrid creature, Jolie landed her commercial picture debut in 1993's Cyborg II: Glass Shadows. She received some critical attention for her role in Hackers (1993), and also recieved the attention of the film's star, Jonny Lee Miller. Romance blossomed and the two married in March 1996, only to divorce in February 1999.
Other film credits included Without Evidence, Mojave Moon, Love Is All There Is, her Globe-winning roles in George Wallace and Gia, and 1999's Pushing Tin, which co-starred John Cusack, Billy Bob Thornton, and fellow Globe winner Cate Blanchett. Also in 1999 she starred opposite Denzel Washington in The Bone Collector and with Winona Ryder in Girl, Interrupted.
Jolie married Billy Bob Thornton on May 5th, 2000. That same year she starred in Gone in 60 Seconds. In 2001, she worked opposite Antonio Banderas in Original Sin and brought life to a video game character in Lara Croft: Tomb Raider.
In 2002, Jolie appeared opposite Ed Burns in the critically-slammed Life or Something Like It. She filed for divorce from Thornton on July 18, 2002.
After reprising her action role in 2003's Lara Croft Tomb Raider: The Cradle of Life, Angelina went on to appear in Beyond Borders.
Angelina was on the screens several times in 2004. She lent her voice to the sexy Lola in Shark Tale, worked with Jude Law and Gwyneth Paltrow in Sky Captain and the World of Tomorrow and played opposite Colin Farrell in Oliver Stone's Alexander.
In 2005, Angelina was in the tabloids far more than she was in the theatres. Her Mr. & Mrs. Smith co-star, Brad Pitt was ending his marriage to Jennifer Aniston and Pitt and Jolie denied that they were involved. Paparazzi cameras followed them around the planet. They shot Pitt hanging out with Jolie and her adopted son, Maddox, and they shot the couple going to Ethiopia to pick up her newly-adopted daughter, Zahara. By the end of 2005, Pitt had filed adoption papers to adopt Angelina's children, while Jolie sought to have their legal names changed to Zahara Jolie-Pitt and Maddox Jolie-Pitt. In January of 2006, Pitt's publicist announced that Angelina was expecting Brad's child. They welcomed their daughter, Shiloh Nouvel Jolie-Pitt, on May 27th, 2006.
2006 also saw Angelina work with Matt Damon and Robert De Niro in the De Niro-directed The Good Shepherd. In 2007, she played Mariane Pearl in the true life story of Wall Street Journal reporter Daniel Pearl, A Mighty Heart. She also lent her voice to the computer animated Beowulf and directed the documentary A Place in Time.
A busy 2008 saw doing voice work with Jack Black and Dustin Hoffman as Tigress in Kung Fu Panda, working for director Clint Eastwood in Changeling and working with James McAvoy and Morgan Freeman on the action film Wanted. On the family side, she and Pitt welcomed son Knox Léon and daughter Vivienne Marcheline on July 12, 2008.
Angelina returned to action again in 2010, working with Liev Schreiber and Chiwetel Ejiofor on the spy thriller Salt. That same year, her action-romance with Johnny Depp, The Tourist, was critically-savaged. She returned to the animated realm in 2011 with Kung Fu Panda 2 and also wrote and directed the Bosnian War drama In the Land of Blood and Honey.
In 2013, Angelina brought attention to cancer detection and prevention. After a genetics test revealed that a defective BRCA1 gene gave her an 87% risk of developing breast cancer she underwent a preventive double mastectomy. The publicity, dubbed the "Angelina Jolie effect", saw many women talk to their doctors about prevention and detection.
2014 saw Jolie play the title character in Disney's Maleficent and direct the WWII drama Unbroken.
In March of 2015. Jolie revealed that she had preventive surgery, removing her ovaries, as genetic testing revealed she had a 50% chance of developing ovarian cancer.
As time progresses, we'll have more info about Angelina Jolie here. If you have any comments or suggestions about our coverage, please email us.