Billy Bob Thornton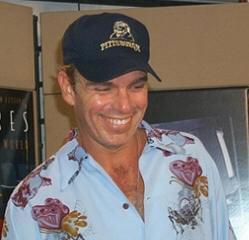 Check out our Billy Bob Thornton photo gallery.
Born: Aug. 4, 1955 Hot Springs, Arkansas, USA
[Please note that we are recovering from a bad database backup and some of our bio entries might be a bit stale. We are baking up a fresh batch as soon as possible.]
An Academy Award®-winning writer, and an accomplished actor and director, Thornton has a long career in film, television and stage. To top it all off, he has a great personality, and tells great stories.
Thornton and future writing partner Tom Epperson met as children in Arkansas. Billy Bob began acting in high school and after studying psychology decided he really wanted to pursue an entertainment career. He and Epperson eventually made it to L.A. in the late '70s and they started writing scripts in earnest. They tried for several years to sell them, while Thornton also sought work as a drummer, singer, and actor. In 1986, he appeared in the direct-to-video Hunter's Blood. In '91 he had a small role in For the Boys, but in 1992 he received critical acclaim for his performance in One False Move, which he co-wrote with Epperson. He then appeared in a string of films including Taylor Hackford's Bound By Honor, Steven Seagal's On Deadly Ground and Jim Jarmusch's Dead Man.
Another critically-acclaimed project for the childhood friends was A Family Thing, a project brought to them by Robert Duvall. The film, which co-starred James Earl Jones, was about a white man who discovers he has a black half-brother.
Working by himself on his next project, Thornton wrote and directed Sling Blade, which was based on stage work and a short that Thornton had done in the past. The film, about a mentally-challenged murderer, won Thornton an Oscar® for Best Adapted Screenplay and earned him a nomination as Best Actor.
Billy Bob has kept himself busy in films since Sling Blade. His filmography since then includes Rosewood, Robert Duvall's The Apostle, Homegrown, An Alan Smithee Film, Oliver Stone's U-Turn, Primary Colors and Armageddon, a film he cheerfully admits he did for the money.
He's also starred in A Simple Plan, Pushing Tin (which co-starred future wife Angelina Jolie), The Man Who Wasn't There, Bandits (which teamed him again with Pushing Tin co-star Cate Blanchett and Armageddon co-star Bruce Willis), and Monsters Ball. He also found time to write The Gift and direct All the Pretty Horses.
His film work has been so strong that people often forget he was in our living rooms in three TV series, The Outsiders, Evening Shade, and Hearts Afire.
Billy Bob married Angelina Jolie on May 5th, 2000. She filed for divorce from Thornton on July 18, 2002.
As time progresses, we'll have more info about Billy Bob Thornton here. If you have any comments or suggestions about our coverage, please email us.