Cate Blanchett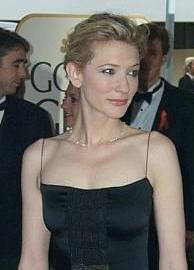 Check out our Cate Blanchett photo gallery.
Born: May 14, 1969 Melbourne, Australia
[Please note that we are recovering from a bad database backup and some of our bio entries might be a bit stale. We are baking up a fresh batch as soon as possible.]
Cate Blanchett caught the world's attention with her Golden Globe-winning performance in Elizabeth. The film, which also earned her an Oscar® nomination, catapulted Cate onto the frenzied stage of worldwide attention.
Cate's used to being on stage, however. A graduate of Australia's National Institute of Dramatic Art, she's a member of Company B, an Australian ensemble which also features her Elizabeth co-star, Geoffrey Rush. Her performances with that group include The Tempest, Hamlet, and The Seagull.
Her Australian television credits include Heartland and Bordertown.
Cate's first feature role was in Bruce Beresford's Paradise Road. She followed that with Thank God He Met Lizzie and then hit North American radar with her performance as Lucinda in Oscar & Lucinda, opposite Ralph Fiennes.
Speaking of radar, Cate appeared opposite John Cusack and Billy Bob Thornton in Pushing Tin, a black comedy about air traffic controllers. She was also in An Ideal Husband and The Talented Mr. Ripley.
In 2000, Cate starred in The Gift, which was penned by Billy Bob Thornton, her co-star in her next film, Bandits. In 2001 she also appeared in The Lord of the Rings: The Fellowship of the Ring, Charlotte Gray, and Shipping News.
Keeping busy, Cate appeared in 2002's Heaven and The Lord of the Rings: The Two Towers. She had an even busier 2003, appearing in Veronica Guerin, Coffee and Cigarettes, Ron Howard's The Missing and the final LOTR flick The Lord of the Rings: The Return of the King.
In 2004, Cate played opposite Bill Murray in The Life Aquatic with Steve Zissou and played Katharine Hepburn to Leonardo Dicaprio's Howard Hughes in The Aviator.
Cate's performance as Hepburn earned her a BAFTA, a SAG Award, and an Oscar for Supporting Actress.
In 2005, Cate starred in the Aussie film Little Fish. She had a busy year in 2006, appearing in Babel with Brad Pitt, The Good German with George Clooney and Tobey Maguire, and Notes on a Scandal with Judi Dench.
She earned critical raves as one of the actors to portray Bob Dylan in 2007's I'm Not There and the same year reprised her role in Elizabeth: The Golden Age. At the Oscars, she was nominated for Best Supporting Actress for the first role and Best Actress for the second.
In 2008, Blanchett played Irina Spalko in the highly-anticipated Indiana Jones and the Kingdom of the Crystal Skull.
As time progresses, we'll have more info about Cate Blanchett here. If you have any comments or suggestions about our coverage, please email us.