George Clooney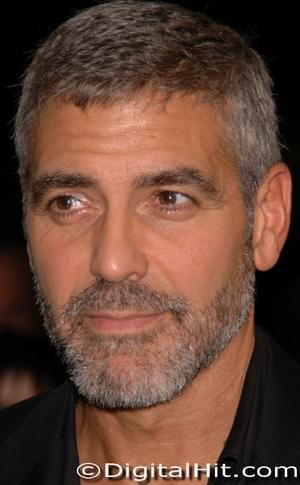 Check out our George Clooney photo gallery.
Born: May 6, 1961 Lexington, Kentucky, USA
[Please note that we are recovering from a bad database backup and some of our bio entries might be a bit stale. We are baking up a fresh batch as soon as possible.]
George Clooney proves that even the most handsome, talented and connected actors have to pay their dues. He was born May 6, 1961 in Lexington, Kentucky. His father was a talk show host and news anchor who was the brother of singer Rosemary Clooney.
George got the opportunity to try out for the Cincinnati Reds in 1977, but didn't make the team. He attended Northern Kentucky University, but ended up dropping out. Then his cousin Miguel Ferrer cast him in a low budget film that hooked Clooney into pursuing a life in the business.
In 1982, Clooney moved to Los Angeles and stayed with his famous aunt. He spent many years landing guest starring roles on Riptide, Hotel, Streethawk and Crazy Like a Fox, before landing a recurring role on The Facts of Life from 1985 to 1987. More guest starring roles would follow in Hunter, Golden Girls, Murder, She Wrote and Sunset Beat. He played in Return of the Killer Tomatoes! and scored another reoccurring role on Roseanne as Booker Brooks in 1988.
His star-making role came in 1992 when he was cast as Dr. Doug Ross in ER opposite Noah Wyle, Anthony Edwards and Eriq La Salle. Clooney would spend the next 6 seasons on ER. In this time he would make feature films as well. In 1996, audiences saw him in From Dusk Till Dawn with Quentin Tarantino, Juliette Lewis, Harvey Keitel, and Salma Hayek and One Fine Day with Michelle Pfeiffer. The next year, he took on the role as Batman with Chris O'Donnell as his Robin and was seen with Nicole Kidman in the Peacemaker. In 1998, he was seen romancing Jennifer Lopez in Out of Sight and was also seen in The Thin Red Line with Adrien Brody and John Cusack.
In 1999, Clooney starred with Mark Wahlberg and Ice Cube in Three Kings. 2000 saw Clooney's departure from ER, but audiences had other venues to watch him perform. He was in the Coen Brother's O Brother, Where Art Thou? with John Turturro and Tim Blake Nelson and The Perfect Storm with Mark Wahlberg, Diane Lane and John C. Reilly. Clooney then remade the Rat Pack classic Ocean's Eleven with an ensemble cast that featured Brad Pitt, Matt Damon and Julia Roberts. This would be the first in a series of Danny Ocean films. He also reteamed with Robert Rodriguez to appear in the director's Spy Kids.
2002 was a busy year for Clooney. He would find himself in the driver's seat with his directorial debut Confessions of a Dangerous Mind starring Sam Rockwell and Drew Barrymore. He appeared in Welcome to Collinwood with William H. Macy, Isaiah Washington and Sam Rockwell and also worked with producing partner Steven Soderbergh on Solaris. The next year, he worked in Spy Kids 3-D: Game Over and teamed up with Catherine Zeta-Jones in the romantic comedy Intolerable Cruelty. In 2004, he made a return to Danny Ocean in Ocean's Twelve.
2005 would see Clooney show off his directorial skills again with Good Night, and Good Luck starring David Strathairn. This film garnered Clooney Academy Award nominations for directing and original screenplay and Strathairn a best actor nomination. Though Clooney was empty handed for that film, he did win a Supporting Actor Oscar for his role in Syriana. The next year, he starred with Cate Blanchett and Toby Maguire in The Good German. Audiences in 2007 saw him once again as Danny Ocean in Ocean's Thirteen and in Michael Clayton with Tilda Swinton and Tom Wilkinson, a role that earned him a Best Actor Oscar® nomination.
In 2008, George directed and starred opposite Renée Zellweger and John Krasinski in the romantic comedy Leatherheads. He also reteamed with the Coen Brothers for the comedy Burn After Reading, which starred Frances McDormand, Brad Pitt and John Malkovich.
A busy 2009 saw Clooney star in Jason Reitman's Up in the Air opposite Vera Farmiga, Anna Kendrick and Jason Bateman. He also starred in The Men Who Stare at Goats with Ewan McGregor, Jeff Bridges and Kevin Spacey and lent his voice to the stop-animated Fantastic Mr. Fox alongside Meryl Streep, Jason Schwartzman and Bill Murray. Up in the Air earned him another Best Actor Oscar® nomination.
In 2010, he starred in The American. The following year, he starred in The Descendants and co-wrote, directed and starred in The Ides of March opposite Ryan Gosling and Philip Seymour Hoffman.
In 2013, Clooney headed out into space with Sandra Bullock in Gravity. George directed and starred in 2014's The Monuments Men, a film he co-wrote with frequent partner Grant Heslov. The film teamed Clooney up with Matt Damon, Bill Murray, John Goodman, Cate Blanchett and Jean Dujardin.
Though married to actress Talia Balsam from 1989 until 1993, Clooney had a reputation as a happy bachelor, making headlines with various girlfriends including WWE star Stacy Keibler. In 2014, he married lawyer and activist Amal Alamuddin.
As time progresses, we'll have more info about George Clooney here. If you have any comments or suggestions about our coverage, please email us.